There are at least two ways of proceeding. One could repeat the following mantra endlessly:
[T]he government taxes or borrows the resources used to build infrastructure projects. Government spending crowds resources out from the rest of the economy. More federal spending comes at the expense of a smaller private sector.

These factors explain why the 2009 stimulus failed. So did Japan's decade-long attempt to stimulate its economy through infrastructure projects. The Japanese wound up with massive debt, superhighways in underpopulated rural districts—and an anemic economy.
As far as I know, this 2014 statement from the Heritage Foundation is not based on a given econometric study, but is an article of faith, much like the assertion of "The Treasury View" discussed in this post.
Or, one can appeal to extant estimates of multipliers to estimate how the economy would have performed in the absence of fiscal and monetary stimulus and financial system rescuses. That is exactly what is done in a Blinder-Zandi CBPP study, with the results shown in Figure 1.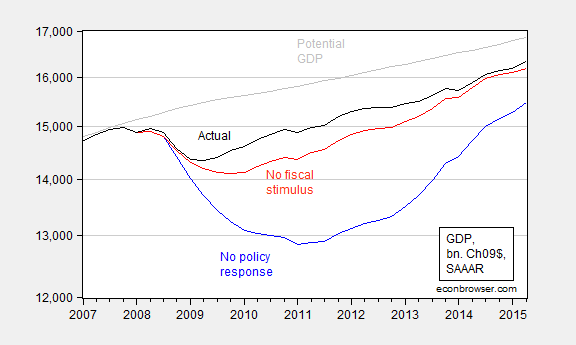 Figure 1: Actual GDP (black), counterfactual GDP under no economic response (blue), counterfactual GDP under no fiscal response (red), potential GDP (gray bold), all in billions Ch.2009$, SAAR; log scale. Source: Blinder and Zandi (2015), appendix tables B1, B2; and CBO, Budget and Economic Outlook (August 2015), via FRED.
The fiscal policies include not just the ARRA (discussed here and here) but also the Economic Stimulus Act of 2008, implemented under G.W. Bush, extended unemployment insurance benefits, and payroll tax relief. Of the total 1,484 billion outlays, slightly under half took the form of tax cuts ($701 billion) and slightly over half in spending ($783 billion).