I don't know if it counts as a "disaster", but Kansas continues to lag its neighbors in economic activity, and to under-perform what is to be expected from historical correlations.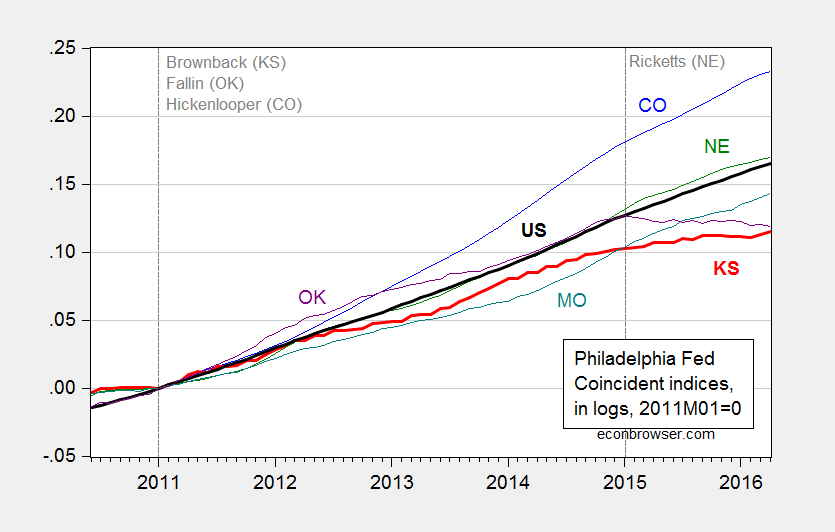 Figure 1: Log coincident indices for Colorado (blue), Kansas (bold red), Nebraska (green), Oklahama (purple), Missouri (teal), and United States (bold black), all 2011M01=0. Source: Philadelphia Fed, author's calculations.
The Philadelphia Fed's coincident indices are aimed at measuring total economic activity, calibrated to match the growth rate of real state GDP. The correlation of the index with state GDP varies across states, and for Kansas is between 0.55-0.70 (see this report for a discussion).
It would be preferable to use directly the quarterly GDP series to make comparisons. However, reporting of such figures lags the national statistics considerably; we only have the 2015Q3 figures as of early March.
I have used the historical correlation of Kansas GDP with US GDP, and a drought variable, to create a counterfactual by which to quantify the shortfall in Kansas economic performance (see this post for details of the procedure). The key graph is below.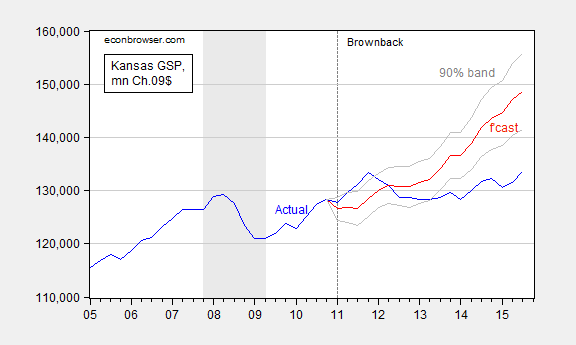 Figure 2: Kansas GDP, in millions Ch.2009$ SAAR (blue), ex post historical simulation (red), 90% band (gray lines). Forecast uses equation (1). NBER defined recession dates shaded gray. Source: BEA, NBER, and author's calculations.
These results indicate that (1) actual Kansas GDP is far below predicted (5.3 billion Ch.2009$ SAAR, or 3.9%, as of 2015Q3), and (2) the difference is statistically significant. To place this in context, if US GDP were to fall 3.9% below trend, I am sure that plenty of folks would notice.
A digression regarding unemployment rates, and "fixed effects". The state level unemployment rates are subject to high levels of measurement error given the relatively small sample available for each state (see discussion here). That being said, the average KS-US unemployment rate differential over the 1986-2010 period is -1.17, while the differential for 2016M04 is -1.2. In other words, as measured by unemployment rates, Kansas is doing about average. In contrast, the average MO-US differential is -0.24, with the 2016M04 reading at -0.70. In other words, by this metric, Missouri is doing better than average. (The post-1986 period conforms to the Great Moderation; December 2010 marks the end of the pre-Brownback period.)