Some critics (e.g., [1]) have argued that employment and coincident indicators are too narrow of measures of economic activity to make relevant comparisons. Here I plot the real GDP — the broadest measure of economic activity — for Kansas and her neighbors.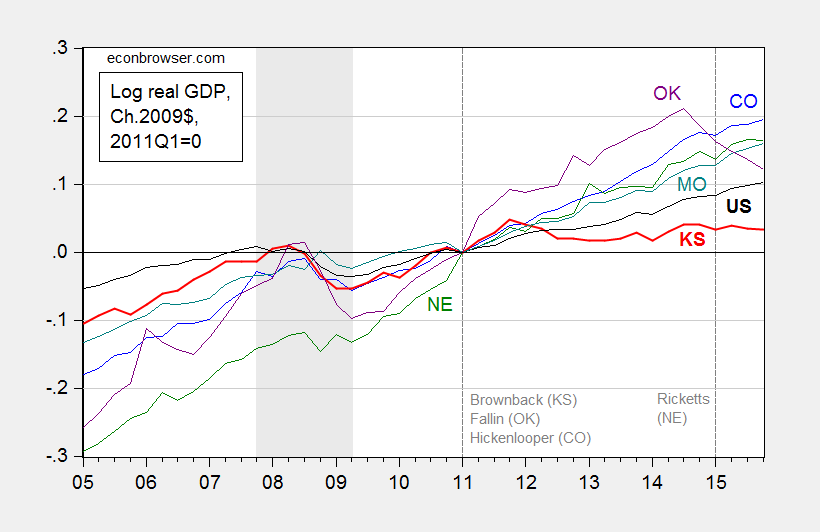 Figure 1: Log real GDP for Colorado (blue), Kansas (bold red), Missouri (teal), Nebraska (green), Oklahoma (purple), and US (bold black), all 2011Q1=0. NBER defined recession dates shaded gray. Source: BEA quarterly state GDP release, and BEA GDP 2016Q1 2nd release, NBER, and author's calculations.
Now, it could be that Kansas has a flatter growth trend; however, as I noted in this post, based on pre-2010 correlations, Kansas should have done better (as shown in the red line), and done so by a statistically significant margin.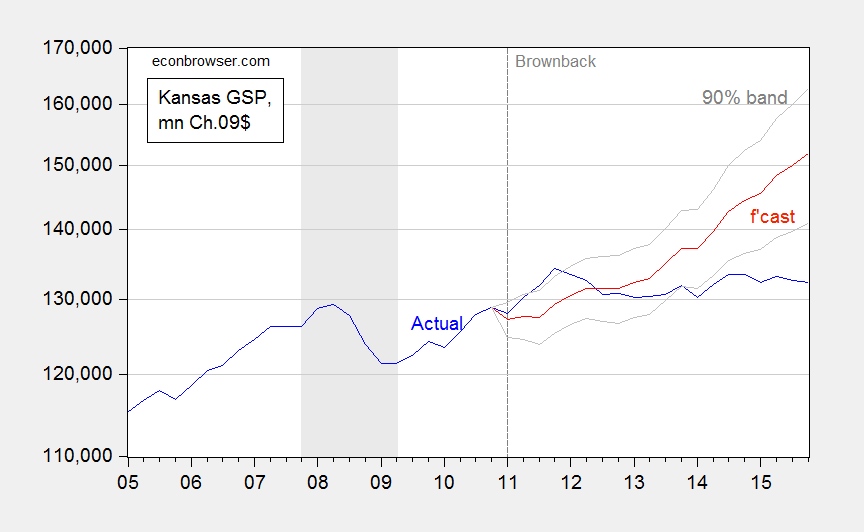 Figure 2: Kansas GDP, in millions Ch.2009$ SAAR (blue), ex post historical simulation (red), 90% prediction interval (gray lines). Forecast uses equation (1). NBER defined recession dates shaded gray. Log scale for vertical axis. Source: BEA, NBER, and author's calculations.
The Kansas tax revenue shortfall has just forced the state government to borrow $900 million for the next fiscal year, and tap the highway fee and Medicaid fee funds. It's already looking at a $45 million hole for the fiscal year about to end, despite previous fixes.[2]