From the Monday debate:
We are in a big fat ugly bubble. And we better be awfully careful. And we had a Fed that is doing political things. This Janet Yellen of the Fed, the Fed is doing political by keeping interest rates at this level.
Reader rtd states unequivocally that folks like R. Glenn Hubbard, Ric Mishkin, and Steven Cecchetti "… are rational enough and well-aware not to pay much attention to the opinion of central banking in the US coming from a politician such as Trump while being interviewed." That is, they don't worry about verbal assaults on Fed independence. Evidence to the contrary comes from a NYT article:
"I disagree with the current stance of and approach to the conduct of monetary policy by the Fed," Mr. Hubbard said on Tuesday. "Having said that," he added, "I do not believe for a moment that Janet Yellen is acting for a political purpose as opposed to doing what she believes is right."
One of the commonalities in my experience working on the Council of Economic Advisers staff from 2000-2001, irrespective of the party in charge, is that the Chair, the members, the staff, were scrupulous in not making comments on the appropriateness of Fed policy (R. Glenn Hubbard, quoted above, was my boss during the last half year I was on staff). Hence, I can only imagine the alarm that most observers experience hearing Mr. Trump's views, contra what reader rtd asserts.
Is Fed Policy prima facie too Loose?
Like many things Mr. Trump asserts with respect to economics, I wonder about the basis for his views. One possibility is that he is referring to the implications of the Taylor rule (or his advisers are referring to the implications of the Taylor rule). If so, I would say that it's not so clear the Fed is keeping the Fed funds rate too low. This is shown in Figure 1.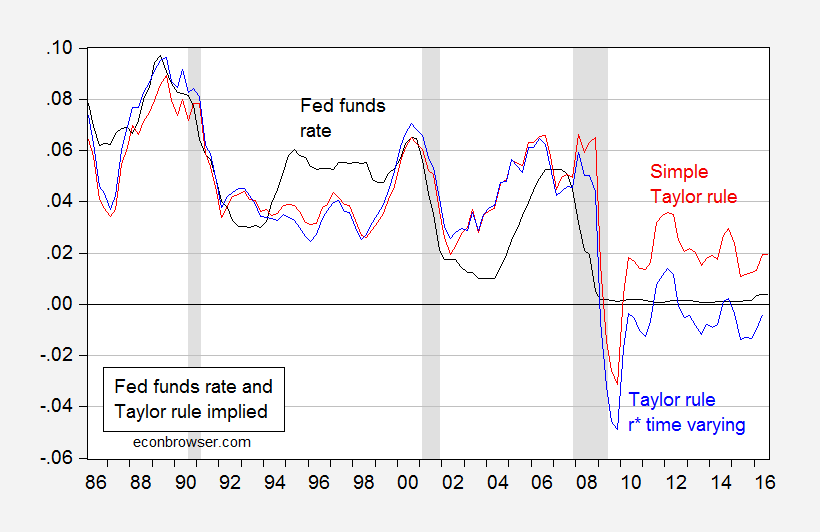 Figure 1: Effective Fed funds rate (black), Fed funds rate implied by a standard Taylor rule (red), and implied by a Taylor rule with time varying natural rate (blue). NBER defined recession dates shaded gray. Source: Federal Reserve, BEA, CBO (August 2016), NBER and author's calculations.
The "simple" Taylor rule formulation I use is:
ff*t = πt-1 + 0.5×(yt-1-y*t-1) + 0.5×(πt-1–π*) + r*t
Where ff is the Fed funds rate, π is the year-on-year PCE inflation, y is log GDP, y* is log potential GDP from CBO (August), and r* is constant at 2.5%. This is the same formulation that the St. Louis Fed reported in its Monetary Trends publication (for 2% target inflation).
The time varying version uses the Laubach-Williams (one sided) time varying estimate of r*.
What is apparent is if one were to believe the real natural rate of interest is 2.5% (so ignoring the entire secular stagnation literature, and other bits of information suggesting the real equilibrium rate is lower), then indeed Fed policy is too loose by the Taylor rule. On the other hand, if one believes the real natural rate has fallen over time to about 0.2 percent (but has risen above the -0.35 percent rate in 2013Q2), then monetary policy as measured by the Fed funds rate is too tight.
Update, 10/1, 2:45PM Pacific: I forgot references. Here is the citation for his interpretation.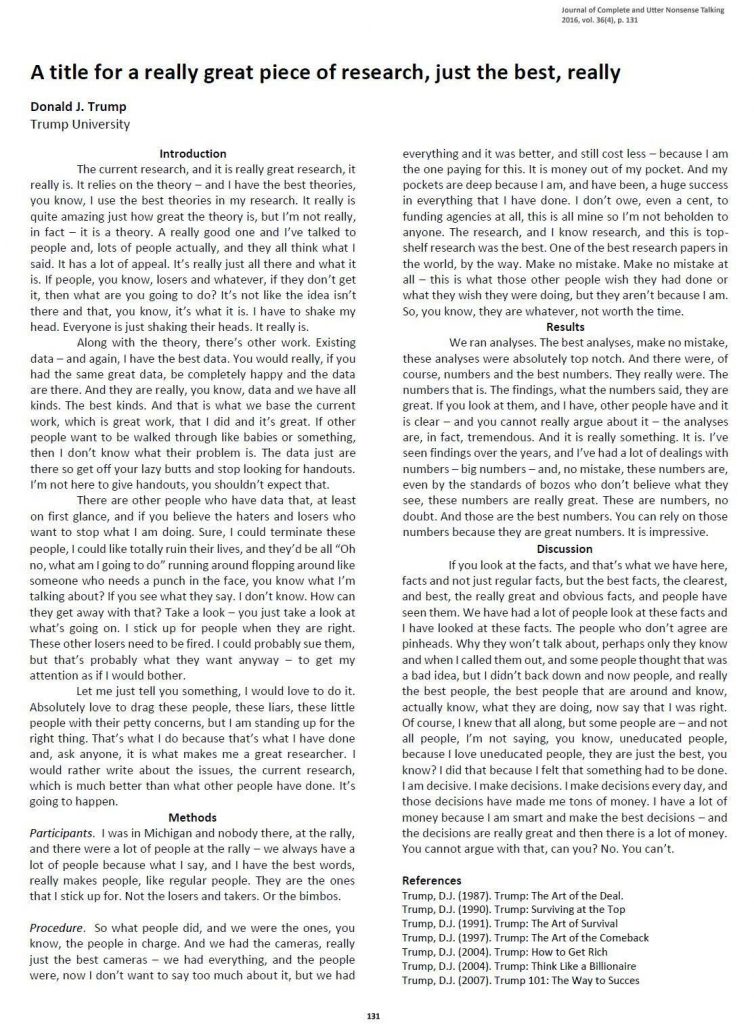 Source: JofCompleteUNT (2016).