In the debate on Monday, Donald J. Trump comments on Nafta's impact:
You go to New England. You go to Ohio, Pennsylvania. You go anywhere you want, Secretary Clinton, and you will see devastation where manufacturing is down thirty, forty, sometimes fifty percent — NAFTA is the worst trade deal maybe ever signed anywhere but certainly ever signed in this country.
Here is a time series plot of manufacturing value added in the economies identified by Mr. Trump.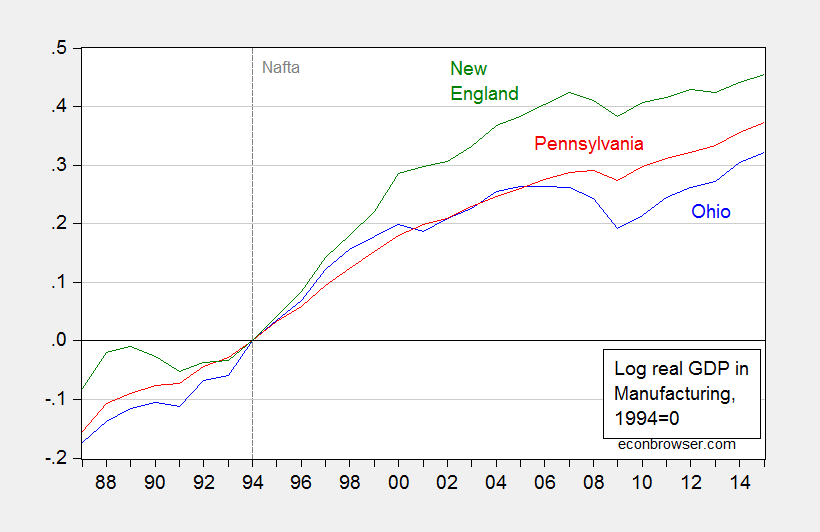 Figure 1: Log real value added in manufacturing in 2009$ in Ohio (blue), Pennsylvania (red), and New England (red). 1986-96 data (SIC) spliced to 1997-2015 data (NAICS). Source: BEA and author's calculations.
Perhaps Mr. Trump was speaking about employment. From a How Preferential
Trade Agreements Affect the U.S. Economy, a CBO report released today, comes this assessment:
Most economic evidence suggests that the total number of workers directly affected by PTAs has been too small to significantly affect labor market conditions nationwide. Most of that evidence comes from studies of NAFTA, the agreement with the greatest potential to affect U.S. employment. Those studies concluded that NAFTA's effects on the size of the labor market and net changes in total U.S. employment each year have been small. Those findings are consistent with the economic theory that PTAs should have little long-term effect on total employment because all displaced workers would eventually find new employment or would have stopped working
anyway. However, according to some estimates, NAFTA contributed to many lost jobs.

Conversely, many U.S. workers have had some small benefits as a result of PTAs. By lowering consumer prices (primarily through their effects on prices of imported goods) and increasing the productivity of workers (from greater competition), those agreements have probably increased average real wages for U.S. workers, albeit only slightly. If that slight increase occurred, it would have induced more people to work, increasing the U.S. labor supply to a small degree. To CBO's knowledge, there is no evidence of such an effect on the labor supply, although if it had occurred it would have been small and extremely difficult to detect.