Instead of zooming to 130% debt-to-GDP ratio, the new Trump plan only takes it up to 105%.

For context, here's the relevant quote:
"I am the king of debt. I do love debt. I love debt." -Donald J. Trump, May 2016 (WaPo)
And here is the relevant, updated, graph: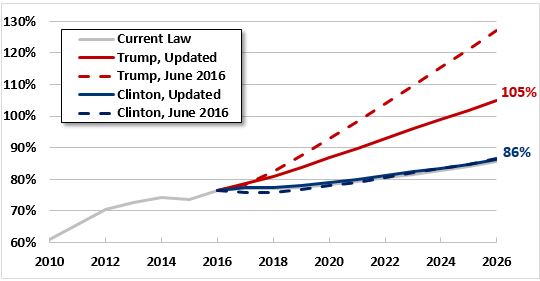 Source: CRFB.
More on the macroeconomic implications of the Trump plan, to come (preview: Not Good).
On a side note, here is a petition by "Economists concerned about Hillary Clinton's Economic Agenda" — apparently the people who signed could not cross the bridge to say the were in Favor of Trump's Economic Agenda (despite the fact the document emanates from a Trump office building).
Brad DeLong comments.