From Donald J. Trump, March 14, 2016:
…under decades of failed leadership, the United States has gone from being the globe's manufacturing powerhouse — the envy of the world — through a rapid deindustrialization…
Here is a graph of real value added in manufacturing and manufacturing employment, 1967-2015.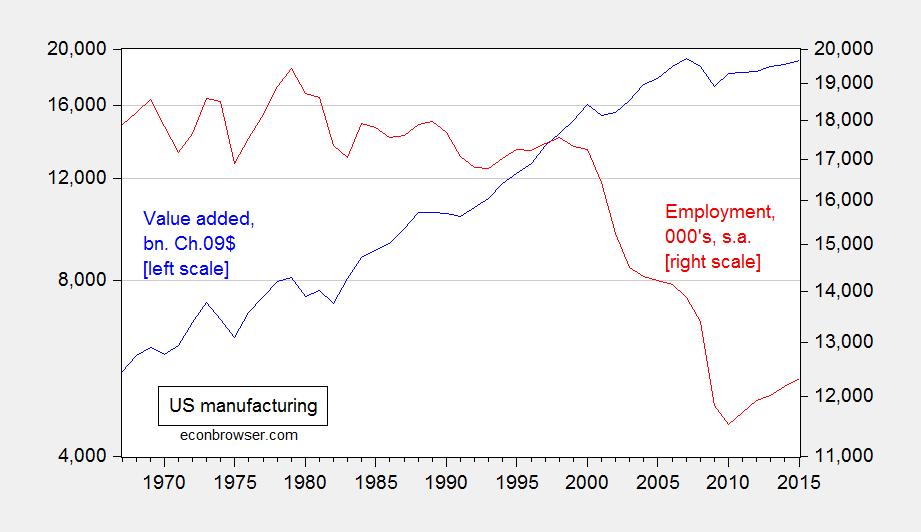 Figure 1: Real value added in manufacturing (blue, left log scale), and manufacturing employment (red, right log scale). Source: BEA and BLS via FRED.
Note that 2015 real value added in manufacturing essentially matches that recorded in 2007, even while employment is 11% lower. That, mechanically, is the outcome of high productivity growth in that sector.
One way which manufacturing employment can be increased is by decreasing productivity levels. That in turn can be accomplished by stifling trade in intermediate goods which is associated with production fragmentation/development of global value chains. And that can happen with relatively small increases in tariff rates…Needless to say higher employment accomplished in this manner need not be welfare-increasing.
Of course, if overall manufacturing output declines due to foreign country retaliation against the imposition of tariffs, then employment still might decline.
Update, 12/1 11AM Pacific: One thing that needs to be kept in mind is that while there is a trend decline in manufacturing as a share of total value added, in real terms it is not as pronounced as it might be thought; and the current ratio is not far off a linear trend estimated over the entire 1947-2015 period.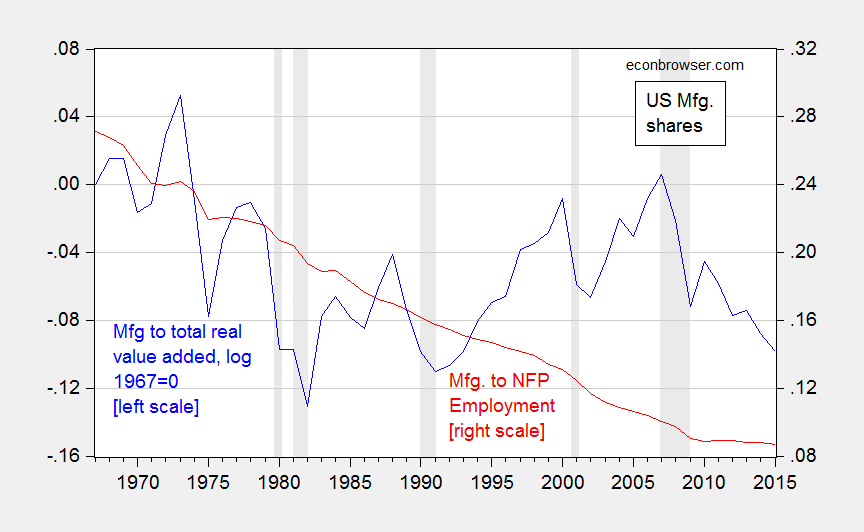 Figure 2: Log ratio of real value added in manufacturing to total, normalized to 1967=0 (blue, left scale), and manufacturing employment as a share of total nonfarm payroll (red, right scale). NBER defined recession dates shaded gray. Source: BEA, BLS via FRED, NBER and author's calculations.