The CBO's Budget and Economic Outlook is a must read. In addition to the widening budget deficit (no supply side miracle here), and the downward revision in projected 2018 growth, there is this commentary in the section blandly titled "Some Uncertainties in the Economic Outlook" (page 14 onward):
A sizable uncertainty in the U.S. trade and inflation forecast stems from recent changes to U.S. import tariffs and the retaliation of the country's key trading partners.
The renegotiation of the North American Free Trade Agreement (NAFTA) similarly presents the risk that trade and inflation may differ from CBO's projections. When CBO completed its current economic forecast, the agency estimated that the macroeconomic consequences of the U.S. tariffs and foreign retaliatory tariffs that had been implemented at that time would be small. The prices of washing machines, solar panels, steel, and aluminum increased in the first half of 2018, but those products account for only a small share of consumer and business purchases. Higher tariffs on more imported products, however, could add to inflationary pressure, which in turn would not only reduce the purchasing power of domestic income but also increase the costs of domestic production, making the prices of U.S. exports less competitive in international markets. In addition, retaliatory tariffs on U.S. exports are likely to reduce the profitability of U.S. businesses whose products are targeted by those tariffs.

Furthermore, heightened uncertainty about trade policy could discourage businesses from making capital investments that they might otherwise have made, because changes to trade policy affect price competitiveness in foreign markets as well as the costs associated with global supply chains. Recent volatility in equity markets might indicate that such uncertainty is already taking a toll on the value of U.S. businesses.
Stephen J. Davis presented a prospective look at this issue in his post the other day. Here is some additional information, regarding reported industrial equipment investment, and trade policy uncertainty.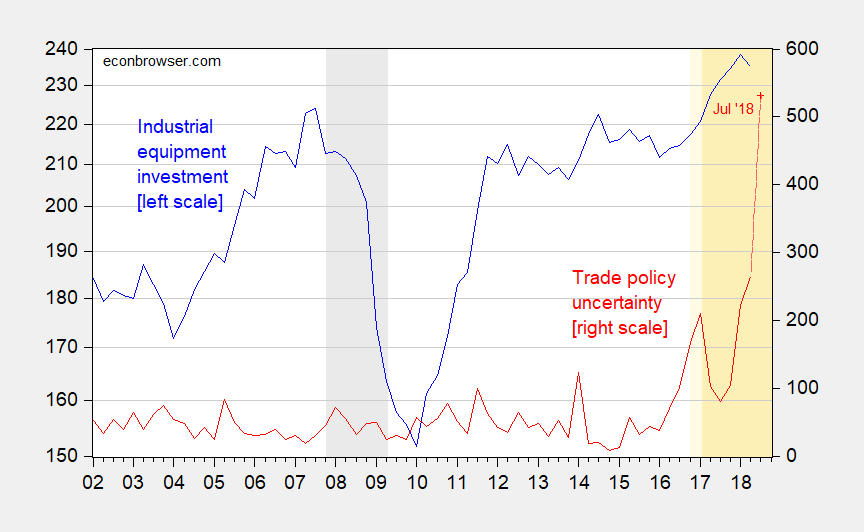 Figure 1: Gross industrial equipment investment, in bn.Ch.2012$ SAAR (blue, left log scale), and US Trade Policy Uncertainty (red), normalized to geometric mean 1985-2010=100. 2018Q3 observation is for July. Source: PolicyUncertainty.com, categorical index page, accessed 8/14/2018.
As noted before, industrial equipment investment, likely closely associated with export activity, is down. It might be a coincidence that trade policy uncertainty is as high as it's been since negotiation of Nafta. Then again, it might be a harbinger of things to come.