In the wake of the pre-holiday meltdown in the financial markets, I thought for a few minutes about who would be doing crisis management, especially after SecTreas Mnuchin's ham-fisted attempt to calm the markets. My musings did not calm my nerves. Consider the January 2009 team and the (likely, barring further dismissals) January 2019 team, and you'll see what I mean.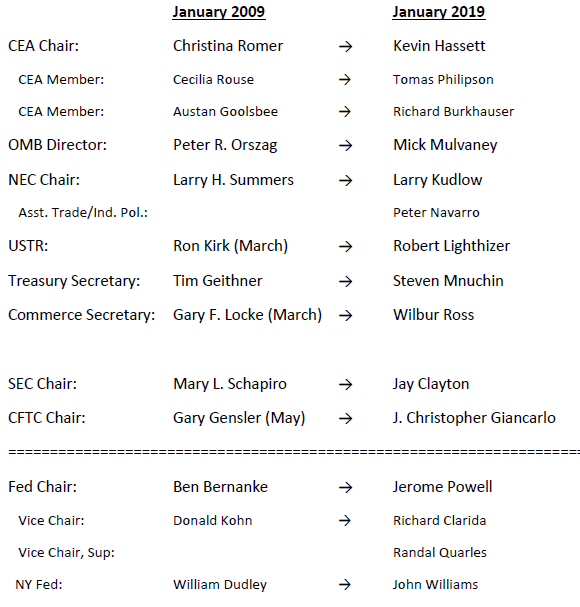 Surprisingly, I'm not worried by the people who have been appointed to the Fed by Trump. Jerome Powell has, despite the hue and cry from Trump, pursued a relatively sensible process of tightening (even if slightly tighter than I think warranted). Rich Clarida is eminently qualified. So too is the NY Fed President John Williams.
No, my worries are focused on some of Trump's political appointees. Consider:
Christina Romer had published important work on economic macrohistory and monetary policy. Kevin Hassett wrote, among others, "Dow 36,000".
Peter Orszag had been director of CBO, after stints at Brookings and CEA staff. Mick Mulvaney on the other hand wanted to ignore the CBO.
Larry Summers at the time had been professor of economics at Harvard, and formerly Treasury Secretary. Larry Kudlow, well, is Larry Kudlow.
Tim Geithner had been President of the NY Fed. Steven Mnuchin had worked at Goldman Sachs and financed movies.
And overarching all these points, Mr. Trump seems to accord heaviest weight to the last person he has spoken too. This means we should worry more about "informal" advisers like Stephen Moore lurking about.