From NewsMax:
Council of Economic Advisers Kevin Hassett said he is willing to bet, based on the economy and indicators, that there will not be a recession any time soon, even though the markets have fluctuated a great deal this year.

"The U.S. economy is booming," Hassett told Fox News' "America's Newsroom." "We got data on Friday that jacked up our growth estimate for the fourth quarter all the way above 3 percent. We're rocketing along at 3 percent growth, and the markets haven't reflected the good news."

Meanwhile, Hassett said that he would "take that bet" that there is not a recession coming in the next year
My first observation is that Hassett's statement regarding current growth rates surprising. Atlanta Fed GDPNow does indicate 2.9% growth SAAR in 2018Q4 (12/18), but as of 12/14 the New York Fed's nowcast indicates 2.42% growth, while the St. Louis Fed nowcast is 2.65%. Macroeconomic Advisers today nowcasts 2.6%, latest Goldman Sachs is 2.7% (12/17). I don't know of any nowcasts for over 3% for 2018Q4 Q/Q SAAR, although the internal CEA estimate might be for that.
The second observation is that the prediction market's odds on a recession over the next year is not as low as suggested by Hassett's comments. From PredictIt: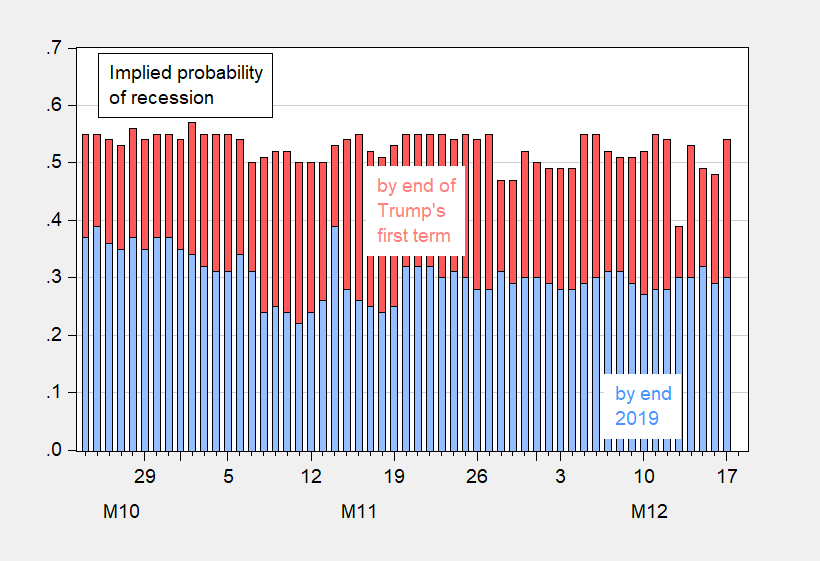 It's hard to interpret the red bars, even assuming Trump remains in office for another year, because it's possible that Trump will be removed thereafter, but before January 20, 2021. Assuming he remains in office throughout his first term, then the probability of a recession over the approximate next two years is constant.
In contrast, the implied probability of recession by end-2019 has risen from about 0.22 to 0.30 since 11/11. Is there any content in the probabilities imputed from PredictIt?
In Figure 2, I show the covariation of the implied probability observations with the financial market indicator, the 10 year-3 month term spread. (Note: the gray shading indicates extremely low volume of trades for this PredictIt contract.)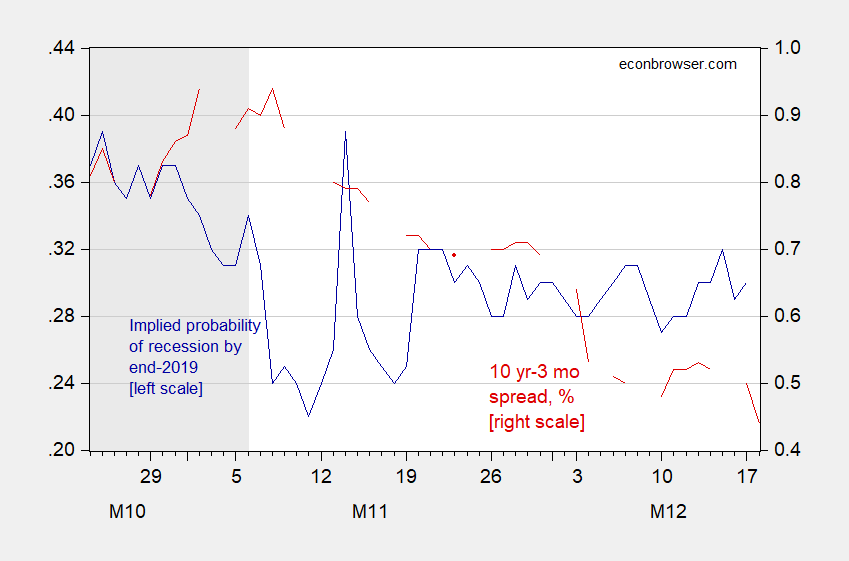 Notice that the probability of recession rises as spread shrinks. A robust regression yields:
Pr(Recession 2019) = 0.326 – 5.98(Spread)
Adjusted Rw-squared = 0.14. Bold figures denote significant at 10% msl. Spread in decimal form.
This means that a one percentage point decrease in the spread results in a 6 percentage point increase in perceived probability of recession in the next year.
The current probability of recession using the term spread is in the 15% range, a bit less than the 30% or so from the prediction markets.