From Bradsher in NYT:
…spurred by tariffs and trade tensions, global companies are beginning to shift their supply chains away from China, just as some Trump administration officials had wanted.
It's important to understand that driving away import sourcing from the lowest cost producer to a higher cost producer is the definition of "trade diversion". Consider this exposition (adapted from Feenstra/Taylor):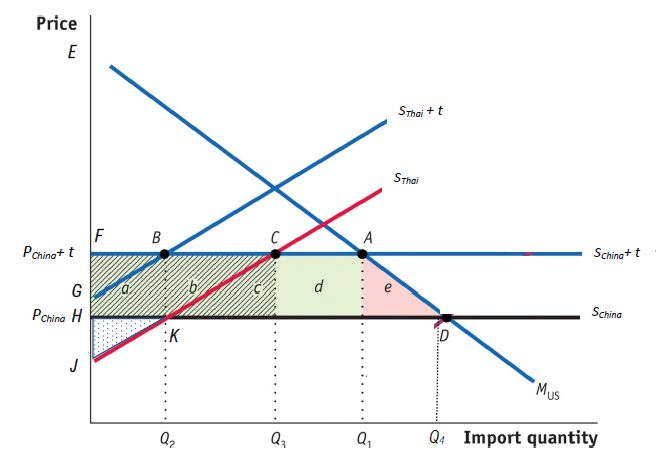 Figure 1: Trade diversion when home country does not produce. Adapted from Feenstra-Taylor.
Suppose pre-trade war, SChina is the relevant supply curve for Chinese imports into the US, as is SThai for imports from Thailand. Q4-Q2 is imports from China, Q2 from Thailand. The imposition of tariffs and the political risk associated with the imposition of further tariffs makes the relevant Chinese supply curve SChina+t. Imports from China falls to Q1-Q3, while imports from Thailand rise to Q3. Consumer surplus shrinks from triangle EDH + triangle HJK to triangle EAF + triangle FCK. There is a consumption side deadweight loss of area e, and a production side deadweight loss of c. To the extent t represents outright tariffs, then area d is a transfer from consumers to the US government. If t represents the higher price due to restricted supply (if voluntary export restraints then the rents go to foreign exporters).
The US is an outright loser in this static/small economy analysis. Notice that the US is still better off with imports from Thailand than in autarky.
The preceding analysis has assumed no US production (trade diversion graphs often include domestic production). The article notes some activities have been relocated home to the US, but it's not apparent that this is the key shifts. In any case, US manufacturing employment and output has faltered in recent months (although an observation or two a trend does not make).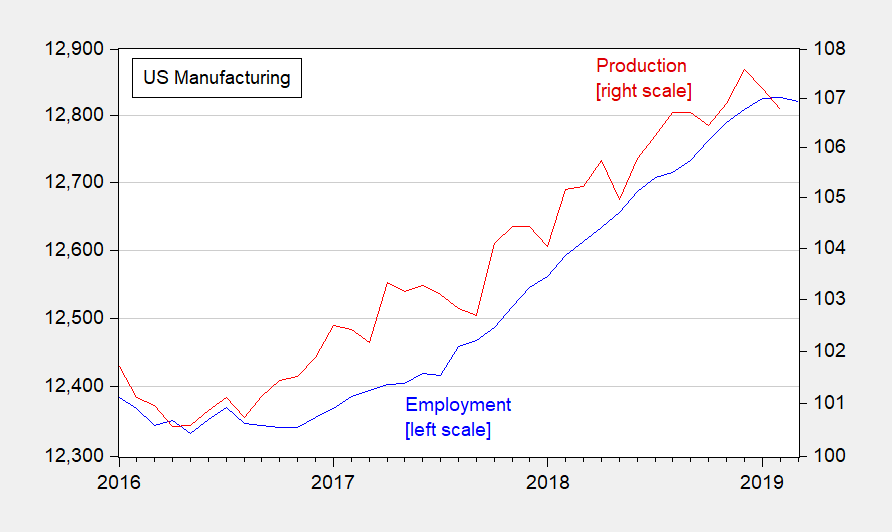 Figure 2: US Manufacturing employment, 000's (blue, left log scale), and manufacturing production (red, right log scale), both seasonally adjusted. Source: BLS and Federal Reserve via FRED.
Remember, an increase in input prices (like steel) will tend to reduce the effective protection received by downstream industries (like automobiles), resulting in job losses exceeding protected sector job gains.