Soybean prices continue to plunge (July '19 futures). Some have argued that decreased demand for soybeans, due to the ongoing African swine fever epidemic in China. The April 9th USDA FAS report contained information on both this, and soy market conditions. If decreased demand for soybeans was due to news about Chinese swine stocks, we would have expected rising US hog and declining soy prices. Yet hog prices have fallen for most of the time since then.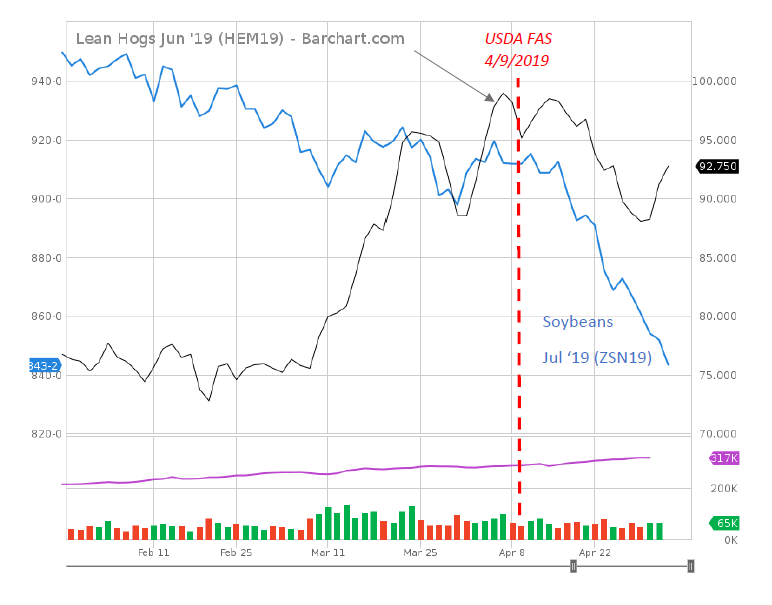 Figure 1: Lean Hog (June 2019) futures (black, right scale), and Soybean (blue, left scale). Red dashed line at 9 April release of USDA FAS Livestock and Poultry report, WASDE briefing. Source: Barchart.com, accessed 2 May 2019.
The USDA FAS report notes:
Official ASF Outbreaks Slow while Hog Inventory Plummets 17 percent

China has reported 123 outbreaks in 30 provinces through April 8, 2019, covering nearly all of mainland China. The number of outbreaks peaked in November and December but declined thereafter, reaching 7 in March. While official data on cull levels account for a fraction of China's total hog supply, unofficial reports from China suggest far greater losses. The rapid and wide geographic spread of outbreaks, the extreme density of hog production, and lack of biosecurity across many farms may imply a greater incidence of disease.

While exact losses are impossible to calculate, monthly data published by China's Ministry of Agriculture and Rural Affairs indicate that producers began liquidating during the fall and accelerated during the first quarter of 2019. The sow herd at the end of February 2019 was down 19 percent from a year earlier while total hogs were down 17 percent. The continued decline of the sow herd implies that pig supply will decline rapidly during the remainder of 2019 and into 2020, notwithstanding aggressive rebuilding. Despite a recent slowing of outbreaks, ASF remains a problem and there is little indication that producers have begun to restock. Authorities have sought to speedily clear quarantine zones and reduce the transit restrictions that affected markets last year. However, producers still face significant
risk in whether they will be able to market their hogs when ready.
The continued decline in soybean prices is all the more surprising given the constant hyping of the imminent deal between the US and China. Such "news" if credible should result in a rise in soybean prices. And yet, July contracts are at 843.
A apt summary of the soybean farmer's lot: "cash contracts around $2 below break-even. The only solace is that matters can't get much worse."
(NB: for CoRev – On July 15, 2018, futures for July 2019 were trading at 876, within 4% of the current price.)