From Spencer Hill/Goldman Sachs "US Daily: Company Views on the Return of the Trade War" [not online].
…we see multiple reasons to expect higher pass through rates on the upcoming rounds of tariffs on Chinese imports (relative to those of 2018).

First, company commentary indicates that the first 10pp tariff on $200bn of Chinese goods was easier to absorb. As shown in the final five quotations of the previous exhibit, several firms indicate that the step-up from 10% to 25% will have a larger incremental impact on consumer prices (e.g. that the marginal impact will be more than 1.5x as large) and/or company margins. This may reflect the limited number of cost-saving levers in the short-term. Dollar appreciation vs. the yuan last year may have also mitigated the consumer price impact of the 2018 tariff rounds, whereas the currency pair is roughly unchanged this year.

Second, not only are the $200bn and $300bn tranches larger and skewed more towards consumer goods than earlier rounds3, US firms are also more reliant on Chinese producers for each successive tranche (see here and here).4 As internet retailer Wayfair noted last week, "If you want to buy a wood sleigh bed manufactured in China, there's a wood sleigh but that looks exactly like it manufactured in Vietnam, and the price is not going to change on the one from Vietnam." As tariffs are applied to increasingly differentiated imports, the scope for diversion falls.

Relatedly, two academic studies analyzing US import, producer, and consumer prices found that even the 2018 tariffs were paid entirely by US businesses and households…
So, for now, Americans are paying the costs of US tariffs on Chinese goods – as highlighted by this graph. For the tariffs in place…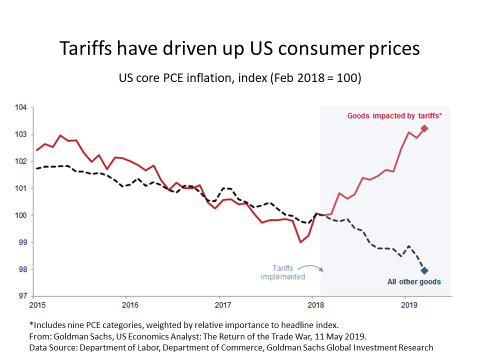 At one point, I thought Mr. Trump would steer away from imposing this last tranch of tariffs on the Chinese, but I was using a rational actor model. Indeed, I think I was misguided more generally thinking tariffs were a tool to leverage the Chinese. I a coming to conclude — like many others, including Jeff Frankel — that tariffs are the objective.
So…I'm going clothes shopping (which as I said, I hate doing). Thanks, Drumpf!
Update, 5/28, 11:35PM Pacific:
More discussion in McGrath's post on consumer impacts/effects.
"My guess is a 10% to 15% price rise after a month or so, and then staying steady at that point," Gawande says. "So if you find a dress or a shirt you must buy and the price is decent, do it now."
Well, I'm set for a couple years now…I hope the tariffs are off by then.