Here is a graph of the front-month futures (July 2019, expires 12th) for soybeans: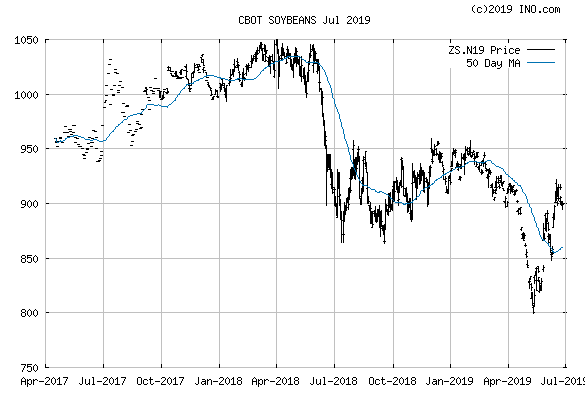 Source: ino.com, accessed 6/26/2019 10AM Pacific.
The price as of 10AM Pacific was below $9.00. Note that on the eve of Mr. Trump's Section 301 salvo against China, the price was about $10.50.
For commodities in general, the futures price incorporates both market expectations and cost of carry. However, as documented in Chinn-Coibion (2014), soybean futures are an unbiased predictor of future soybean prices, and in out-of-sample ex post historical simulations, beat a random walk and simple ARIMA(1,1,1). Hence, it seems appropriate to take futures contract prices as a proxy for expectations. In particular, my best guess of the price of soybeans on July 12, 2019 as of July 12, 2018 was about $9.00 $8.8575, the futures contract price on that date.
Nobody denies that other factors, including weather, affects soybean futures prices. However, most market commentary attributes the discrete drop in prices post-Section 301 announcement to Trump's trade actions and perceived reactions (that approach, after all, is the basis for the multitude of event studies). However, dogmatic observers believed otherwise constantly harping on weather and currency values; reader CoRev wrote on July 9th:
…no one has denied the impact of tariffs on FUTURES prices. Those of us arguing against the constant anti-tariff, anti-Trump dialogs have noted this will probably be a price blip lasting until US/Chinese negotiations end. We are on record saying the prices will be back approaching last year's harvest season prices.
Now, we don't know the counterfactual (although we do know that soybean prices have not recovered to that the previous harvest season's levels, despite CoRev's prediction). As I noted in this post, if one used a statistically based counterfactual (i.e., an ex post historical simulation) using the dollar as an exogenous variable to control of the currency, one finds that the current soybean price is much below what would be expected (for April, about 10% below predicted, in log terms).
So, my prediction informed by my research, as opposed to my "gut": for July 12, 2019, I expect the spot price (approximated by expiring futures contract price) to be $9.00 $8.8575.
Postscript: For those inclined to dismiss the "research" as so much ivory tower babble, the Chinn-Coibion paper is derived from a CEA memo written to evaluate the use of futures for forecasting; I can't post the memo, but here's a closely related working paper from 2001).
Update, 6/27, 4:40pm Pacific: CoRev has asked for the specific 7/12/2018 contract price for the July 2019 future contract. Spurred by this request, I subscribed to ino.com. (CoRev could'a done this him/herself, since I kept on referring to ino.com, but it is what it is…) The closing price is 885.75. Date is here (xls). (This figure differs slightly — 1.6% — from my eyeball estimate of 900. I will revise text accordingly).