From Ben White in Politico today:
President Donald Trump is firing up his economic Wayback Machine in an effort to boost markets, the economy and his own political fortunes heading into his reelection campaign.

Economists warn that Trump's approach, with its roots in 19th century mercantilism and 1980s Reaganism, risks back-firing on him in potentially significant ways.
In the span of just a few days, the president dusted off economic approaches largely discarded in recent decades, from promoting explicit currency wars to bullying the head of the Federal Reserve to promising to restore American manufacturing greatness by slapping ever-escalating tariffs on Chinese imports — and promising supporters everything will be fine if he doesn't cut a deal.
Where does Trade-Trumponomics stand, "history of economic thought"-wise? Here's an interesting graphic, annotated.
Addendum: to see the text and presentation more clearly, click on link to "
prezi.com
".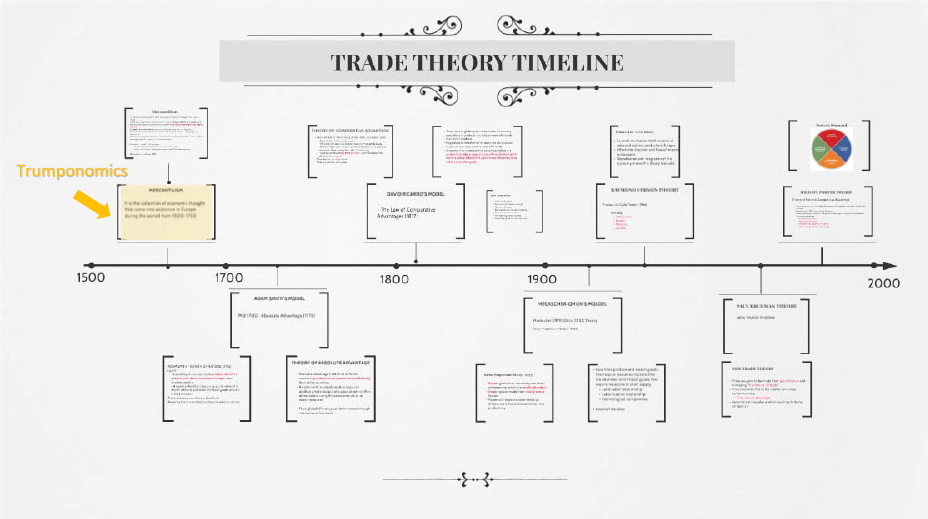 Mercantilism predates all of the approaches (comparative advantage, absolute advantage) we teach in *introductory economics*, and the newer approaches (monopolistic competition and increasing returns a la New International Economics of Krugman Helpman) in international textbooks, and yet newer firm-based models (New Trade Theory of Melitz and Antras).
And that is where Trump is mired in. At least he's beyond the Physiocrats…