Keep on saying that we're winning, and maybe it'll come true. For the rest of us grounded in reality, soybean prices are falling again, and soybean stocks are rising (and estimates of end FYMY2018/2019 stocks have just been revised upward).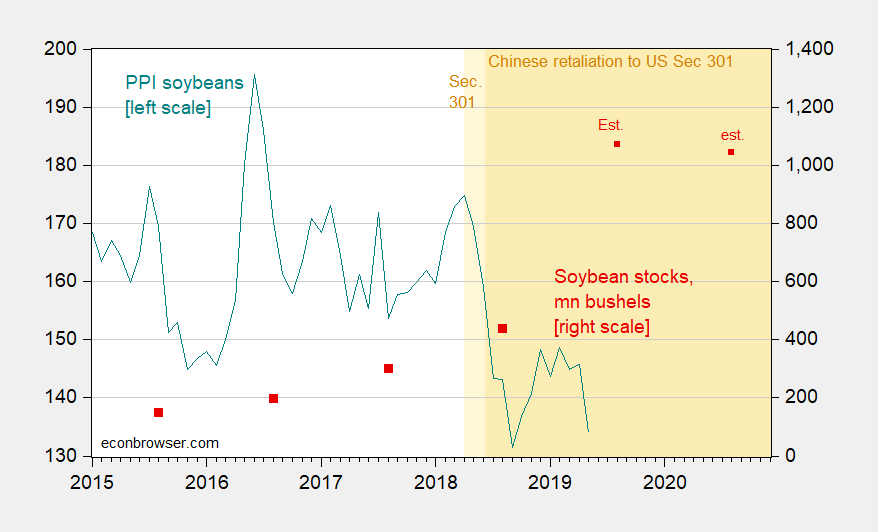 Figure 1: PPI for soybeans (teal, left scale), and soybean stocks, end-of-month, in millions of bushels (red squares, right scale). September 2019 and 2020 estimates from June 2019 WASDE. Source: BLS, USDA June 2019 WASDE. [graph corrected for end-month stocks, 10am 6/21]
On July 9, 2018 – nearly a year ago – reader CoRev wrote:
Julian & Menzie, no one has denied the impact of tariffs on FUTURES prices. Those of us arguing against the constant anti-tariff, anti-Trump dialogs have noted this will probably be a price blip lasting until US/Chinese negotiations end. We are on record saying the prices will be back approaching last year's harvest season prices.
Soybean harvest season in North America is late September to end-November; the PPI in July  2018 when CoRev wrote the above comment was 148.3; the PPI for October-November 2017 was 159. As of latest reading (May 2019), the PPI was 134, i.e., a 17.1% price drop (log terms).
So far, CoRev's "price blip" has lasted some 12 months…let's see how much more winning US farmers can take.
Addendum: On the winning ™ front, the Brazil-US spread has re-opened (in favor of Brazil, of course).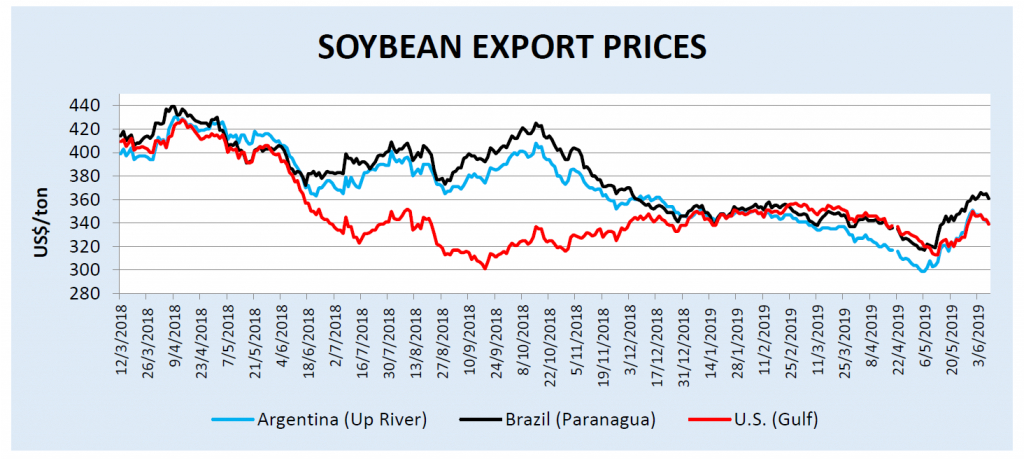 Source:USDA FAS, Oilseeds: World Markets and Trade, June 11, 2019.
How much due to tariffs, sanctions, and how much due to weather? From USDA FAS:
Global soybean exports are forecast lower this month as a 2-million-ton reduction in U.S. exports more than offsets an increase in Argentina. Soybean imports are also lower following a 1-million-ton decline in the China forecast to 85 million. Global soybean ending stocks are lowered 384,000 tons this month as reduced stocks in Argentina and China more than offset an increase in the United States to 29.1 million tons. The U.S. season-average farm price for soybeans is reduced by $0.05 to $8.50 per bushel.