On July 9, 2018, reader CoRev disparages futures prices as accurate predictors of future spot prices for soybeans, writing:
no one has denied the impact of tariffs on FUTURES prices. Those of us arguing against the constant anti-tariff, anti-Trump dialogs have noted this will probably be a price blip lasting until US/Chinese negotiations end. We are on record saying the prices will be back approaching last year's harvest season prices.
My assertion was, based on econometric analyses in Chinn and Coibion (2014), the best forecast for the price of soybeans one year from date of forecast was the futures contract price for expiration one year away. So as of July 15, 2018, I would use the then closing price for the July 2019 contract: 872. (There is a subtlety that the contract expires on 7/12/2019, so really I should use the 7/12/2018 price of 884.75, but for some reason CoRev wants 7/15.) 872 is shown as a horizontal red line in Figure 1 below.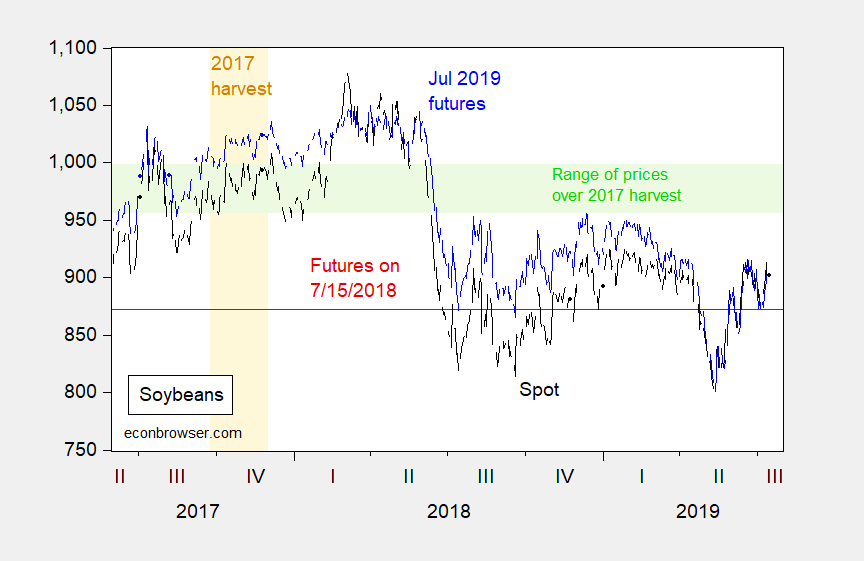 Figure 1: Spot soybean prices (black) and July 2019 soybean future contracts prices at close (blue). Red line at 872, July 2019 futures contract price as of 7/15/2019. Light green shading denotes price range 7/24-11/30/2018 (harvest period). Source: Macrotrends.com, ino.com, author's calculations.
In contrast, CoRev hearkens back to the previous harvest season as of July 2018; that is late September to end November. I've shaded that period tan, and shaded the implied price range light green, in Figure 1.
Who came closer? The spot price on 7/15/2019 is 902, the futures implied price is 872, for a difference of 30 cents. CoRev's range is 957 to 1000. The bottom of the range is 55 cents higher than the outcome. The average value during this period is 980.36, which is 78 cents above the actual realization on 7/15.
Recently, CoRev has tried to resurrect his forecast by after-the-fact revision, in this comment earlier today:
Here we are on close of the US Futures Market and the results are in. Today's. close was $9.02 From here: https://markets.businessinsider.com/commodities/soybeans-price That shows that Menzie's PREDICTION was WRONG!

That's $.30 higher than Menzie's prediction of $8.72 for this date from last year July 15, 2018 when the price was $8.30. The average trading price for the year was $8.56 (low $7.81 + High $9.31)/2= $8.56 The high price for the year was $9.31

My quantitative estimate was for the prices to APPROACH the 2017 market price as we approached the 2018 harvest season with a conditional only IF THE US/CHINA TRADE NEGOTIATIONS ENDED. They still have not ended. So the prices have been depressed at a new plateau since they tariffs were implemented. I picked early harvest to be the first months September and October, as any prices earlier would be based upon estimates and not actual harvest numbers. My guess without doing the analysis to add precision is the plateau is around $8.70-$8.80 for YTD since July 15 2018. Accordingly my conditional quantitative forecast should be considered with the new tariff driven plateau $8.70-$8.80 against the 2017 early harvest season (late Sept – Late Oct 2017) price average of $10.09 ($9.43 – $10.75) versus a similar period in 2018 $8.53 ($8.14-$8.92)/2.

My conditional quantitative forecast was wrong. Prices reached above that plateau price starting in November 2018, later in the harvest season not as we approached harvest, Sept and Oct.

I was off by ~$.17 -$.27. Menzie was off by $.30.
If this explanation for why CoRev's forecast was superior to mine makes sense to you, please explain it to me.