Or, "Ready, fire, aim". From Mitchell et al. "The Economics of a Targeted Economic Development Subsidy," Mercatus Center:
In an effort to spur economic growth and to burnish their job-creation bona fides, policymakers at the federal, state, and local levels often dispense targeted economic development subsidies. These selective incentives include targeted tax relief, targeted regulatory relief, cash subsidies, and in-kind donations of land and other valuable goods and services. The weight of economic theory suggests that these subsidies do not work and may even depress economic activity. In this paper, we review the economic case for and against targeted economic development subsidies, using Wisconsin's $1.2 billion to $3.6 billion subsidy to Foxconn to illustrate these points. We show that under realistic scenarios the subsidy may depress state economic activity by tens of billions of dollars over the next 15 years.
Former Governor Walker has noted that there were performance standards imposed, so that the state is in principle not on the hook for subsidies, should FoxConn fail to employ the agreed to number of workers (who do not necessarily have to be Wisconsin residents, by the way). However, other outlays have been made by other localities:
In addition to the state subsidies, localities agreed to a $764 million site development subsidy (which subsequently expanded to $911 million), funded via tax increment financing. The state has agreed to underwrite 40 percent of these loans if the local government is unable to pay them off (but we do not include this potential cost in the state subsidies listed in table 1). Beyond these financial incentives, the state also exempted the company from certain wetland regulations, permitting it to circumvent the standard environmental impact reports and to discharge material into nonfederal wetlands without a permit. It also authorized over $332 million in electric and gas utility infrastructure improvements to service the plant, the costs of which will be borne by other utility customers. Finally, the Village of Mount Pleasant declared 2,800 acres as "blighted," despite the area's comparatively low crime rate, and has spent $160 million to acquire property through eminent domain in order to transfer it to Foxconn.
Hence, even if one doesn't take all the components of the Mercatus analysis at full value (taxation induced dead weight losses, dynamic inefficiencies, etc.), the fairly transparent costing of implicit subsidies and outright and tax expenditures make it clear that the Foxconn deal is an expensive one for the State of Wisconsin, even if Foxconn ends up, as currently seems proposed, a Generation 6 plant.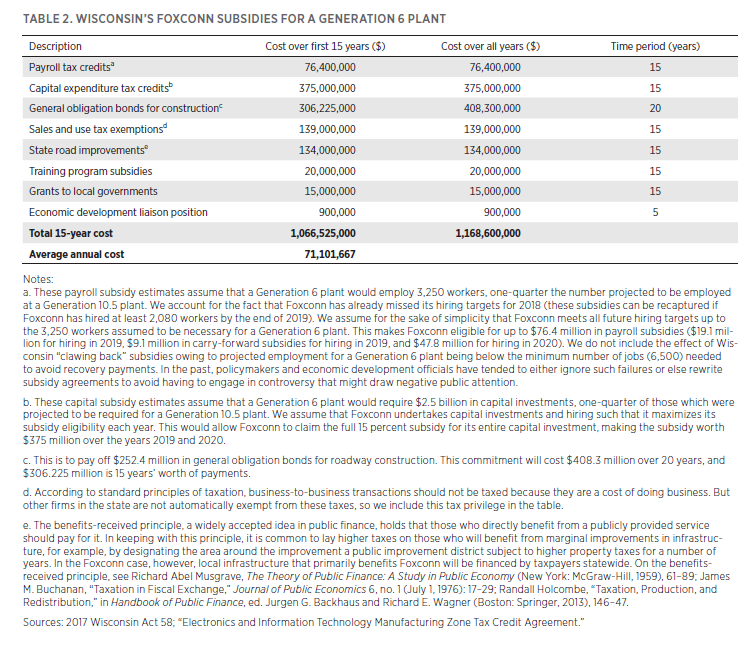 One can add to these costs the static and (more difficult to quantify) dynamic and X-inefficiency costs as laid out in the report, in order to obtain a total cost. The Mercatus study authors clearly think a net positive benefit is unlikely.