The Trump economic policy regime (if it can be called that) has provided several "natural experiments". Do corporate tax rate reductions "pay for themselves"? Does expansionary fiscal policy at full employment lead to large increases in output? Does increasing trade protection necessarily lead to an increase in the trade balance? Does a bellicose and confused trade negotiating stance accelerate fixed investment? I think the answers are No, No, No, and No. On this last point, see Altig et al. on Macroblog:
Amid reports of softening manufacturing conditions in the U.S., slowing growth in payroll employment, and a drop-off in business investment, it's natural to wonder whether trade policy is at least partly to blame. Professional forecasters seem to think so. For instance, the International Monetary Fund (IMF) forecasts that the U.S.-China trade dispute will shave roughly three-fourths of a percent from global output by 2020, which, as the IMF's managing director noted, is "equivalent to the whole economy of Switzerland."

Over the past year and a half, we have been keenly interested in how trade policy worries affect business decision making. In August 2018, we reported that trade concerns prompted about 1 in 5 firms to re-evaluate their capital investment decisions. At the same time, only 6 percent of the firms in our sample had then decided to cut or defer previously planned capital expenditures in response to trade policy developments. Early this year, we noted that the hit to aggregate investment from trade tensions and tariff worries was modest in 2018, but firms believed the impact would increase in 2019.

…

Twelve percent of surveyed firms reported cutting or postponing capital expenditures in the first six months of 2019 because of trade tensions and tariff worries (see exhibit 1). That's twice the share when we asked the same question a year earlier. Given the capital-intensive nature of manufacturing, it is perhaps more concerning that one in five manufacturing firms now report cutting or postponing capital expenditures because of trade policy tensions.

We also find that tariff hikes and trade policy tensions now exert a larger negative impact on gross U.S. business investment. Exhibit 2 uses SBU data on whether firms changed their capital expenditures due to trade policy tensions and, if so, by how much and in which direction. Column (1) reports the average percentage impact in the sample, where we weight each firm's response by its capital stock value. To estimate the dollar impact of trade policy developments in column (2), we multiply the weighted-average percent change by actual U.S. business investment in the first half of 2019, which yields an estimated effect on U.S. business investment of about minus $40 billion.

…
Here is an interesting correlation which is supportive of Altig et al.'s views.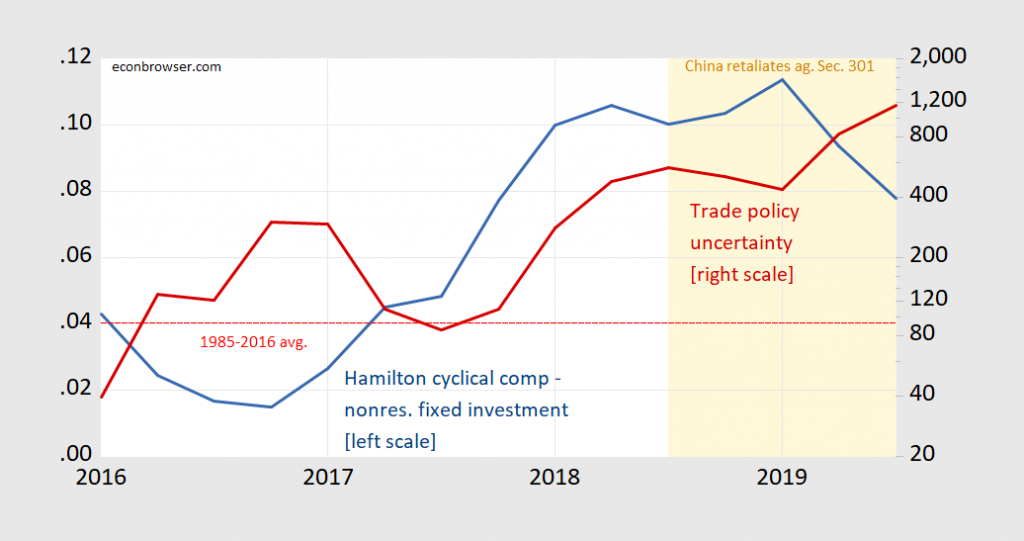 Figure 1: Log nonresidential fixed investment detrended using Hamilton's procedure (blue, left scale), and Trade Policy Uncertainty (red, right log scale). Light orange shading denotes period during which China has retaliated against US Section 301 tariffs. Source: BEA, policyuncertainty.com.
Note that trade policy uncertainty as measured by Baker, Bloom and Davis rose substantially above the 1985-2016 average in the first quarter of 2018, when Mr. Trump declared his intent to impose sanctions under Section 232 and Section 301.
The increase in trade policy uncertainty is associated with an increase in global economic policy uncertainty. The correlation is much less marked for economic policy uncertainty and the global index.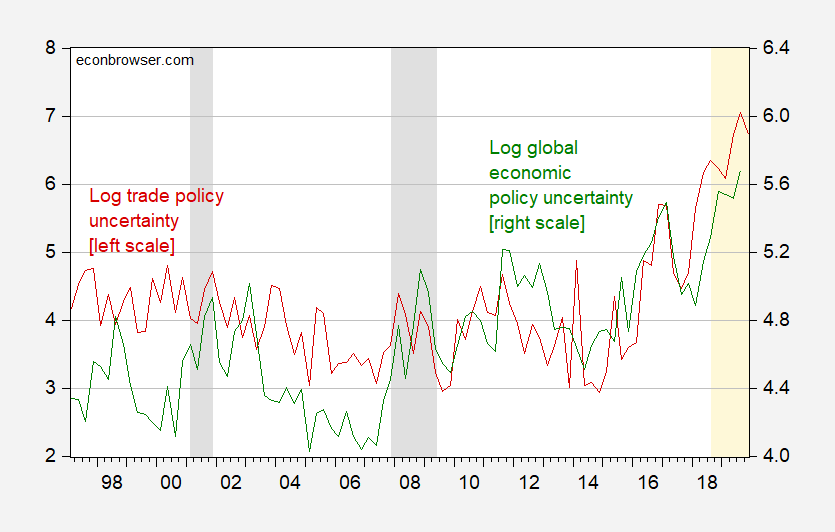 Figure 2: Log US trade policy uncertainty categorical index (red, left scale), and log global economic policy uncertainty (green, right scale). NBER defined recession dates shaded gray. Orange shading denotes period in which China retaliates against US Section 301 tariffs. Source: policyuncertainty.com, NBER, and author's calculations.
If you want to scare yourself, plot the trade policy uncertainty index unlogged…