From Mr. Trump's speech at the Economic Club of New York yesterday:
…we've added nearly $10 trillion of new value to our economy. That's in a short period of time. Remember, I only use numbers from the time of the election because I can't go to January 20th. It's not fair. We picked up tremendous stock market and economic numbers. They actually went wild the day after I won.
Where does this number come from? I downloaded household holdings of corporate equities, from the Fed's Flow of Funds release, FRED series HNOCEAQ027S, which extends to 2019Q2. I extrapolated to 2019Q3 using the SP500 (in a first differences log-log specification 2010-2019Q2, Adj-R2 = 0.60). This yields this graph: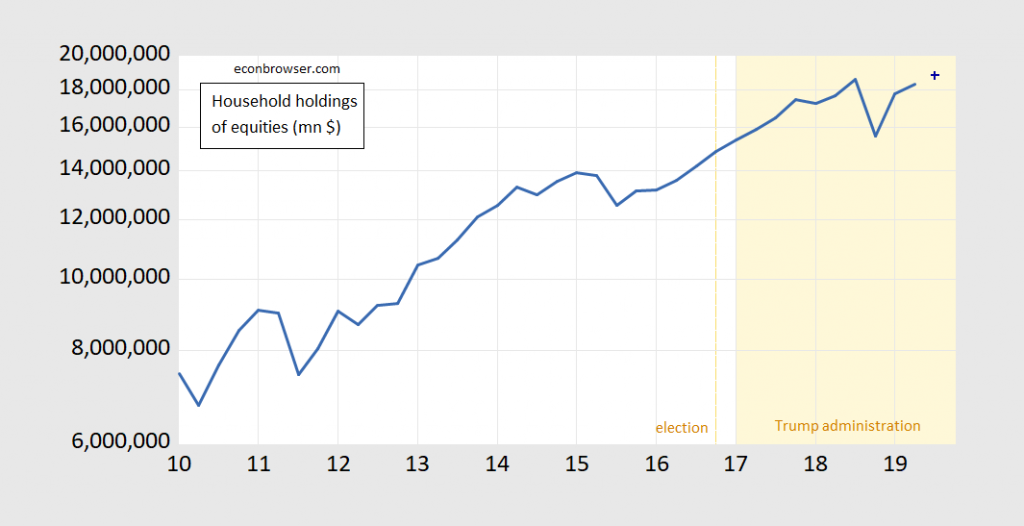 Figure 1: Value of household holdings of corporate equities in millions of dollars (blue), estimate for 2019Q3 based on SP500. Light orange denotes Trump administration. Source: Fed Flow of Funds via FRED and author's calculations.
The difference between end-2019Q3 equity wealth and that at end of 2016Q4 is $4 trillion (a cumulative 27% in log terms). I don't know where the other $6 trillion Mr. Trump cites came from.
On average, market capitalization has grown a respectable 9.4% per year since 2016Q4 (log terms). In contrast, during Obama's second term (election to election) capitalization grew 11.3% per year…
On another point, Mr. Trump writes:
Last year, GDP growth matched the fastest rate in more than a decade…
I don't know how he gets this either — unless his speechwriter forgot to update the numbers (the GDP figures get revised, after all…). Using the latest series, I find y/y on annual data the 2.9% figure in 2018 is matched by the 2015 figure of 2.9%. On a q4/q4 basis, the 2018 figure of 2.5% was exceeded by the 2017 figure of 2.7% which was in turn exceeded by the 2.9% in 2014…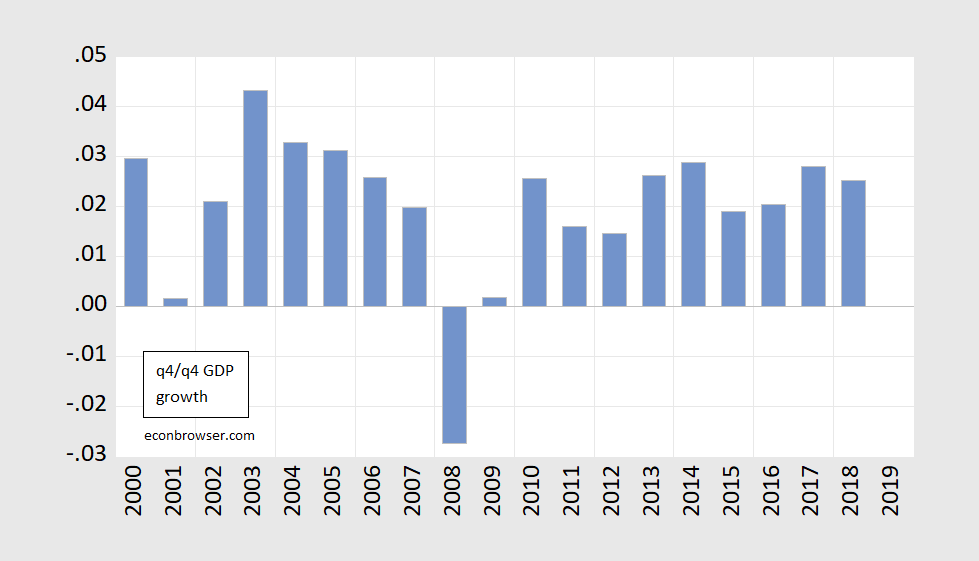 Figure 2: Q4/Q4 real GDP growth rate (blue bar). Source: BEA, 2019Q3 advance release, and author's calculations.
Back when I was on CEA staff (both Clinton and Bush), we meticulously fact-checked each number. Apparently, that is no longer the case in Trump's 2019. In other, don't trust a single number that comes out of Mr. Trump's mouth. (Except when he said "I am the king of debt.").