That's what reader sammy asserts, trying to support the proposition that Chinese retaliatory tariffs on imports of US soybeans had no impact on US soybean prices.
… chart of soybean prices there are a number of other commodity price charts, such as copper, wheat, coffee etc. They are unaffected by the tariff war yet are remarkably similar to the soybean chart.
That might be true over the past 45 years (I haven't checked), but we're talking about tariffs. Since metals are affected by drastically different factors than grains and oilseeds, I thought it might be useful to see what has happened to the relative prices of two ag commodities — soybeans (blue) and grains (brown) — since the announcement of Section 301 actions and corresponding Chinese tariffs.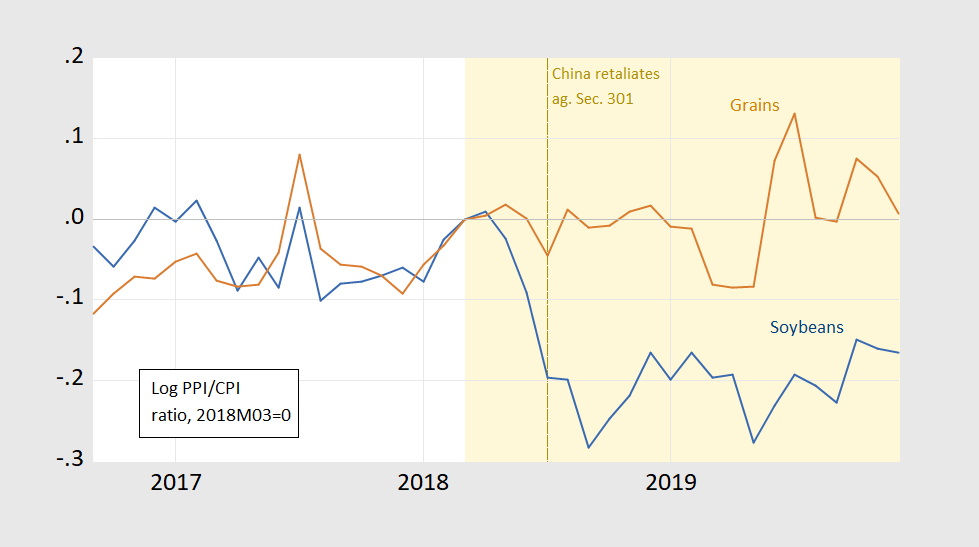 Figure 1: CPI deflated PPI for soybeans (blue) and grains (brown), in logs 2018M03=0. Orange shading denotes period during which China Section 301 action is announced/implemented. Brown dashed line is when Chinese tariffs on US soybeans goes into effect. Source: BLS via FRED, author's calculations.
Interestingly, even though the Chinese imposed tariffs on US wheat, corn and sorghum (so prices of those US ag commodities were likely depressed as well), relative prices as of December were no lower than in March 2018.
Hence, it does appear that soybean prices have behaved in a different fashion than grains that did not have retaliatory tariffs imposed upon them. Soybean prices have declined since the Phase I deal was signed, so a drastic upward movement in January is unlikely.