The 20181918-20 pandemic waxed and waned. This suggests there is not necessarily a quick return to "normalcy".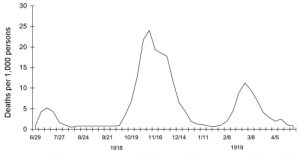 Figure 1: Three pandemic waves: weekly combined influenza and pneumonia mortality, United Kingdom, 1918–1919. Source: Taubenberger and Morens (2006).
Update, 4/15:
Reader Ed Hanson asks why refer to the flu, when the current pandemic is associated with a coronavirus. From Scientific American:
"Past influenza pandemics give some sense of what the overall [trajectory] of a virus like this would be because the reproductive number of this virus"—defined as how many people each infectious person transmits the disease to in a completely susceptible population—"is pretty similar to that of a pandemic flu," says Marc Lipsitch, a professor of epidemiology and director of the Center for Communicable Disease Dynamics at Harvard University. Although it is difficult to determine exact figures for an emerging disease, reports put the reproductive number of COVID-19 between 2 and 2.5. The median reproductive number for the 1918 flu pandemic was around 1.8. Lipsitch estimates that between about 20 and 60 percent of the global population will ultimately become infected with the novel coronavirus, or SARS-CoV-2.

Although every virus and resulting disease is different, a look at epidemic dynamics of both COVID-19 and the 1918 flu points to similar successful containment procedures. …
I thought this was obvious, but Mr. Hanson apparently needs some justification for my reference to the 1918-20 pandemic. My point was that we could see multiple waves of the epidemic. Maybe the drivers will be different — perhaps premature re-openings of the economy will spur additional deaths in the current episode. Nevertheless, we should not dismiss the possibility that this will not be the only wave.
Update, 4/16:
From EconoFact:
Policies designed to reduce public interactions between people ("social distancing") reduced mortality. In their research, Howard Markel, Harvey Lipman and J. Alexander Navarro collected and analyzed data on the weekly pattern of deaths in 43 of the largest US cities between September 1918 and February 1919. They augmented these data with the timing and duration of social distance measures, like closing schools and prohibiting large public gatherings. Both earlier enactment and longer duration of such measures were associated with lower overall mortality. They also showed that numerous cities had two peaks in their mortality rates during the fall of 1918, with the first often occurring while social distancing measures were in place and the second occurring after the social distancing measures were relaxed.