These two individuals have written an extraordinary document entitled "When and Where Will the Recovery Occur? A National and State by State Analysis of the Economic Response to the Coronavirus". It is the pinnacle of economic hackery.
Non-Reality Based Assertion 1: The US has done an outstanding job
"…the U.S. has done an outstanding job compared to other nations in limiting the death toll of the coronavirus in relation to population." (page 3)
The following two figures suggest otherwise.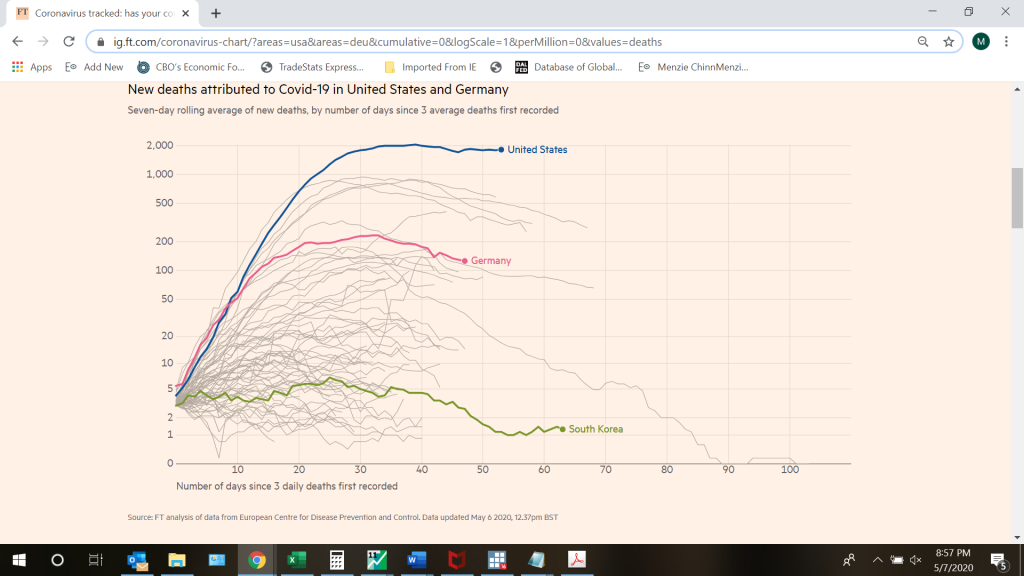 Source: FT, accessed 7 May 2020
Notice the US is the only country that does not have a declining fatality rate. And hence, on a cumulative per capita  basis, the US is fast catching up with Italy and Spain.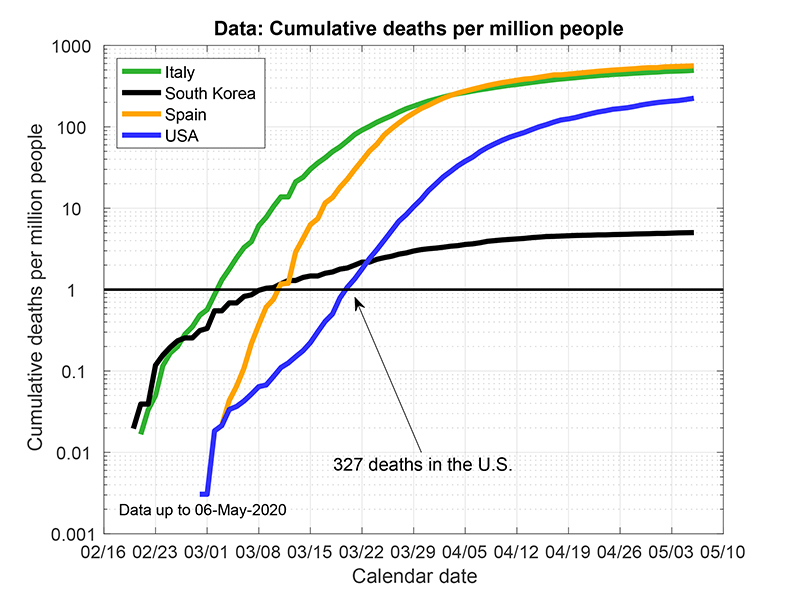 Source: https://research.stlouisfed.org/resources/covid-19/preliminary/daily-data-projections
Non-Reality Based Assertion 2: Expect a short and shallow recession
"…in all of the other episodes of severe contraction—as well as in the current coronavirus collapse—the stock market has not only anticipated the collapse, but it has also estimated the magnitude of the collapse. From the culmination of the Roaring 20s through the 1930s, the stock market fell by some 90% from its high in 1929 to its low in 1930. In real terms, the stock market did not return to its 1929 peak until 1958.

A simple conclusion here is that the stock market, at present, is forecasting a downturn for sure, but that downturn, over the course of the next year or two, all included is not expected to be long-lasting or very deep."
This assertion is based on correlations between detrended series depicted here: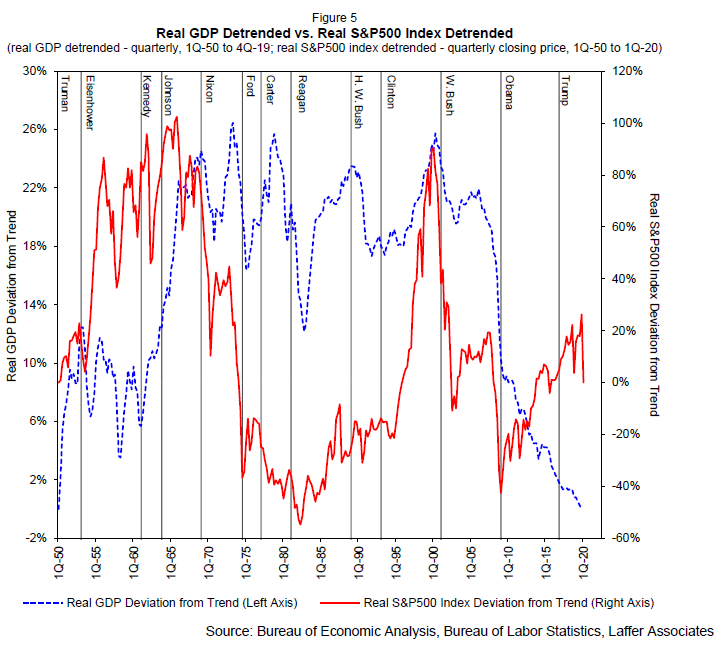 Casual inspection of the graph would suggest to the informed reader that Arthur Laffer and Stephen Moore are using an odd detrending technique. GDP under Carter reached near 26% above trend, according to Laffer-Moore. And while the real S&P was by their estimates over 20% above trend in 2019Q4, it was 100% above trend in 2000Q1. Compare against the (admittedly problematic but familiar) HP filter estimates: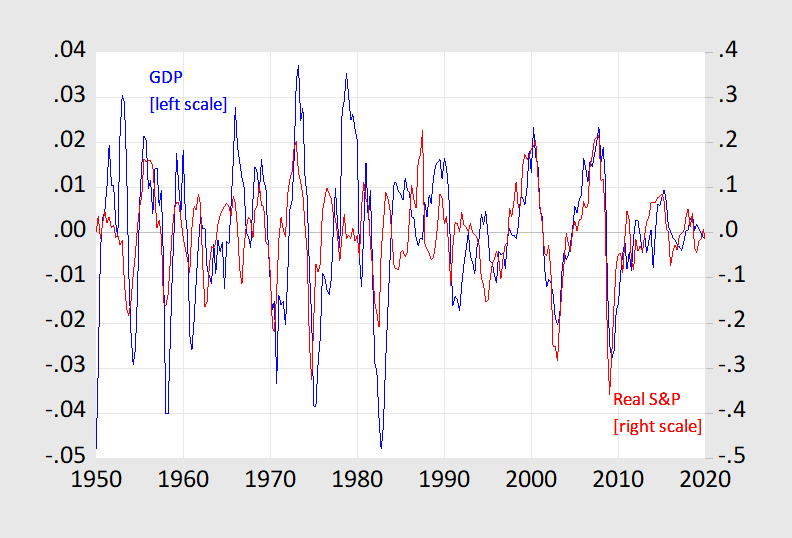 Notes: US log GDP, cyclical component from two-sided HP filter, default lambda for quarterly data (blue, left scale), and US S&P500 CPI deflated, logged, cyclical component (red, right scale). Source: BEA, Shiller, and author's calculations.
The corresponding deviation in 2000 is 20%. Using HP filtered series, the adjusted R-squared from a regression of GDP on S&P is 0.23…
Non-Reality Based Assertion 3: The highly ALEC-Laffer ranked states will lead
"Some critics of reopening state economies and the national economy argue that this will adversely affect the health and well-being of American citizens. Saving lives and keeping Americans healthy has to be of premier importance. But we have looked at the evidence across states and there is little if any evidence that states with stricter anti-work and business closure policies have been healthier than states with more lenient policies. Moreover, there is increasing evidence that social isolation from stay at home orders and the big increases in unemployment and business failures are highly associated with negative health consequences, including increases in suicide, heart attacks, drug overdoses, child and spousal abuse cases, depression and deprivation." (page 9)
This leads to Messrs. Laffer & Moore to argue that certain states will lead growth in the recovery, based on the ALEC-Laffer index:

The imposition of an income tax, a component of the Outlook ranking, is a signal for poor performance.
"But if the truth be known, the adoption of a state income tax is almost the perfect indicator of poor performance. Other states also have poor performance, but tax policies and the concomitant set of other anti-growth policies, such as pro-union laws, minimum wages, etc, are the trademark of anti-growth states." (page 12)
But this is an assertion in search of evidence, as documented in this post. There is no robust association between the Outlook ranking and economic growth at the state level.
The document's complete detachment from reality suggests that one should be circumspect in taking on their concluding thoughts (pages 13-14):
1) An important assumption underlying our optimism for the economy is that the federal government will not attempt to bail out states or spend trillions more on income redistribution programs. A bail out of the states would have a large negative impact on the U.S. economy. Federal spending is negative, not positive, for economic growth, especially if it is aimed at low priority projects, such as bailing out state and local pension funds, mass transit, green new deals and so on.

2) A recurrence of the virus with a second shutdown would have a very negative effect on the economy, but financial markets have already priced in that risk.

3) A payroll tax cut will strongly accelerate the recovery by rewarding both work and hiring.

4) If the national economy performs poorly, then the blue states are likely to suffer a bigger blow than the red states. Already, we have seen large increases in unemployment in states like Connecticut, Illinois, Michigan, New Jersey, New York, Ohio and Pennsylvania. These states already have very large budget deficits and their state budgets will be wrecked by a prolonged economic slump. We wouldn't be all that surprised if a handful of states, counties, cities and special districts file for bankruptcy protections over the coming two years.

5) Every day that states keep their economies closed leads to a cascading negative impact on not only their own economies, but also the national economy. We are a 50-state free-trade zone. A strong national economic recovery will be inhibited if California, Illinois, Michigan and New York keep their economies shuttered into the summer months. These four states alone account for about one-third of the national output. ALL states would benefit mightily if California, Illinois, Michigan and New York open sooner rather than later.
I know of no modeling that substantiates items 1 and 3. In fact I know of studies that discount the propositions in 1 (Eichenbaum et al. (2020)) and 3 (CRS, 2019; Eggertsson).
Just say no to the snake oil.