Today, we're pleased to present a guest contribution by Rob Fairlie (UC Santa Cruz).
---
The widespread closing of stores and businesses in the United States and around the world due to the coronovirus is unprecedented. Stores, factories and many other businesses have closed by policy mandate or downward demand shifts. Many of these closures may be permanent because of the inability to pay ongoing expenses and survive the shutdown. The impact on small businesses around the world is likely to be severe.
Although the effects of COVID-19 on the economy showed up quickly in the stock market, the real estate market and unemployment claims, the effects on small business are not well known because of the lack of timely business-level data released by the government. This paper (ungated version) addresses this limitation by creating estimates of the number of business owners from monthly Current Population Survey (CPS) microdata files. Using these timely data, I examine how COVID-19 impacted small business owners in mid-April 2020 – the first month to capture the wide-spread shelter-in-place restrictions in the United States. This study provides the first estimates of the early-stage effects of COVID-19 on small business owners from April 2020 CPS microdata. I find that the number of working business owners plummeted from 15.0 million in February 2020 to 11.7 million in April 2020 because of COVID-19 mandates and demand shifts. The loss of 3.3 million business owners (or 22 percent) was the largest drop on record. When conditioning on working roughly two days per week or four days a week, the losses are even larger (28 percent and 31 percent, respectively). Although incorporated businesses are more growth-oriented and stable, they experienced a drop of 20 percent from February to April 2020.
Patterns across gender, race and immigrant status reveal interesting findings (see Figure 5 from the paper, below). African-Americans experienced the largest losses, eliminating 41 percent of business owners. Latinx also experienced major losses with 32 percent of business owners disappearing between February and April 2020. Immigrant business owners suffered a large drop of 36 percent, and female business owners suffered a disproportionate drop of 25 percent. Overall, these first estimates of impacts of COVID-19 on small businesses from the April 2020 CPS indicate that losses were spread across demographic groups and types of business – no group was immune to negative impacts of social distancing policy mandates and demand shifts.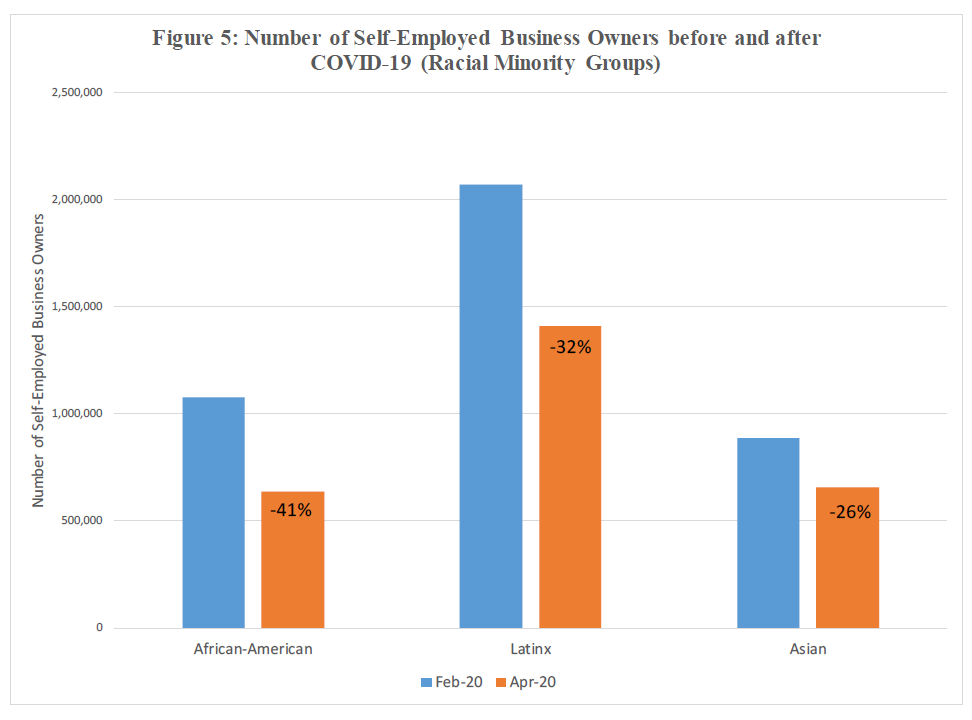 Source: Fairlie (2020).
The next important question is whether the shutdowns of small businesses are temporary or longer term. More permanent mass closures of small businesses in the United States are likely to have a dramatic effect on employee job losses, further income inequality, and contributing to a prolonged recession.
---
This post written by Robert Fairlie.