My base scenario is a slow recovery. However, I have always viewed — given the sheer incompetence of the Trump administration — the possibility of a double dip recession as a real one. Today, Diane Swonk lays out the case:
Chart 1 lays out two scenarios for the economy over the next six months. We are down to about a 50/50 chance of the economy slipping again in the fourth quarter. This is despite an expected $1.5 trillion in additional aid from Congress. Another downturn would push out the
time it takes to reach the pre-crisis peak in economic performance by six months, relative to our base case.

…

The White House has issued several executive orders intended to partially replace benefits,
cut payroll taxes and reinstate moratoriums on evictions, but little appears actionable. The lapse in unemployment benefits alone will take weeks (if not longer) to restore, while evictions have already started. The level of extra unemployment benefits is expected to be cut from $600 to $400 per week …

A drop in payrolls could come as soon as August when the remainder of the funds tied to the Payroll Protection Program (PPP) loans and grants are set to run out.
Swonk gives 50/50 chance to each of the below scenarios.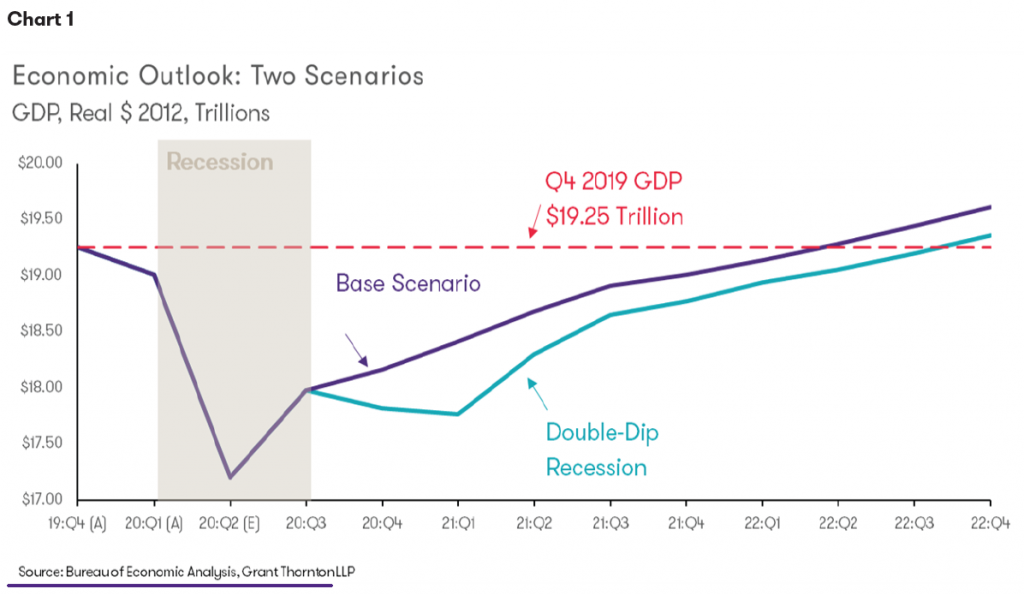 That's the same logic that that induced me to say today:
"We tried to skip over the step of getting the infection rates to manageable levels," he continues. "We are in what I feared, and many people feared, which was a sort of stop-and-go policy. We tried to get the economy going, but we don't have the prerequisites in place."

…

…without a new federal recovery package, "what we've seen so far is just a prelude and it will get a lot worse," he warns. "You've got withdrawal of stimulus, and lots of uncertainty for lots of people, and that's not conducive to people spending."