NY Fed, Atlanta Fed, St. Louis Fed, and IHS Markit released nowcasts today.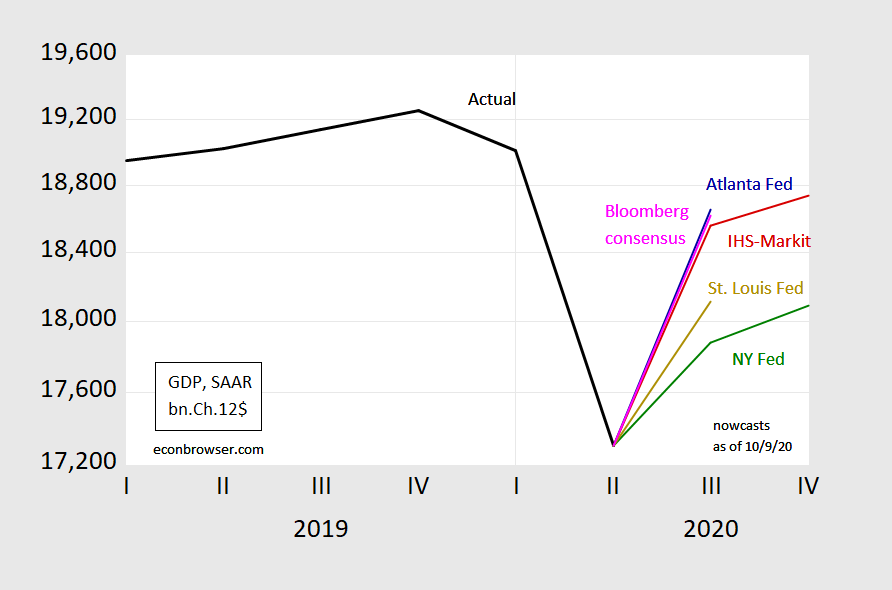 Figure 1: GDP in bn. Ch.2012$ SAAR (black), Atlanta Fed GDPNow (blue), NY Fed nowcast (blue), St. Louis Fed nowcast (chartreuse), IHS Markit nowcast (red), Bloomberg consensus. Source: BEA 2020Q2 3rd release, Atlanta Fed, NY Fed, St. Louis Fed, IHS Markit, Bloomberg, author's calculations.
The NY Fed nowcast of growth is substantially lower than that of Atlanta Fed's GDPNow. In normal times, with 21 days to the advance release, one would put greater weight on GDPNow.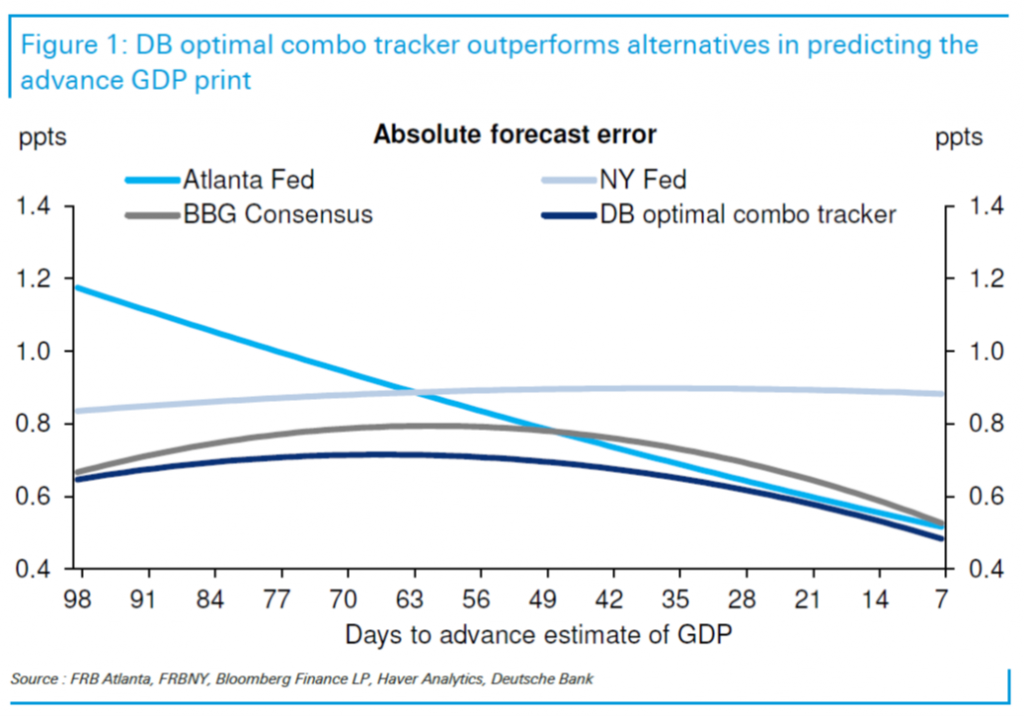 Source: Luzzetti, et al. "Tracking the GDP trackers," Deutsche Bank US Economic Perspectives, 24 July 2019.
Jim Hamilton described how the NY and Atlanta Fed nowcasts differ:
The forecast the two approaches start the quarter with is one of the key differences between the two models. The Atlanta model begins with separate forecasts of 13 individual components of GDP, such as personal consumption expenditures on goods, PCE on services, and investment in equipment. The start-of-quarter forecast is based on a regression of each component on 5 quarters' lags of all the components, with the regression coefficients heavily weighted toward a random walk using a Bayesian prior, according to which the best forecast of next quarter's equipment investment is probably not too far from whatever the number was for this quarter. By contrast, the New York model begins with a "top-down" approach, starting with a forecast of overall economic activity based on the best current assessment of overall activity.
These two nowcasts, as well as that from IHS Markit (formerly Macroeconomic Advisers) use largely the same data.
The St. Louis Fed nowcast adopts an approach using different data:
Our approach augments a consensus forecast of current-quarter real GDP growth by adding the news component of several key economic data releases. To do so, we first create an "economic news index" (ENI) based on the surprise component of key monthly economic data releases and then use that index to update Blue Chip Consensus (BCC) forecasts of real GDP growth as we move across the quarter.