With October personal income and September manufacturing and trade sales reported today, we have this picture of the NBER Business Cycle Dating Committee's key indicators: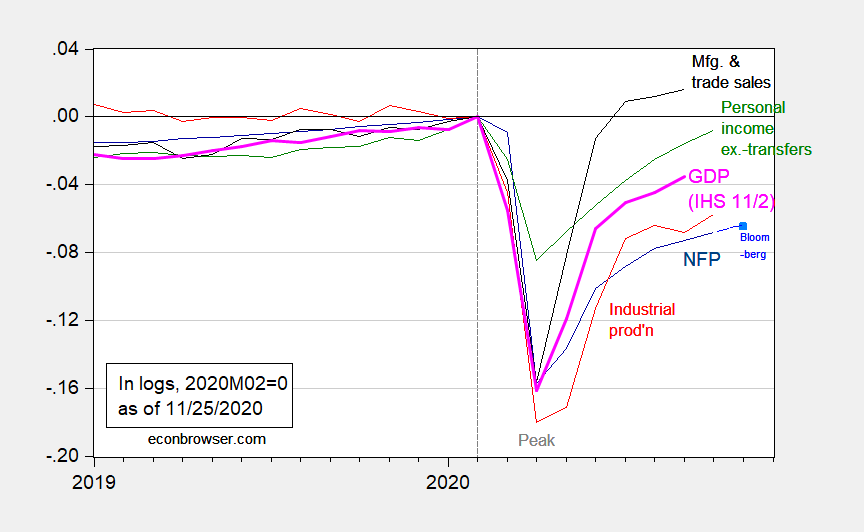 Figure 1: Nonfarm payroll employment (dark blue), Bloomberg consensus for employment as of 11/25 (light blue square), industrial production (red),  personal income excluding transfers in Ch.2012$ (green), manufacturing and trade sales in Ch.2012$ (black), and monthly GDP in Ch.2012$ (pink), all log normalized to 2020M02=0. Source: BLS, Federal Reserve, BEA, via FRED, Macroeconomic Advisers (11/2 release), NBER, Bloomberg, and author's calculations.
The picture is consistent with growth at a greatly decelerated rate. The Bloomberg consensus for November employment growth rate is 4.4% (annualized, log terms), compared to the actually recorded October rate of 5.4% (annualized). I don't think this incorporates the latest information regarding unemployment claims. In addition, some high frequency indicators (Tedeschi) suggest a negative growth rate for November.
If there is an incipient downturn at year's end, it hasn't shown up in the conventional indicators. Personally, give the Covid-19 surge, administration and legislative branch obstructionism (if not scorched earth sabotage), I am a bit pessimistic.