Fatalities are rising; CDC determined fatalities consistently below  alternative estimates in recent weeks; excess fatalities are revised upward (a lot, again).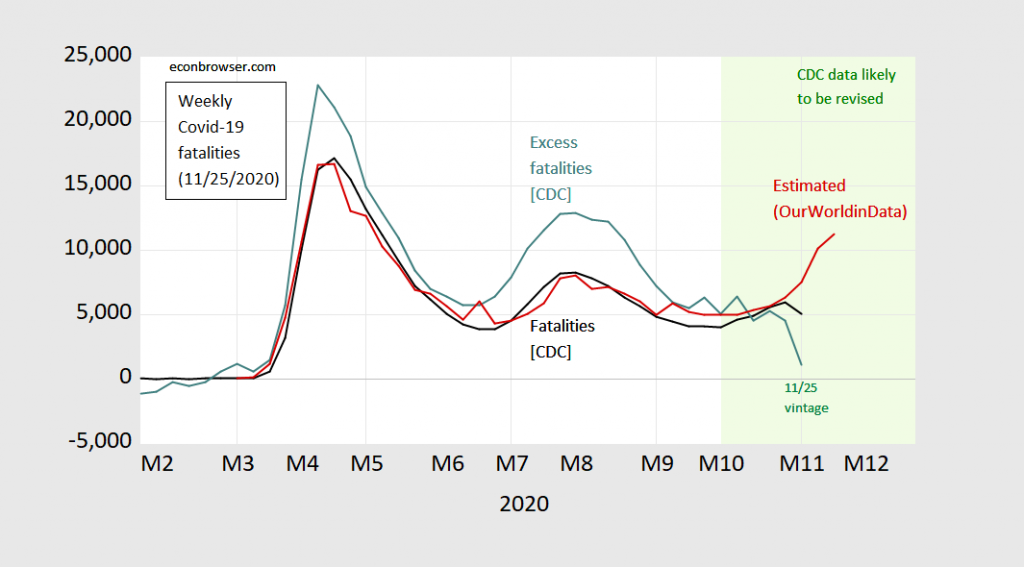 Figure 1:  Weekly fatalities due to Covid-19 as reported to CDC for weeks ending on indicated dates (black), excess fatalities calculated as actual minus expected (teal), fatalities as tabulated by Our World in Data (dark red). Note excess fatalities differ from CDC series which are bounded below at zero. Light green shading denotes CDC data that are likely to be revised. Source: CDC  11/25/2020 vintage, OurWorldinData version of 11/25 accessed 11/25/2020 and author's calculations.
Upward revision of excess deaths (calculated as actual minus expected) going from 11/11 vintage to 11/25 vintage for the week ending 10/24 is about 5700 (that's a 7 day total)
My experience with these series is that the CDC excess count series moves upward toward a line parallel to, and shifted upward from, the Our World in Data series (see this post). In other words, excess fatalities are likely rising (I say likely, because these are statistical estimates, not administrative counts; note I calculate excess fatalities as actual minus expected allowing for negative counts, while CDC bounds below at zero). So, whatever you think of the trend in the commonly reported (administratively designated) fatality series, the truth is likely worse.
As hospitalization rates and fatality rates climb — also I think likely in the wake of the Thanksgiving holidays — I expect further decreases relative to usual levels of contact-intensive services spending.
The increasing frequency of news reports  (e.g., NYT) about a further deceleration in Q1 — perhaps even negative — reflects the enormity of the surge and the diminishing hopes for a large and imminent fiscal recovery package. The news reports reflect in turn the increasing short term pessimism for growth from investment bank reports. The unemployment claims increase for the last week merely reinforces the negative short term view.