Today, we are pleased to present a guest post written by Liang Bai (University of Edinburgh) and Sebastian Stumpner (Banque de France). The views presented represent those of the authors, and not necessarily those of the institutions the authors are affiliated with.
---
Over the last two decades, the share of US expenditure on imports from China has increased rapidly. Among others, this has contributed to a decline in US manufacturing employment (Autor et al. 2013). But how much did US consumers benefit from Chinese import penetration? Using detailed consumption data from US households for the period 2004-15, we estimate that prices of consumer tradable goods have grown by roughly 0.2 percentage points less per year, due to Chinese import penetration.
In recent years, there has been a shift of US expenditure towards imported goods. Figure 1 shows the decline in the domestic share of expenditure (DSE), that is, the share of US expenditure on goods produced in the US. The decline in the DSE is mirrored by an increase in the share of expenditure on goods imported from China, as China has overcome both Canada and Mexico to become the largest exporter of goods to the US.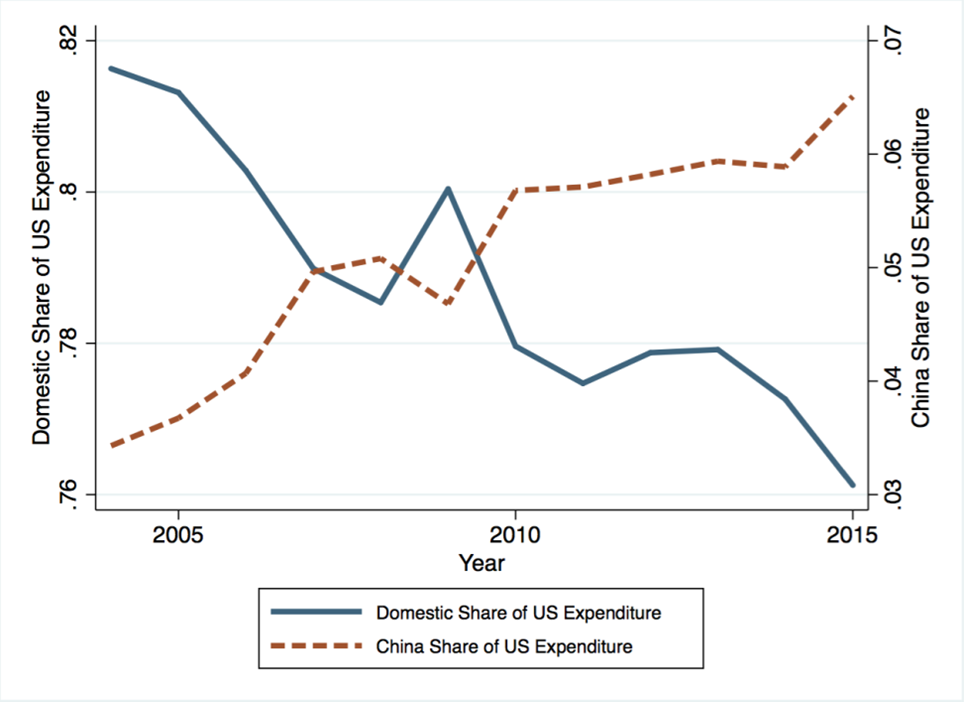 Figure 1: The Rise of China in US expenditure. Note: Authors' calculations based on data from CEPII and the Bureau of Economic Analysis (BEA). The figure shows the evolution of both the domestic and China shares of US expenditure on goods (left and right axis, respectively). The domestic share of expenditure is calculated as (expenditure-imports)/expenditure. Expenditure is computed as production + imports – exports.
In this paper, we focus on the years 2004-15 and estimate that Chinese import penetration led to a 0.2 percentage point lower annual inflation of consumer tradables. The reduction in inflation comes both from lower price growth of existing goods, and from higher entry and exit of products, and it is of similar size for different types of households by income or region.
Data and Inflation Measurement
We use highly detailed household consumption data from AC Nielsen for roughly 1.5 million barcoded products to measure price indices for 232 different categories of consumer goods (such as "chocolate", "batteries" or "vacuum cleaners"). The data provide us with information on prices and quantities purchased, by individual item and household, for a sample of roughly 60,000 US households. They also include household demographic information. The data cover only expenditure on barcoded goods (excluding cars, for instance) and represent roughly half of consumer expenditure on tradable goods.
Using these data, we compute cost-of-living inflation for each of the 232 product categories and combine them with information on trade flows to estimate the effect of Chinese import penetration on cost-of-living inflation rates across product categories.
The price indices are based on a CES utility framework. An important feature of these price indices (and a departure from CPI) is that they account for the entry and exit of products ("variety gains") using an expression developed by Feenstra (1994). Intuitively, consumers gain from product entry and exit when entering products are more competitive (in terms of quality-adjusted price) than exiting products. This is not necessarily related to the number of exiting and the number of entering products. In fact, variety gains can be positive (and contribute to lower inflation), even when there are more goods exiting than entering. What matters is how much consumers value these products, which is measured by their expenditure on entering vs exiting products.
Results
Comparing inflation rates with high vs low Chinese import growth (using an instrumental variables strategy using Chinese supply shocks as IV), we find that Chinese import penetration significantly lowered cost of living for US consumers. A simple calculation suggests that on aggregate, cost-of-living inflation of tradable goods was roughly 0.2 ppts lower per year. With average household expenditure on tradable goods of roughly USD 10,000, our estimates imply that the cost of living per household was roughly USD 210 lower in 2015, due to Chinese import penetration in the period 2004-15.
The data show how the arrival of Chinese products disrupted the US product market. In the trade data we find that imports from China displaced both products made in the US and also products made in third countries. Product categories with higher Chinese import growth show higher entry and exit rates of products. These higher entry and exit roughly balance each other out, so that the total number of products in the market is unchanged. Despite no net change in the number of available products, consumers still benefit from variety gains, since entering products are more competitive than exiting ones. This is closely related to the measurement of variety gains in Broda and Weinstein (2006). Our results extend their work by showing that variety gains are still present even after accounting for the exit of previously consumed products.
The increased competitive pressure also reduced price growth of previously sold products. This is consistent with pre-existing producers reducing their markups but it is not conclusive evidence of such pro-competitive effects of trade. It may also reflect a reduction in production costs in import-competing industries, for instance through lower wages (as shown by Autor et al (2014) for instance).
The effect on prices of final goods may be even stronger if US companies sourced cheaper intermediate goods from China, and if these cost reductions were then passed on to consumers. We also test for this channel, but the estimates are very imprecise and therefore leave us unable to draw any conclusion about the role of intermediate goods.
Do some households gain more than others?
Finally, we test whether some households benefit more from Chinese import growth than others. To do so, we divide households into different groups by income and also by region of residence within the US, and re-compute inflation rates for each of these groups. However, we fail to find any evidence for substantially different effects across households. Inflation for consumer tradable goods fell by similar amounts for all groups. However, effects on overall inflation (across all consumed goods and services) likely differ across households, since low-income households typically have a higher expenditure share on tradable goods (see Fajgelbaum and Khandelwal (2016)).
---
This post written by Liang Bai and Sebastian Stumpner.