Today we are pleased to present a guest contribution by Calla Wiemer (President, American Committee on Asian Economic Studies).
Asian economies have been weathering the pandemic very differently. At one extreme, the Philippines saw GDP contract by 9.5 percent in 2020, while at the other, Bangladesh logged growth of 3.8 percent. This piece draws highlights from a 3-part series posted on the Asia Economics Blog which assesses various channels of economic impact of the pandemic and considers fiscal and monetary policy responses within the context of policy space. 1
The virus itself appears to be a rather weak channel of impact on GDP growth. To be sure, China, Taiwan, and Vietnam all had low incidence of infection combined with decent GDP growth given the circumstances. Yet Thailand showed low infection incidence as well, but with GDP contracting by 6.1 percent, and Bangladesh with moderate incidence nevertheless achieved the best GDP performance in the region.
Mobility loss emerges as a clearer channel of impact on GDP growth, as conveyed in Chart 1. The Philippines and India lie at the negative extreme for both variables with mobility loss at over 40 percent. At the opposite extreme, Taiwan and Vietnam incurred mobility loss of less than 10 percent in conjunction with positive GDP growth.
Data sources: Mobility loss based on "retail and recreation" and "workplaces" indicators, Google; GDP growth, IMF World Economic Outlook.
Export decline as a channel of impact appears mixed, although the fit is close at the extremes.  The Philippines and Thailand suffered the worst hits to exports with reductions of around 20 percent in 2020 due to their heavy reliance on services exports – diverse in form for the Philippines and concentrated in tourism for Thailand. China, Taiwan, and Vietnam all managed positive export growth in support of their positive GDP growth.
Those few governments with space to do so mobilized fiscal policy in a big way, as shown in Chart 2. Most, however, were bound by budgetary constraints. Singapore with its long history of budget surpluses was able to draw on accumulated funds to raise expenditures by nearly 80 percent without concern for borrowing costs. Hong Kong, too, with negligible government debt increased expenditures greatly. Elsewhere, budgets were tighter, especially given revenue fall-offs that exceeded 10 percent for India, Indonesia, the Philippines, and Vietnam.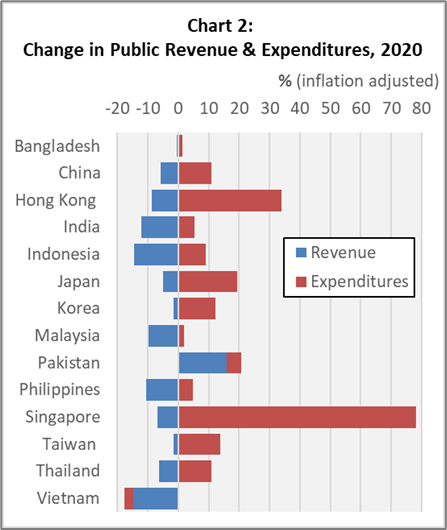 Data source: IMF Fiscal Monitor.
Before the pandemic, all but Taiwan were running primary budget deficits, but most still within range to maintain stable debt-to-GDP ratios. In 2020, deficits spiked beyond this sustainability threshold, with Taiwan again the lone exception. For the most part, budgets look to be headed back to a sustainable track within a few years, China standing out as the exception. China's primary deficit reached 10.4 percent of GDP in 2020 with the course seemingly set for it to far exceed a 2.8 percent sustainability threshold for some time to come.
By way of monetary policy support, Asian central banks have lowered policy rates and engaged in asset purchases. A broad-based uptick in central bank asset growth rates for 2020 is visible in Chart 3. In the Philippines and Indonesia, central banks took the extraordinary step of lending directly to the government to fund public spending needs. In Bangladesh, the central bank intervened heavily in the foreign exchange market to absorb surging net foreign currency inflows.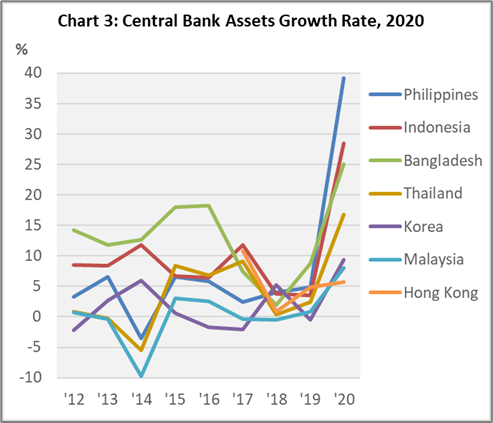 Data source: IMF Monetary and Financial Statistics.
Ample monetary policy space has been afforded by expansionary policy in the US that imparts liquidity to global capital markets. Against this backdrop, Asian economies have run balance of payments surpluses with central banks leaning against currency appreciation or in a few cases leaning into slight depreciation. In Bangladesh, India, and Singapore, reserve accumulation as measured on the balance of payments exceeded 20 percent of reserve stocks.
Should inflation pick up in the US and the Fed then respond by tightening monetary policy, Asian central banks would come under pressure to follow suit to forestall capital outflows. The race is on, then, to move forward jointly in vaccinating populations so that we may all pull out of the crisis together with normalization of macro policies in sync.
---
This post written by Calla Wiemer.
---
1. Asia Economics Blog, "Economics of the Pandemic, 2020"
Part I: Covid Cases, Mobility Loss, and Exports
Part II: Fiscal Policy
Part III: Monetary Policy
↩