I keep on seeing organizations like the Wisconsin Manufacturers and Commerce Association cry about worker shortages, as here:
WMC President & CEO Kurt Bauer said Gov. Tony Evers has taken the state's worker shortage and turned it into a worker emergency.
But if you've had any economics course, you'll have seen this graph: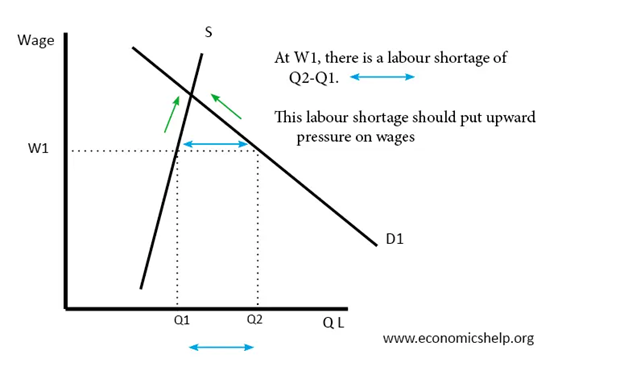 Source: economicshelp.org. 
Now, to my knowledge, Wisconsin has not implemented a ceiling on wages that can be paid (such as denoted by wage W1)., so there is no Classical shortage. And the floor (the Federal minimum wage) is not binding, so we don't have a Classical unemployment. So what are the folks like WMC arguing about?
In reality, what they are saying is that at the wages the member firms are willing to pay, there are insufficient takers. In a neoclassical world, firms should then be willing to raise wages they offer until the marginal worker is willing to take pay at the wage the firm is willing to pay (which in turn should equal — in product wage terms — the marginal productivity of the worker).
Rather, what they are saying is that the labor supply curve of households is too high for their tastes, and that either (1) benefits being paid to the unemployed are elevating the reservation wage of workers, or (2) workers are having a distorted view of the dangers of working in a world where a lot of people are still unvaccinated and the delta variant is spreading quickly. You get the feeling that they kind of wish workers would -down-weight their fears of death and/or sickness, or somehow figure out how to costlessly handle daycare for their children, etc. See this article by Erik Gunn .
I think the term "availability" would better serve the debate than "shortage".
I'm not particularly neoclassical in my views, so if the WMC wanted to provide a different definition for shortage in some sort of formal analytical framework, I'd welcome that. For instance, I have used an asymmetric information model from Shapiro and Stiglitz to analyze why involuntary unemployment might arise, in this post.
In this latter case, it is clear why management would like to cut benefits (actually, in order to eliminate involuntary unemployment, a death penalty or similarly high penalty for not working would do the trick).
So, understand, when a business lobby says there's a "labor shortage" in Wisconsin mid-2021, they do not really mean there is a labor shortage in the neoclassical sense; merely that no wage that they are willing to pay induces sufficient workers to join.