Here is an update to this post, on who's where at the top of select agencies.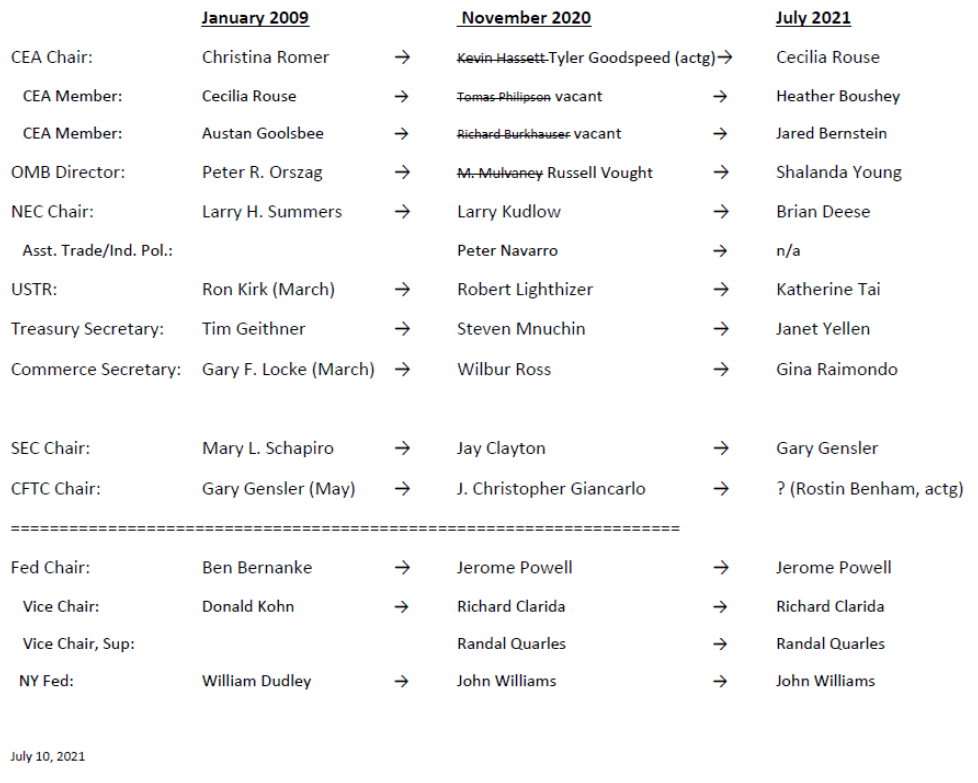 There are many striking contrasts. We go from Kevin Hassett (AEI) to Cecilia Rouse (Princeton), and Steven Mnuchin to Janet Yellen (UC Berkeley/Board/SF Fed/Board) [Econbrowser post].
All I can say is, I'm a lot more confident about things than I was a year ago.
I add this (edited/updated) addendum to my last post on this subject.
Addendum: Google Scholar – top cited articles/chapter (books otherwise), as of 7/10/2021.
Janet Yellen: Akerlof, George A., and Janet L. Yellen. "The fair wage-effort hypothesis and unemployment." The Quarterly Journal of Economics 105.2 (1990): 255-283. 2800 cites
Cecilia Rouse: Goldin, Claudia, and Cecilia Rouse. "Orchestrating impartiality: The impact of" blind" auditions on female musicians." American economic review 90.4 (2000): 715-741. 1951 cites
Heather Boushey: Boushey, Heather. ""Opting out?" The effect of children on women's employment in the United States." Feminist Economics 14.1 (2008): 1-36. 152 cites.
Jared Bernstein: Mishel, Lawrence R., Jared Bernstein, and Sylvia A. Allegretto. The state of working America 2006/2007. Cornell University Press, 2006. 561 cites.
Shalanda Young: Stein, B.D., Tanielian, T.L., Ryan, G.W., Rhodes, H.J., Young, S.D. and Blanchard, J.C., 2004. A bitter pill to swallow: nonadherence with prophylactic antibiotics during the anthrax attacks and the role of private physicians. Biosecurity and bioterrorism: biodefense strategy, practice, and science, 2(3), pp.175-185. 36 cites.
Gina Raimondo: Raimondo, G.M., 2011. Truth in Numbers. Rhode Island, Office of the General Treasures. 11 cites.
Brian Deese: Birdsall, Nancy, John Williamson, and Brian Deese. Delivering on debt relief: From IMF gold to a new aid architecture. Peterson Institute, 2002. 216 cites.
PS: I'll also note that the folks in the previous administration made me waste time figuring out how a border adjustment tax would work (and whether tariffs on Mexican imports could "pay for the wall" since Americans would be literally paying for the tax), forcing me to look up soybean futures over and over again, making me argue with individuals whether soybean futures predicted, forcing me to explain why giving massive tax cuts to high income individuals and corporations was unlikely to presage a new golden era in sustainable growth, etc. etc.