Three alarming graphs regarding the Covid spread in Missouri (from 7/19 WaPo), and some economic indicators:

Source: WaPo, 7/19/2021.

Source: WaPo, 7/19/2021.

Source: WaPo, 7/19/2021.
Here is the CDC ensemble forecasts for Missouri as of 7/19:

Source: CDC, 7/19/2021.
Will these trends show up impacting economic activity? There are (at least) two offsetting effects. Even in the absence of a lockdown and other public health measures, heightened risk if perceived will induce reduced high-contact activity (restaurants, etc.). On the other hand, Missouri is exactly in this situation partly because people's (or political leadership) risk assessment is off. (It could be value-of-life is low, too – hard to assess with the data at hand).
So far, economic activity impacts haven't shown up clearly in conventional indicators (although in June, Missouri was already declining according to the preliminary estimate).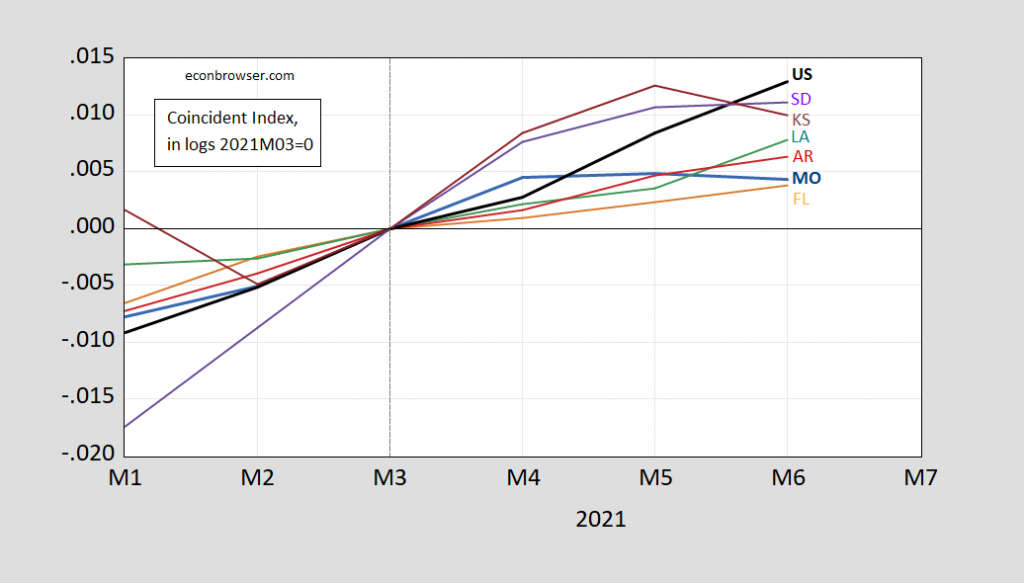 Figure 1: Coincident indexes for Missouri (bold blue), Arkansas (red), Florida (tan), Kansas (brown), Louisiana (green), South Dakota (violet), United States (bold black), all in logs, normalized to 2021M03=0. Source: Philadelphia Fed, author's calculations.
They haven't even shown up clearly in the weekly indicator developed by Baumeister et al., which extends only to July 10.
The most recent observation on Missouri is today's unemployment initial insurance claims report, for the week ending 7/17.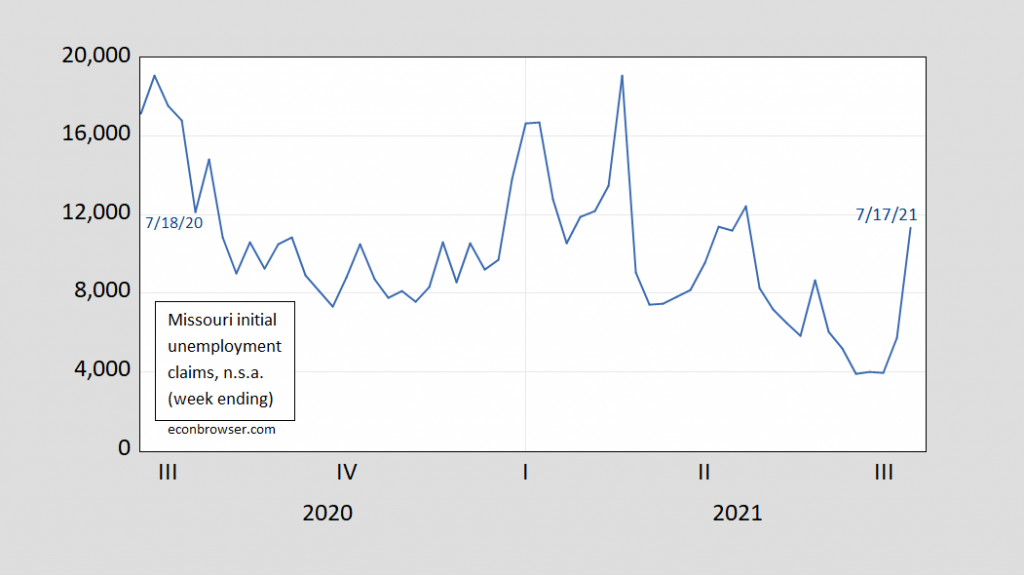 Figure 2: Missouri initial unemployment claims, for week ending, n.s.a. (blue). Source: Missouri DoL, US DoL.
Since the data is not seasonally adjusted, and extremely noisy, one would not want to make too much of the jump (although it's twice as big as the standard deviation of weekly changes, 5591 > 2514).
My worries about the delta variant's macro impact, from a month ago.