For those interested in the RMB, here's my book review: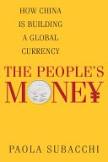 This illuminating volume by economist Paola Subacchi provides an excellent overview of the past and future prospects of the Renminbi—the People's money. Since the book was published, much has happened—including a massive shock to the global financial system and changes in the leadership in the United States as well as of multilateral institutions. However, the essential challenges high-lighted in the book continue to thwart China's desire to advance the Renminbi from "dwarf currency" status—one seldom used in international transactions of all sorts, and little held as a reserve currency by central banks—to a substantial if not dominant global currency.

…

But Subacchi notes the reluctance of policy makers to cede control of the economy to external and market forces—which would be required with capital account lib-eralization and financial market development. It is this reluctance that consti-tutes the biggest impediment to a global role for the Renminbi.

In part, the reluctance is merely the latest manifestation of a long-running pitched battle between those economic policy makers in the PRC who push for greater use of market forces and those in favor of retaining state control. One interpretation of the push for a greater international role for the Renminbi is that it is a lever by which to induce greater exchange rate flexibility and capital account openness. Over the 1990s and 2000s, the momentum seemed to be with the pro-liberalization group. More recently, the pendulum has swung the other way, and even before the pandemic, economic policy makers had retrenched. As Subacchi concludes, China is now trying an untrodden path—elevating a currency while maintaining extensive controls on the capital account. She leaves as an open question whether this can be accomplished. I, along with others, similarly remain skeptical.
Back in 2015, I commented on a paper by Eswar Prasad on the prospects for the Renminbi:
The key question is then, what price in terms of policy autonomy are Chinese policymakers willing to pay in order to achieve renminbi internationalization? This question has been thrown in sharp relief by the faster than anticipated deceleration in growth. Will they be willing to give up the lever of exchange rate management in order to retain monetary policy independence? Will they relinquish control over the financial system (and ability to stem financial outflows) that would occur with capital account convertibility? The heavy-handed nature of intervention in the stock market over the summer of 2015 gives one pause for thought. We may see further backsliding on exchange rate flexibility (and cap-ital account liberalization) if foreign exchange reserves continue to decline…
The rapid ascent in CNY reserves was in 2018, with some resumption in 2020. From 2016 to 2019, Renminbi turnover rose from 4% to 4.3% (out of 200%). Some more data below: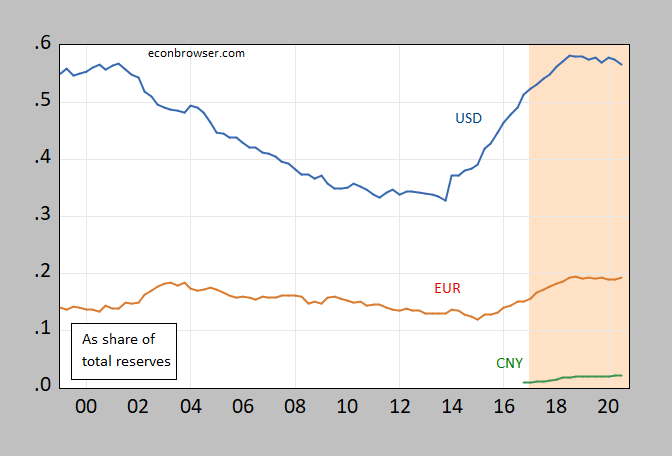 Figure 1: Foreign exchange reserves allocated in USD as share of total (allocated, unallocated) reserves (blue), EUR (red), CNY (green). Pink shading is Trump administration. Source: IMF COFER, various issues, author's calculations.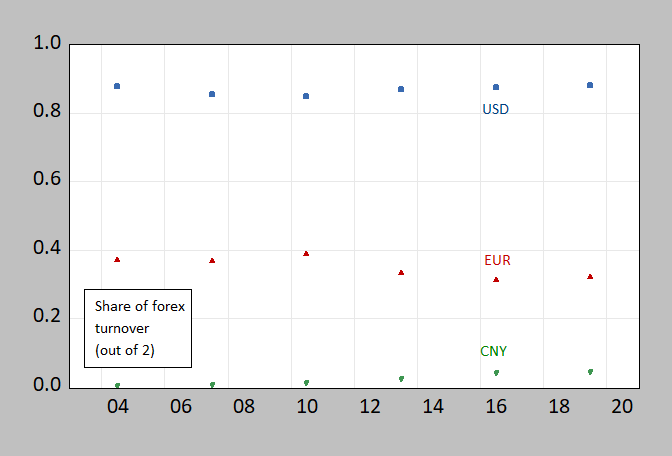 FIgure 2: Foreign exchange turnover share in April in USD (blue square), in EUR (red triangle), in CNY (green inverted triangle). Shares sum to 2. Source: BIS Triennial Survey, 2019.
The IMF provides additional information on the use of the Renminbi in "Reserve Currencies in an Evolving International Monetary System".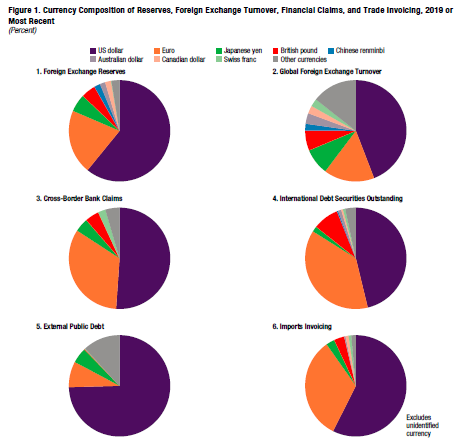 Source: IIMF (2020).