From BLS today:
The Consumer Price Index for All Urban Consumers (CPI-U) increased 0.5 percent in July on a seasonally adjusted basis after rising 0.9 percent in June, the U.S. Bureau of Labor Statistics reported today. Over the last 12 months, the all items index increased 5.4 percent before seasonal adjustment.
The indexes for shelter, food, energy, and new vehicles all increased in July and contributed to the monthly all items seasonally adjusted increase. The food index increased 0.7 percent in July as five of the major grocery store food group indexes rose, and the food away from home index increased 0.8 percent. The energy index rose 1.6 percent in July, as the gasoline index increased 2.4 percent and other energy component indexes also rose.
Here's month-on-month CPI, core CPI, and chained CPI, annualized: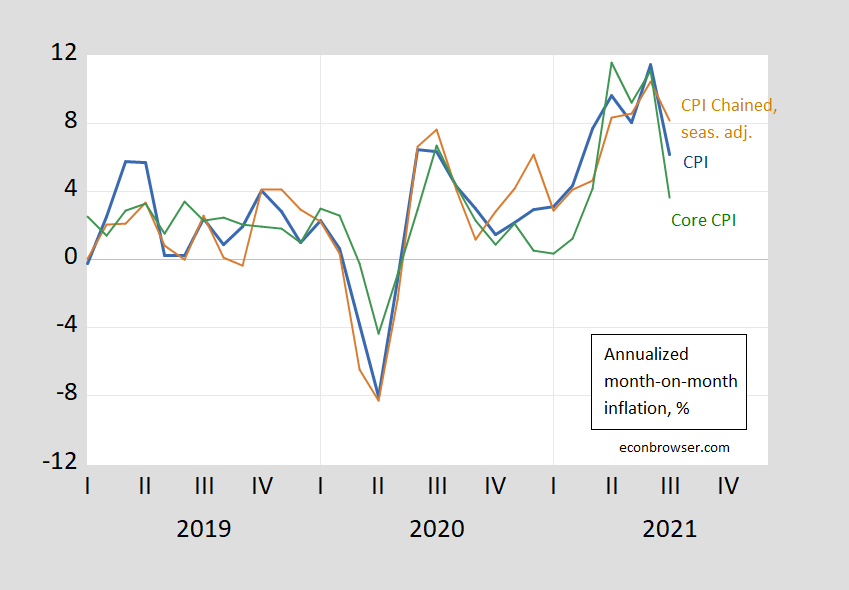 Figure 1: Month-on-month annualized inflation rate for CPI for all urban consumers, goods and services (blue), CPI core (green), and chained CPI, seasonally adjusted (tan)%. Chained CPI s.a. adjusted by author. Source: BLS and author's calculations.
The headline and core CPI numbers came in on Bloomberg consensus.
More to come.