The IMF blog (Andrea Pescatori, Martin Stuermer, and Nico Valckx) predicts: "Surging Energy Prices May Not Ease Until Next Year".
This assertion is based upon the following graph of futures: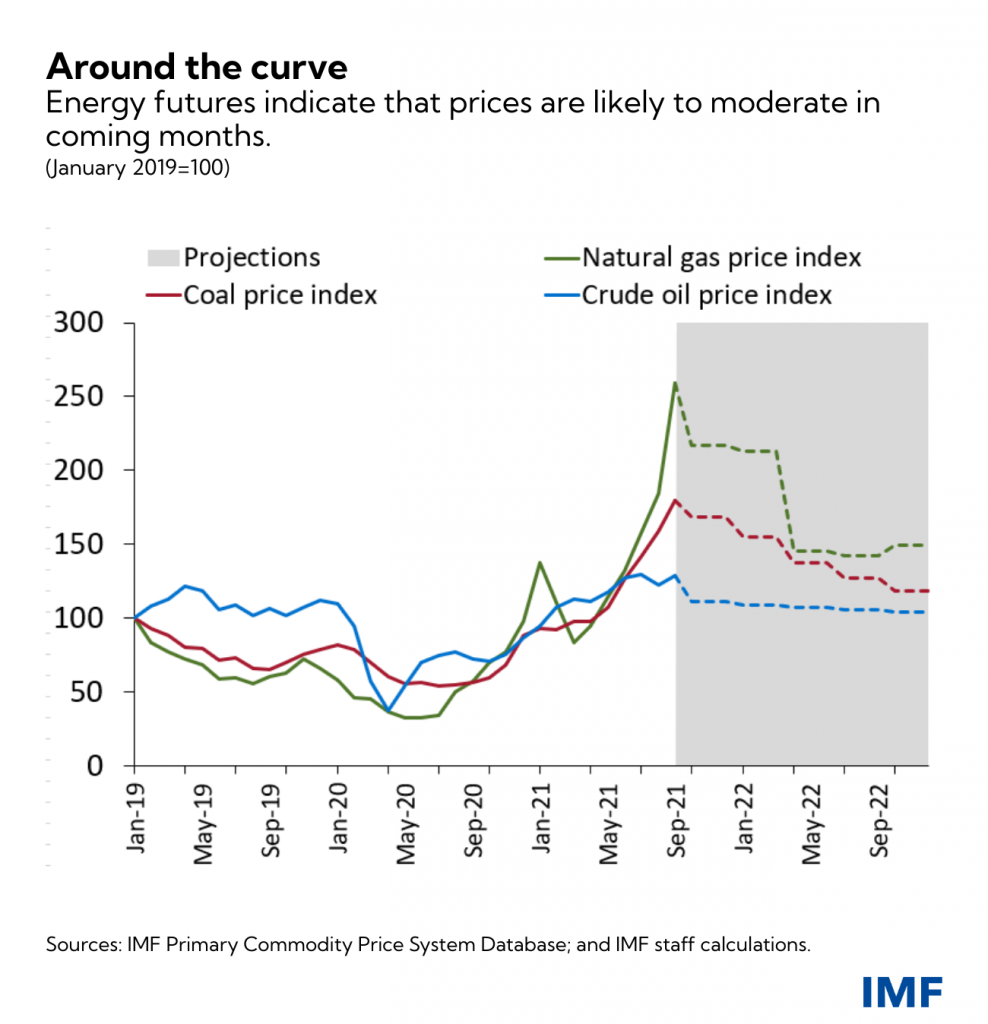 Source: Pescatori, Steurmer, Valckx (2021).
Futures are pointing downward. How much faith should we put into these market indicators? Remember, only under the assumption of risk neutrality should the basis be an unbiased predictor of future spot rates. This characterization is certainly untrue for exchange rates, and precious metals. For energy, Chinn and Coibion (JFM, 2014) assess the data from 1990-2012.
First, a regression of the change in spot rate on the basis. Table 1 shows the results for all commodities examined, with yellow highlights for energy commodities. In general, there are no rejections of the null hypothesis of β = 1 for petroleum, and only one for natural gas.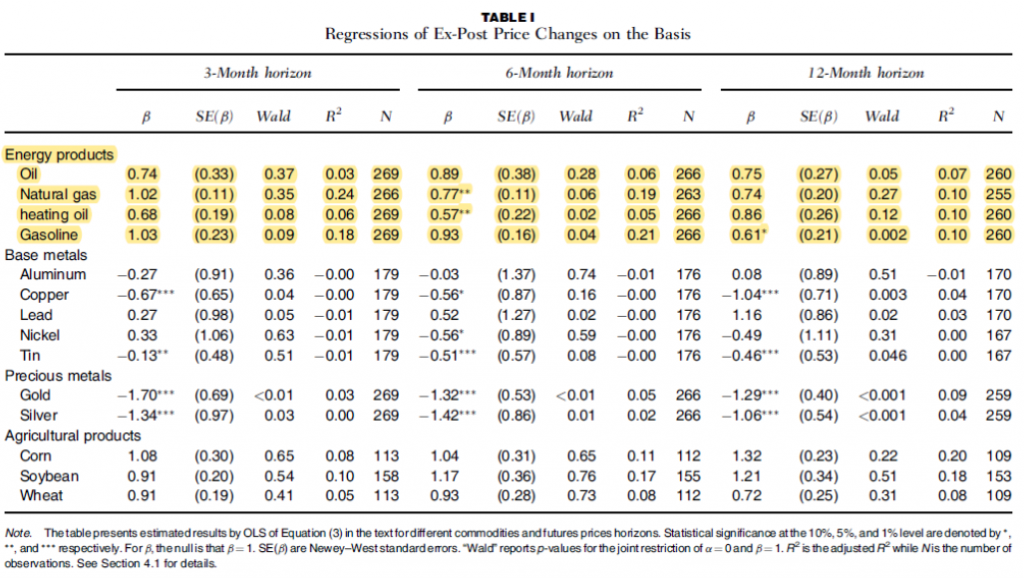 Source: Chinn and Coibion (2014).
Admittedly, R2's are pretty low for petroleum, less so for natural gas.
What about prediction? Table II addresses that issue. Once again, I highlight in yellow energy futures.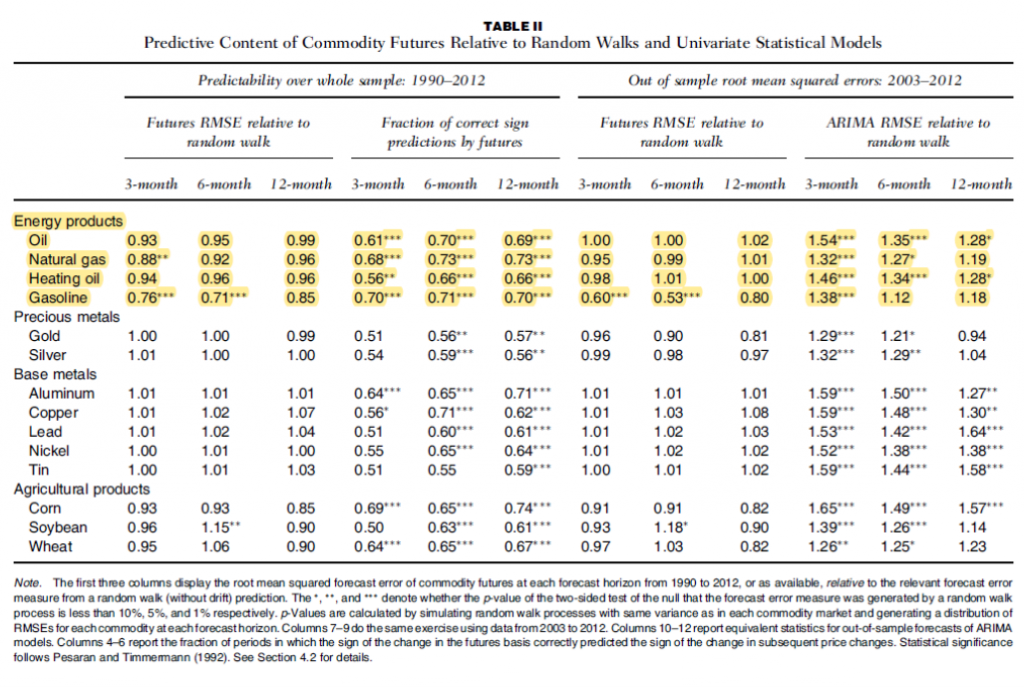 Source: Chinn and Coibion (2014).
In terms of prediction, futures outperform a random walk, correctly predict direction-of-change more often than random chance, with statistical significance. Out of sample, futures don't do any worse or better than a random walk. A random walk outperforms any time-series model that has coefficients to be estimated.
Table 1 reports full-sample estimates. The degree of bias exhibits time variation, as shown in Panel A of Figure 5.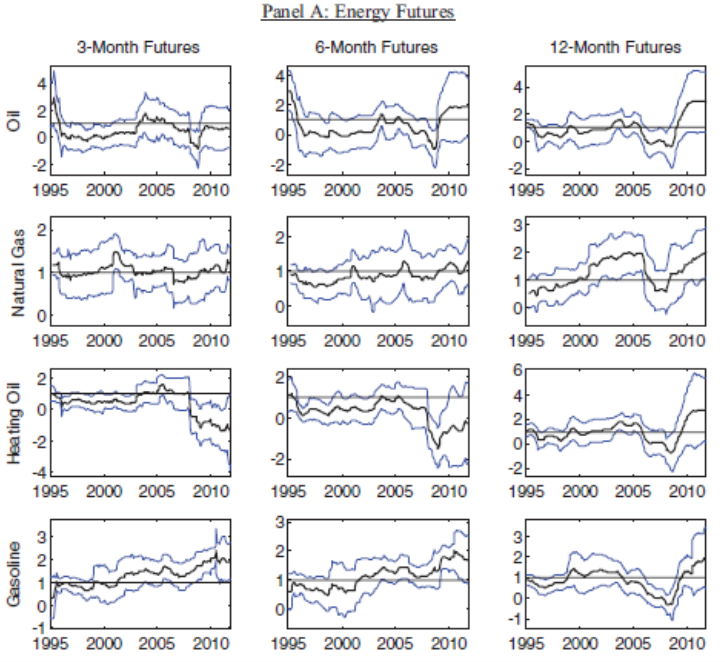 Source: Chinn and Coibion (2014), Figure 5, Panel A. Note: Each figure plots estimates of the coefficient on the futures basis from Equation (3) in rolling five‐year regressions along with 95% confidence intervals (dashed lines) for each commodity and forecasting horizon.
If one is more concerned about the direction of change, Panel B of Figure 7 is interesting. They show the fraction of correct sign predictions relative to 0.5 – so a value of 0.2 indicates energy futures correctly predict price changes more than random chance by 20 percentage points.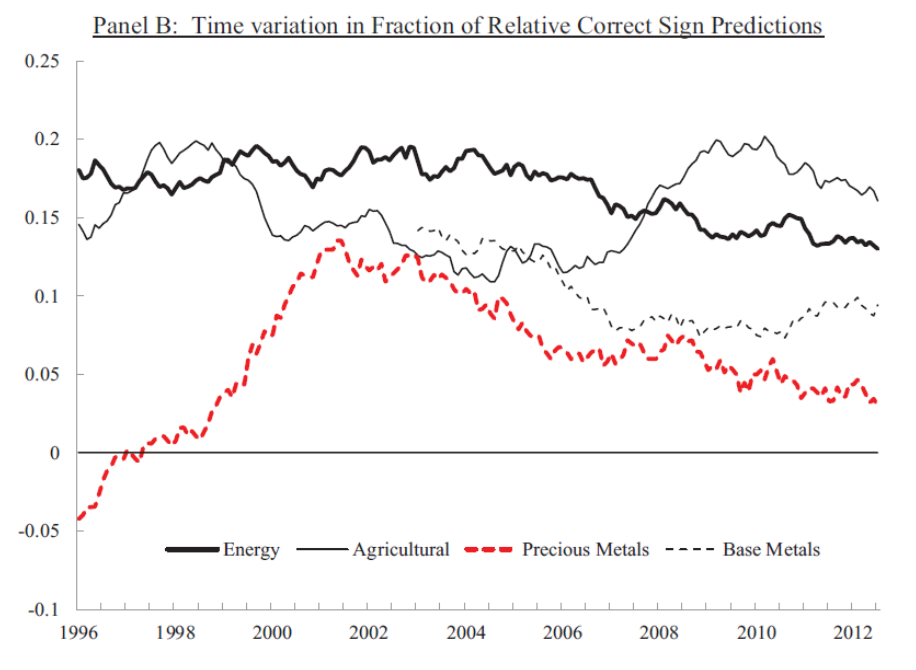 Source: Chinn and Coibion (2014), Figure 7, Panel B. Note: Panel B plots five‐year rolling fractions of correct sign predictions (using first‐differences of basis) minus their unconditional expectation, averaged across 3‐,6‐, and 12‐month horizons for all commodities within each commodity group.
Hence, energy futures have informational content, but declining over the sample period (ending 2012).
One caveat: the futures evaluated are mostly US (e.g., natural gas is for Henry Hub), so I'm not presenting empirical results for European natural gas.
In sum, the fact that energy futures are pointing downward is reassuring. However, one should not rely too much on the idea that future spot prices will go down as far as implied by futures, nor should one be surprised if actual prices turn out to be very high or very low relative to predicted (given the low proportion of variation explained by the typical regression).