With the release of personal income and consumption, we have some of the last readings we'll receive this year (although December's readings will still be coming in in January). Here are some key indicators followed by the NBER BCDC.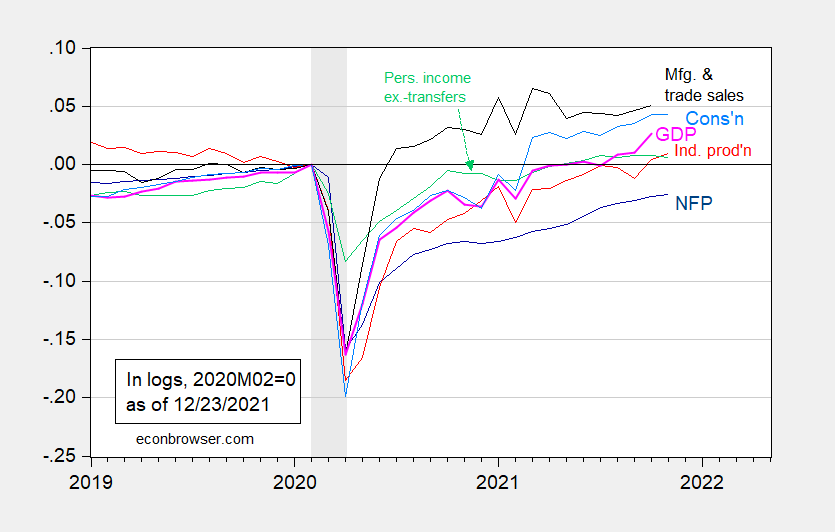 Figure 1: Nonfarm payroll employment (dark blue), industrial production (red), personal income excluding transfers in Ch.2012$ (green), manufacturing and trade sales in Ch.2012$ (black), consumption in Ch.2012$ (light blue), and monthly GDP in Ch.2012$ (pink), all log normalized to 2020M02=0. NBER defined recession dates, peak-to-trough, shaded gray. Source: BLS, Federal Reserve, BEA, via FRED, IHS Markit (nee Macroeconomic Advisers) (12/1/2021 release), NBER, and author's calculations.
Note consumption is flat in November (with some movement toward services); services rose 0.5% m/m, while durables fell 1%, and nondurables fell 0.6%. I would expect December services consumption to take a hit, but we have only tentative indications of that from high frequency indicators. Personal income growth also stalls.
GDPNow as of today signals 7.2% 7.6% [corrected 1:30pm Pacific] growth for Q4 (SAAR), while IHS Markit is at 7.1%. So for now, indications are for strong end of the year.