It's lagging that of the BEA Great Lakes Region, and of neighbor Minnesota.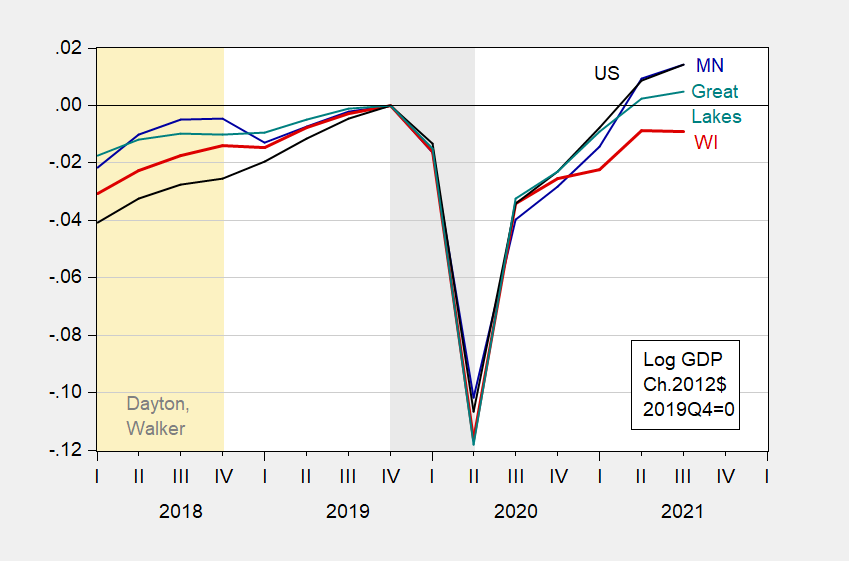 Figure 1: GDP in Ch.2012$ for Wisconsin (red), Minnesota (blue), Great Lakes Region (teal), US (black), all in logs, 2019Q4=0. NBER defined recession dates peak-to-trough shaded gray, and Dayton and Walker governorships shaded light orange.  Source: BEA state level GDP release, NBER,  author's calculations.
Since the pandemic struck, growth in Minnesota growth has outpaced Wisconsin by an additional 1.3 percentage points, although the difference is not statistically significant, using the sample shown above. (I got this result by doing a diffs-in-diffs regression). Interestingly, putting in a dummy for Scott Walker (which encompasses the first year of the sample above), I find the difference is significant at the 15% msl (and the dummy variable coefficient on Scott Walker significant, with a penalty of about 2 percentage points!).
What might be the cause of the difference? Certainly the structure of the economies (although diffs-in-diffs should control for secular trends like population growth, demographics). Possibly the sensitivity of output to the shocks differs. Or, the fact the full vaccination rate for Wisconsin is 64% vs Minnesota's 67%. (All conjecture, but there is some basis for thinking this is important, see this post.)