Some commentators have worried about imminent military hostilities between China and Taiwan (and hence the United States, almost assuredly). Here's some reasons to think it's not quite happening yet — at least the military part. The economic aspects — we'll have to wait and see.
Geopolitical Risks and Likelihood of Military Action
Here're the Caldara and Iacoviello Geopolitical Risk Indices (AER 2022) for China and Taiwan: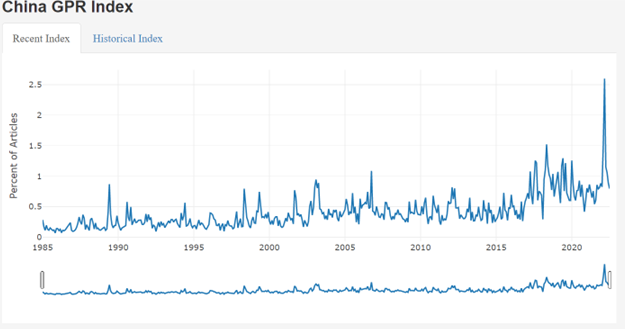 Source: Caldara, Iacoviello (2022).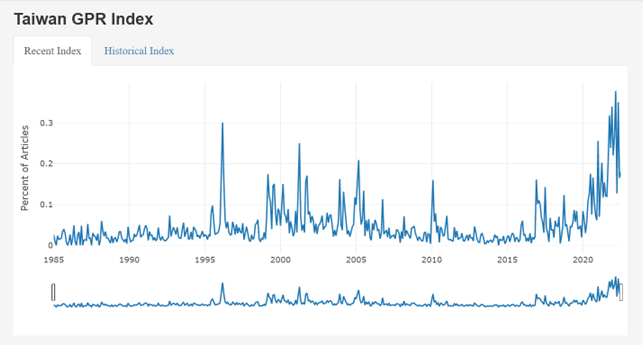 Source: Caldara, Iacoviello (2022).
Recent peaks are at March 2022.
The national security industry has gone full into full overdrive into analyzing the prospects for a full fledged military conflict (not that there isn't reason to do so — just that one has to try to look at the threats with clear eyes). Here's Michael O'Hanlon (Brookings), in Can China Take Taiwan? Why No One Really Knows?:
"[O]ne set of plausible modeling inputs, parameters, and assumptions could easily forecast a Chinese victory, while another comparably credible set could imply a U.S./Taiwan/allied victory. And this is even when accounting for a specific level of geographic and military escalation. As such, policymakers on both sides could not be certain that their own nation's war plans would be successful. The dangers of escalation would add even more uncertainty to the situation.
The author assesses a blockade scenario, rather than an all out invasion, given the advantages of such a measure:
That is because China can pursue it, at least at first, with limited physical violence against the people of Taiwan, a people that, after all, China claims as its own. A blockade also has the apparent virtue of being reversible, or at least adjustable, should Beijing choose to de-escalate the conflict at any point.
Lots of chatter about the costliness of actual warfare, given current and very near future capabilities on both sides, e.g., recent wargames conducted at CSIS [1], [2], or sets of simulations [3] .
Given the low benefit/risk ratio for overt Chinese military action and hence likelihood (see also Scobell (USIP)) I'm going to focus in on economic aspects of the conflict between China and Taiwan, including (1) economic actions as precursor to military action, and (2) susceptibility to Chinese economic pressure.
Economic Implications
Di Pippo (CSIS) notes Imminent overt military action would be presaged by economic measures such as:
Imposition of stronger cross-border capital controls, including in response to apparent capital flight from elites

A freeze on foreign financial assets within China

Rapid liquidation and repatriation of Chinese assets held abroad, including sales of U.S. bonds

A surge in stockpiling emergency supplies, such as medicine or key technology inputs

A suspension of key exports, such as critical minerals, refined petroleum products, or food

Measures to reduce demand or ration key goods, especially imports like oil and gas

Prioritization or redirection of key inputs for military production

Restrictions on outward travel for Chinese elites or high-priority workers
(Clearly problematic to implement if the element of surprise were desired.) On the other hand, measures implemented with an eye toward eventual conflict would include "Industrial policies focused on eliminating foreign dependencies across the value chain, Efforts to identify and mitigate vulnerabilities to U.S. sanctions and organize its bureaucracy for the imposition of countersanctions [and] Expedited efforts to reduce China's dependency on the U.S. dollar for international finance via renminbi internationalization" among others.
As noted elsewhere, it's problematic for China to effectively implement such measures, e.g., reducing dependence on the dollar, and Western financial infrastructure, from messaging (SWIFT), to banking (see these slides, presentation in Panel 2 at UW LaFollette Annual Forum). And China remains heavily dependent on Taiwan for semiconductor chips.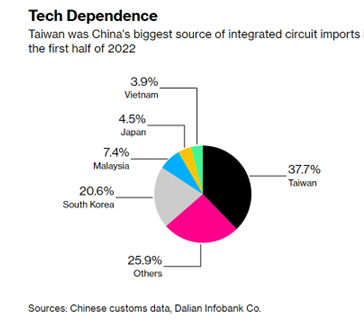 Source: Bloomberg, Aug. 17, 2022.
In terms of current economic warfare, the measures taken by Beijing seem pretty symbolic in nature (citrus and fish bans) [NYT]. Also some DNS attacks.
Still, China could exert more pressure by engaging in (as it seems likely to do) persistent military drills close to Taiwan, driving elevated defense expenditures (and wearing down readiness), or (Kaushal (RUSI)) posing…
"the question of how Taiwanese political leaders should respond. In the build-up to the Ukrainian conflict, one factor that slowed the Ukrainian leadership's decision-making on the question of declaring a state of emergency and mobilisation was the fear that Russia was using the prospect of war to drive capital flight and an economic collapse, but had no intention of actually invading. Taiwan's leaders could find themselves placed on the horns of a similar dilemma regarding whether to sound the alarm or not."
Foreign exchange reserves did drop noticeably to $545 billion in April of 2022 after risk (as measured by the GPR) peaked in March. Nonetheless, fx reserves have nearly regained earlier levels, ending July at $548 billion. (The financial+capital account was in surplus, $32.5 billion in Q1, down from Q4, but double what was recorded two years ago.
Beijing recognizes there are other ways of coercing Taiwan. The challenge for US (and other) policymakers is how to counter those means, while not de-stabilizing the situation. (For me, it's not plausible to just argue "Xi must go" and hope for divine intervention, as some commentators have pushed forward as "a policy").
Perceptions Matter
At the same time that the US needs to insulate Taiwan from Chinese coercion, we need to do it in a way that is not provocative. From USIP:
… China perceives that the Biden administration has undertaken a significant shift in its Taiwan policy resulting in a concerted effort to qualitatively upgrade U.S. relations with the island. This perception is the polar opposite of the message that the Biden administration intended to signal to Beijing: that U.S. policy on Taiwan has remained unchanged and is completely consistent with the approach of prior administrations. Why the misinterpretation? Clear signaling and unambiguous messaging is exceedingly difficult in the current toxic climate of U.S.-China relations, which is rife with mutual suspicion and deep distrust.
In this vein, one should consider all the possibilities to buttress America's economic relationship with Taiwan; that includes the announcement of trade negotiations between the US and Taiwan. While not the precursor to a free trade agreement (It would've been far better had we stayed with TPP and admitted Taiwan, but that ship has sailed – Thanks, Trump!), it is a symbol of support (and symbols are important in building confidence to, for instance, deter capital flight).