Some people think we're in a recession now, some think it's in the past (we're currently in H2 2022). In fact some economists surveyed by NABE believe we're in a recession now (as shown in the chart below). Here're some reminders of our best estimates of the current macro situation we're in.
First the survey results: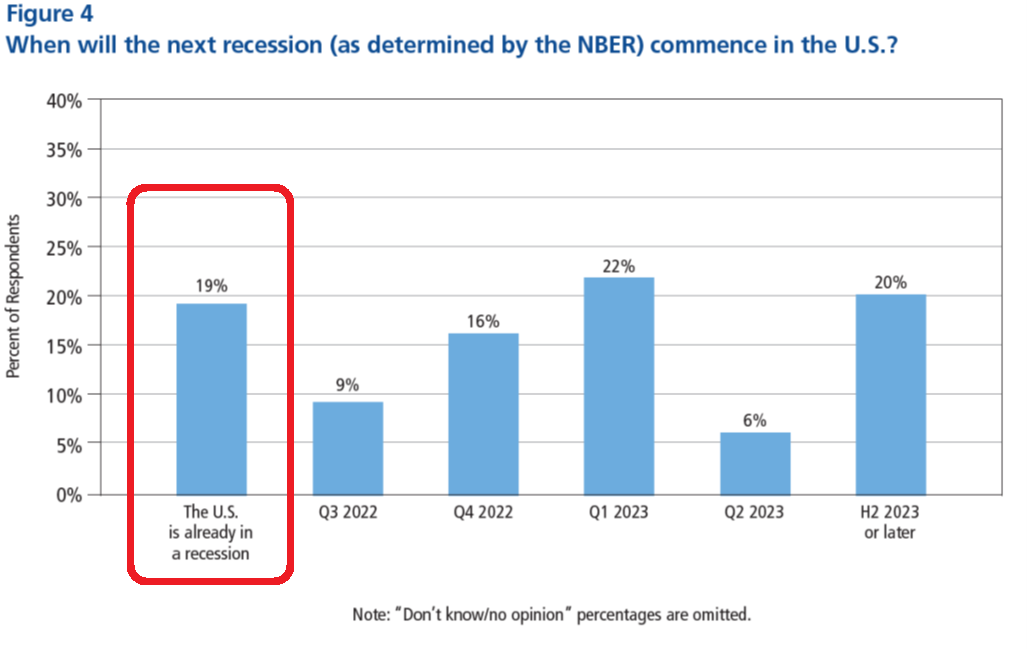 Source: NABE, 22 August 2022 survey release.
The first bar does not exactly conform to a 2022H1 recession as we're already past one half of Q3, but perhaps close enough…
The Survey of Professional Forecasters August release showed an increase in share of respondents predicting a negative 2022Q3 GDP growth print (recalling GDP is not the key indicator for determining whether we're in a recession, according to the NBER BCDC).
What is our best guess of the current situation, given official GDP from the BEA, monthly GDP from IHS Markit (formerly Macroeconomic Advisers) and key macro indicators followed by the NBER Business Cycle Dating Committee? This is shown in Figure 1 below.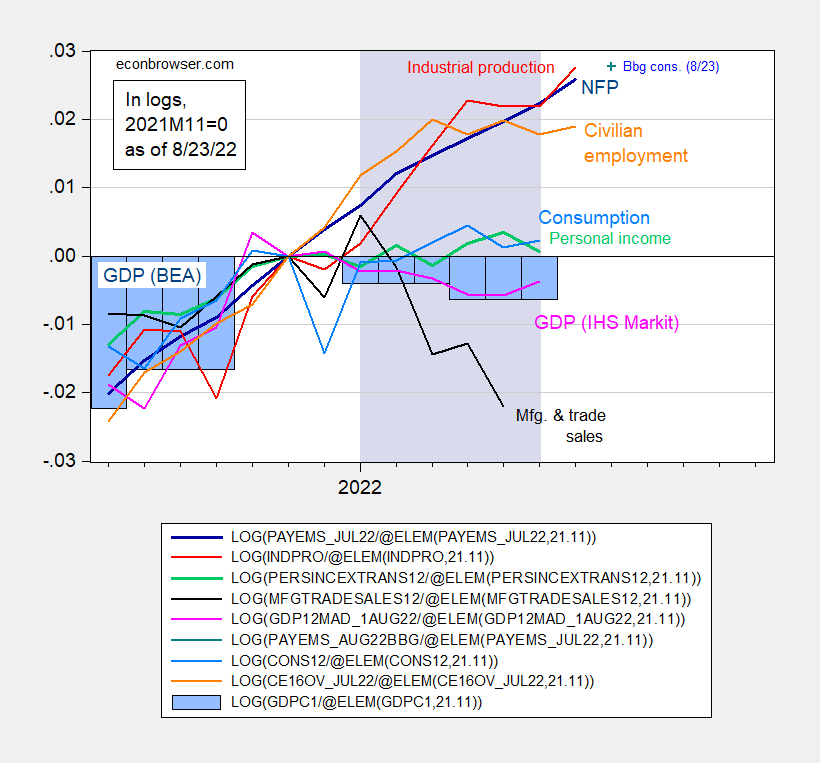 Figure 1: Nonfarm payroll employment (dark blue), Bloomberg consensus as of 8/23 (blue +), civilian employment (orange), industrial production (red), personal income excluding transfers in Ch.2012$ (green), manufacturing and trade sales in Ch.2012$ (black), consumption in Ch.2012$ (light blue), and monthly GDP in Ch.2012$ (pink), official GDP (blue bars), all log normalized to 2021M11=0. Lilac shading denotes a hypothetical 2022H1 recession. Source: BLS, Federal Reserve, BEA, via FRED, IHS Markit (nee Macroeconomic Advisers) (8/1/2022 release), NBER, and author's calculations.
Note that the -0.9% q/q SAAR advance release figure for Q2 is likely to be revised. The current IHS Markit tracking number is -0.3%. In other words, beware the revisions – particularly for GDP.
Here're what weekly indicators imply for the level of GDP over this period, compared against monthly GDP.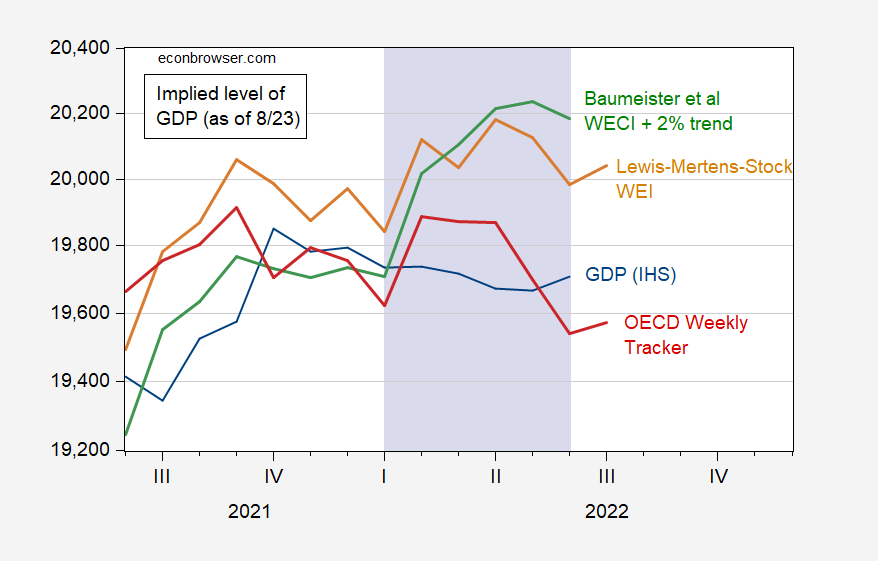 Figure 2: GDP in billions Ch.2012$ SAAR, from IHS Markit (blue), implied by Lewis-Mertens-Stock WEI (tan), implied by Baumeister et al. WECI (green), implied by OECD Weekly Tracker (red), based on lagged 3 month moving average of IHS Markit GDP. Lilac shading denotes hypothetical 2022H1 recession. Source: IHS Markit 8/1/2022 release, NY Fed via FRED, Baumeister et al., OECD, and author's calculations.