That's the title of a recent SF Fed Economic Letter, by Reuven Glick, Sylvain Leduc, and Mollie Pepper.
Households are currently expecting inflation to run high in the short run but to remain muted over the more distant future. Given this divergence, what role do short-run and long-run household inflation expectations play in determining what workers expect for future wages? Data show that wage inflation is sensitive to movements in household short-run inflation expectations but not to those over longer horizons. This points to an upside risk for inflation, as workers negotiate higher wages that businesses could pass on to consumers by raising prices.
This is a remarkably clear-headed analytical way of thinking about whether wages and how wages will respond to inflation developments and determinants. It's also a reminder that the original paper by A.W. Phillips was about nominal wages, or "The Relation Between Unemployment and the Rate of Change of Money Wage Rates in the United Kingdom, 1861–1957" in Economica (1958).
Glick et al. estimate the Phillips curve using
"…quarterly data from the second quarter of 1980 to the first quarter of 2022. We measure wages using the wages and salaries component of the employment cost index compiled by the BEA, with data beginning in the first quarter of 1980. This measure accounts for changes in the composition of the workforce, which could impact wage growth separately from the wage Phillips curve. Inflation rates in wages and core prices are measured as (log) changes over each quarter at an annual rate."
and obtain the following estimated effects on wage inflation of 1% change in variables (Figure 3 from the Letter):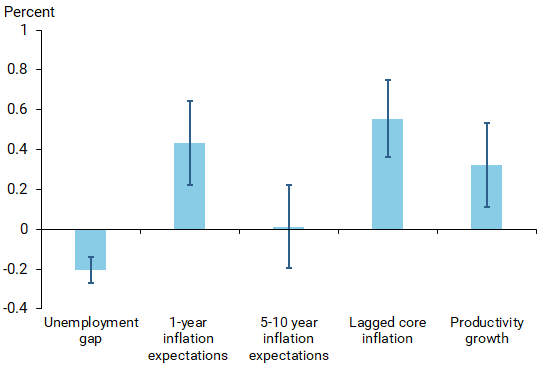 Figure 3: Effects on wage inflation of 1% change in variables from Glick et al. (2022).
Interestingly, the original Phillips curve paper is still useful reading; while it does not directly incorporate long term inflation expectations, nor composition of labor demand effects, it does note the importance of actual and expected inflation (as well as productivity).
The authors conclude:
the increase in short-run expectations since last spring point to an important upside risk to inflation, as workers negotiate higher wages that businesses could pass on to consumers in the form of higher prices. By reducing overall demand, the ongoing monetary policy tightening will help reduce the probability that this risk materializes.
That being said, the productivity numbers that came out after Glick et al.'s analysis, in the costs and productivity release,  are surely going to complicate the outlook for managing inflation, even if we account for likely revisions in productivity growth (see e.g., Furman and Powell, 2022).
(NB: If you don't like the use of natural logs — e.g. here and here — avert your eyes from this paper, and the Phillips paper! This means Steven Kopits, James Sexton, etc.)