From ISW (8:30pm ET):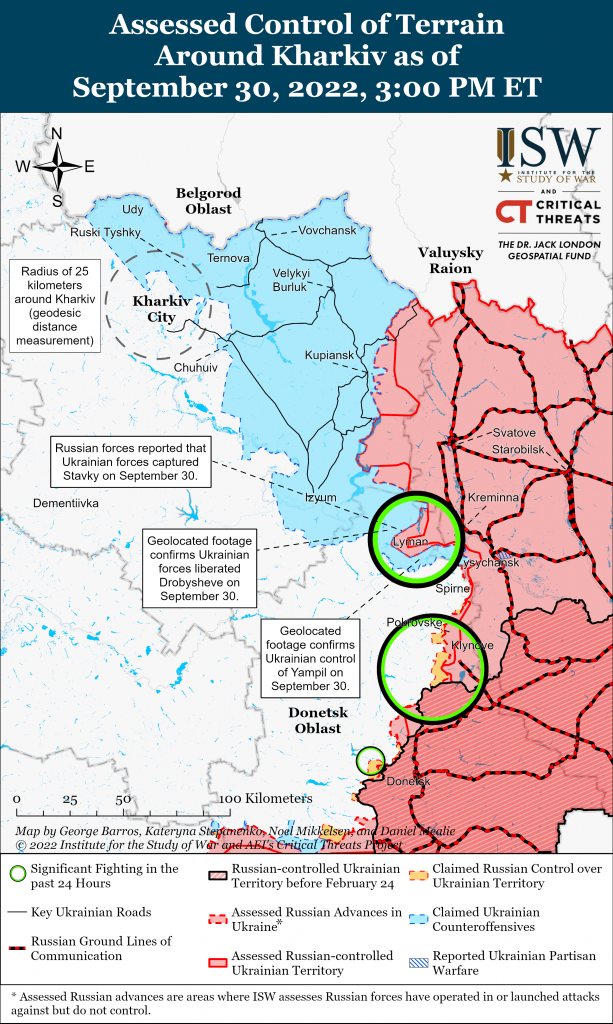 Order of battle (limited) in Lyman salient/pocket.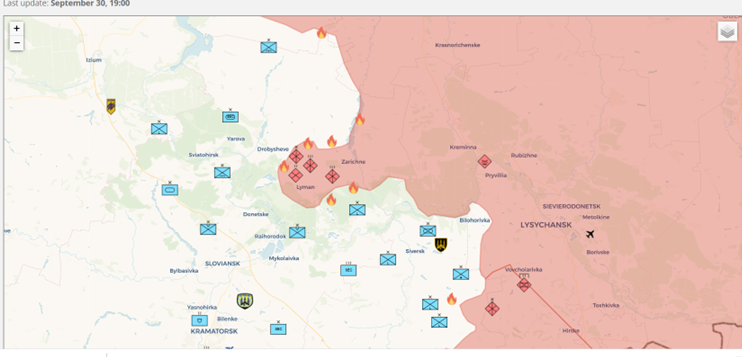 Source: Militaryland, accessed 9/30/2022, 6:45PM Pacific.
From ISW:
Ukrainian forces will likely capture or encircle Lyman within the next 72 hours. Russian forces continued to withdraw from positions around Lyman on September 30 as Ukrainian forces continued to envelop Russian troops in the area.[8] The Donetsk People's Republic (DNR) officials and Russian war correspondents stated that Russian forces still control Lyman but have withdrawn from their positions in Drobysheve (around 6km northwest of Lyman) and Yampil (about 13km southeast of Lyman).[9] Russian sources claimed that Russian forces still control one road from Lyman to Torske, while Ukrainian forces have cut off the Drobysheve-Torske road in the Stavky area.[10] Russian sources also noted the increasing activity of Ukrainian reconnaissance and sabotage groups on the Svatove-Torske highway northeast of Lyman after reportedly crossing the Zherebets River.[11] Geolocated footage also showed Ukrainian artillery striking withdrawing Russian forces near Torske.[12] Some Russian milbloggers claimed that Ukrainian forces have crossed the Siverskyi Donets River in Dronivka and are now operating in the forests south of Kreminna.[13] Russian sources uniformly noted that Ukrainian artillery continues to interdict Russian forces' single remaining egress route on the Kreminna-Torske road.[14]
I am curious how JohnH now assesses the military balance,  a month after his initial skepticism regarding the Ukrainian offensive.