From Bloomberg "Russia Privately Warns of Deep and Prolonged Economic Damage":
Russia may face a longer and deeper recession as the impact of US and European sanctions spreads, handicapping sectors that the country has relied on for years to power its economy, according to an internal report prepared for the government.
From the article: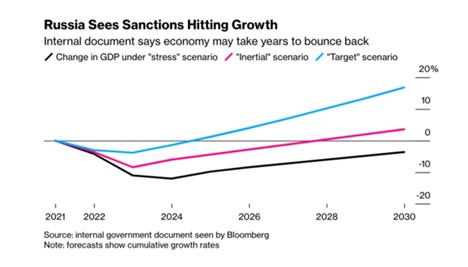 Source: Bloomberg, 5 September 2022.
BOFIT (2 September 2022) reports:
Although retail sales and many branches of manufacturing experienced weaker growth in July, the Russian economy garnered support from oil production and construction activity. The preliminary assessment from Russia's economic development ministry shows GDP contracted by 4.3 % y-o-y in July and 1.1 % y-o-y for the first seven months of this year.
The distribution of impact varies across sectors, as shown in the figure in the article. Retail has taken a big hit (as might be expected), as has manufacturing. In a previous BOFIT article, they note stripping out defense production results in a bigger drop in manufacturing.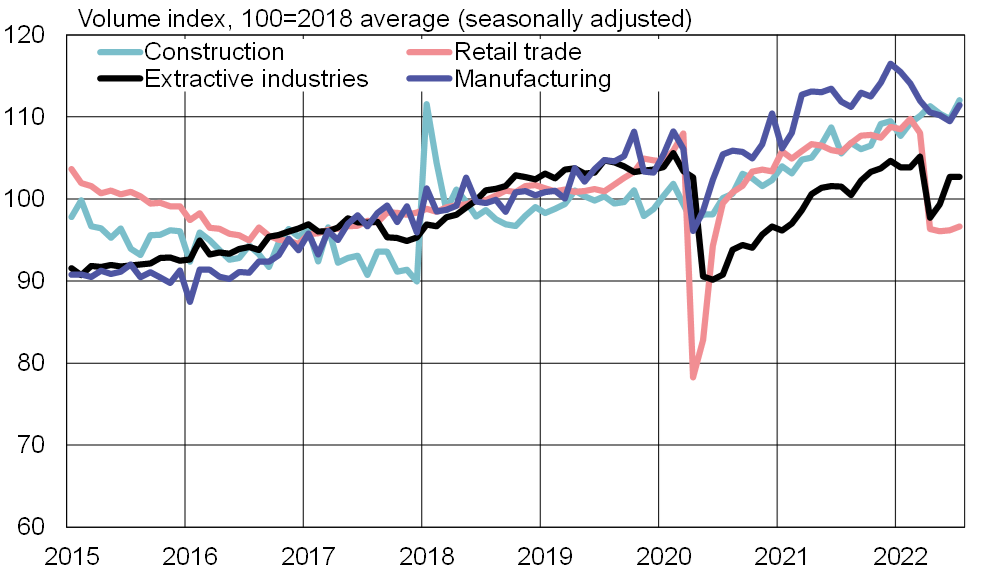 Source: BOFIT (2 September 2022).
What about the near term forecasts. "Russia facing harsher economic outlook for the rest of this year" summarizes the outlook in a handy table showing various forecasts.

Source: BOFIT (2 September 2022).
See also Vox.