Our short answer: yes.
From NBER working paper No. 30737 (update of findings in this post) by myself and Rashad Ahmed, out today (abstract):
This paper shows that foreign term spreads constructed from bond yields of non-U.S. G-7 constituents predict future U.S. recessions and that foreign term spreads are stronger predictors of U.S. recessions occurring within the next year than U.S. term spreads. U.S. and foreign term spreads are both informative of the U.S. economy but over different horizons and for different components of economic activity. Smaller U.S. term spreads lead to smaller foreign term spreads and U.S. Dollar appreciation. Smaller foreign term spreads do not lead to significant U.S. Dollar depreciation but do lead to persistent declines in U.S. exports and FDI flows into the United States. These findings are consistent with the proposition that foreign term spreads embed growth spillovers from the U.S. and the resulting Dollar strength and slowdown abroad spill back to the United States.
Here's the AUROC for US term spread only (model 1), for foreign term spread only (model 2), and US and foreign term spread plus other variables plus financial conditions index (model).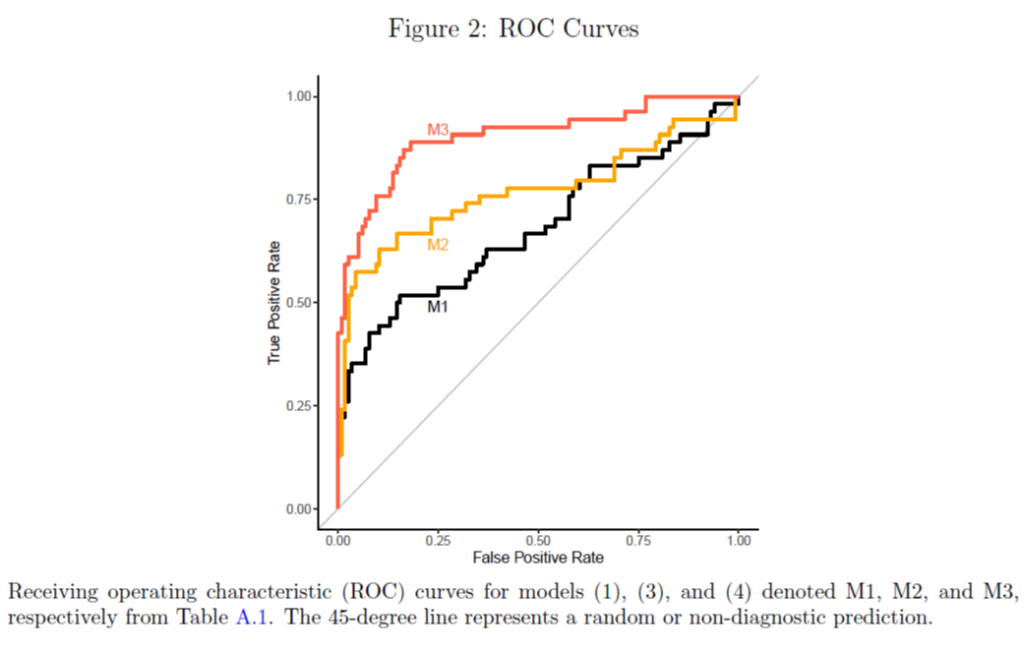 These AUROCs pertain to columns (1), (2), and (4) in Table A.1. Notice we are not saying the US term spread is not predictive; just that including the foreign term spread and a slew of other US variables, results in a not-statistically-significant coefficient on the US term spread (the US term spread does show up as signficant in column (3)).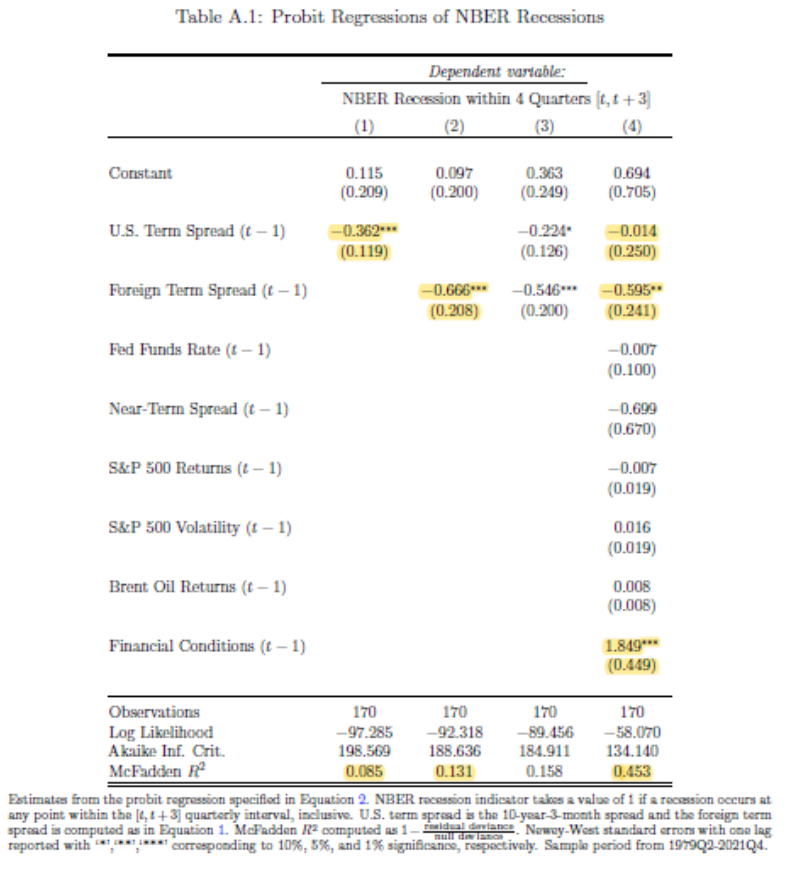 Turning to GDP growth, Figure 4 shows impulse response functions in response to a 1 ppt increase in the US(foreign) 10yr-3mo spread.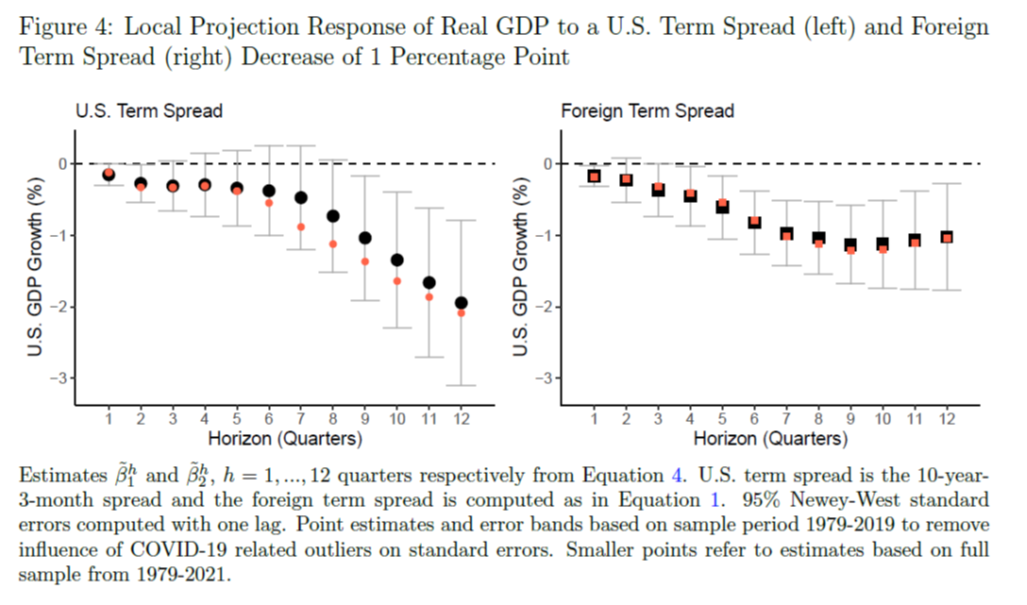 Here si the current situation with respect to 10yr-3mo spreads (Treasury minus 3 month Treasury or interbank, depending on what OECD reports):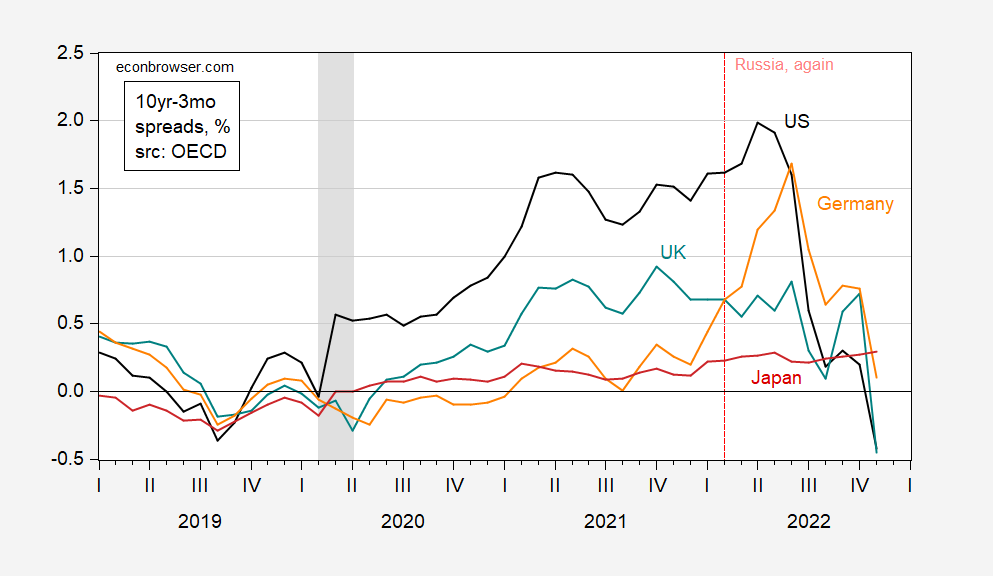 Figure 1: Ten year government bond yields minus three month rates for US (black), UK (teal), Germany (orange), and Japan (red), %. Three month rates are government bond yields for US, interbank rates for others. NBER defined peak-to-trough US recession dates shaded gray. Source: Treasury via FRED, OECD Main Economic Indicators, updated with Tradingeconomics.com, NBER, and author's calculations.
Foreign yield curves in Germany (proxy for Euro area) and UK are inverting. The Japanese term spread remains positive however.
We also identify the response of the dollar to term spread shocks.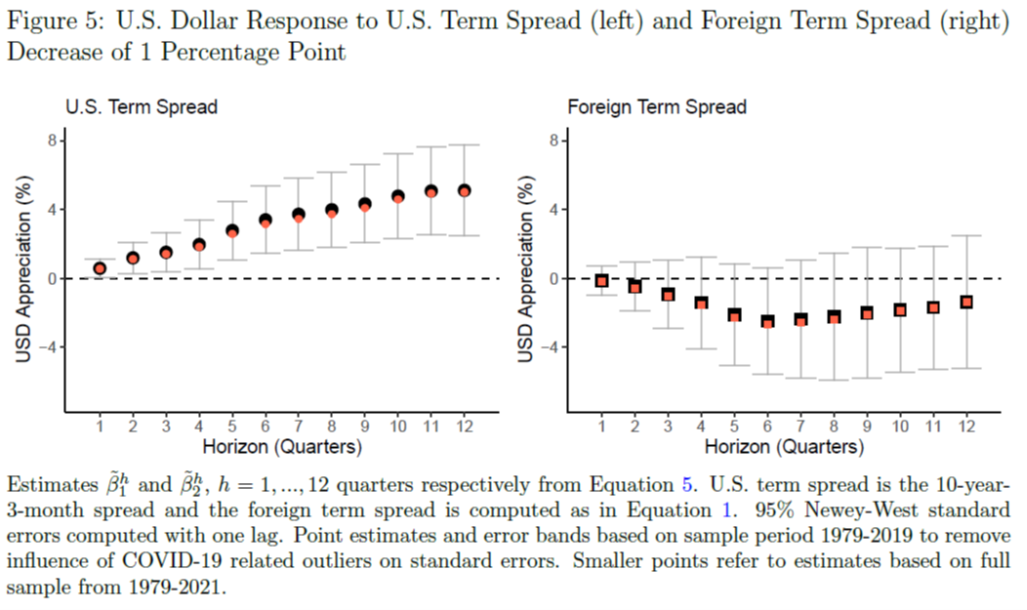 A positive shock to the US spread appreciates the dollar, while one to the foreign spread depreciates the dollar. However, only the US IRF shows statistical significance. This finding is consistent with Chen and Tsang (2013).
Addendum, 3:52pm Pacific:
Rashad Ahmed adds an update to account for current data:
Using data available as of December 13, 2022, our model forecasts a recession probability within the next 12 months of 68.1%. This is up from a probability of 42.5% taken August 15, 2022. For context, the median recession probability from the model was 16.7% over the 1979-2021 period and even lower when excluding recession periods. A reading as high as 68.1% had a false positive rate of 1.7 percent and a true positive rate of 59 percent between 1979- 2021. In the 6 recessions since 1979 to 2021, a reading of 68.1% or higher was virtually always followed by a recession.

Currently the following term spreads are inverted:

US – inverted
Germany – not inverted
Japan – not inverted
UK – inverted
Canada – not inverted
| | | |
| --- | --- | --- |
| Input | Source, Date | Value |
| US 10Y-3M | Bloomberg, 12/13/22 | -0.80% |
| Foreign 10Y-3M | Market Watch & Investing.com, 12/13/22 | 0.36% |
| Fed Funds Rate | FRED, Nov 2022 | 3.78% |
| US 2Y-3M | Bloomberg, 12/13/22 | -0.08% |
| Stock Return | Yahoo! Finance, 9/12/22-12/12/22 | -4.38% |
| Stock Volatility | Yahoo! Finance, 9/12/22-12/12/22 | 26.59% |
| Brent Oil Return | Investing.com & FRED, 9/14/22-12/13/22 | -14.34% |
| Financial Conditions | FRED, 12/2/22 | -0.22078 |