From M. Abecasis/GS today: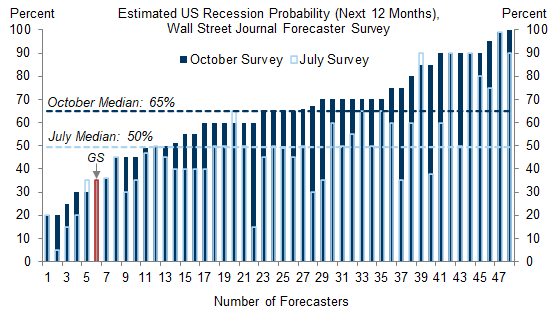 Source: M. Abecasis, "Introducing Our Recession Watch Tracker," U.S. Daily, Goldman Sachs, December 2, 2022.
The 35% figure contrasts with the 65% consensus from the October WSJ survey, and, the 50-50 chance by the Fed staff, and my term spread based estimates between 44%-56%. I found it interesting why, in part, they discount the estimates from standard term spread models:
When financial market participants see a higher probability of recession, they are more likely to expect the FOMC to cut the federal funds rate to stimulate the economy. We are skeptical that traditional yield curve models will produce sensible recession odds in the current environment, as the Fed is likely to be more reluctant to ease policy for a given set of growth and employment outcomes when inflation is high. But while quantifying recession probabilities based on historical experience is likely to produce misleading results, the relationship between the policy rate and growth still makes market pricing for the funds rate a useful signal of expectations for the odds and timing of a potential recession. Currently, the bond market is pricing hikes through 2023Q2, but 42bp of cuts in 2023H2 (vs. 33bp at the end of October), 87bp of cuts in 2024H1 (vs. 50bp), and 57bp of cuts in 2024H2 (vs. 31bp).
Here's the picture of 10yr-3mo and 10yr-2yr term spreads as of close today:
Figure 2: 10 year-3 month Treasury term spread (blue), and 10 year-2 year spread (red), %. Source: US Treasury, author's calculations.
Both spreads are now firmly in negative territory. My latest estimates (for data through Nov 23) here.