Self-declared policy analyst Steven Kopits comments:
According to the latest BLS data, multiple job holders represented 4.6% of the employed in March. In December, multiple job holders represented 5.1% of the employed. That difference is worth an incremental 684,000 multiple job holders on an increase of 916,000 employed. So, yes, multiple job holders are in fact material in the equation.

Part time workers are even more important, adding 886,000 such jobs in March-December on 916,000 incremental employed.
I can't replicate the number multiple job holder number. Nor do I think Mr. Kopits is running the right comparison.
First point, summing multiple job workers — "full time, full time", "full time, part time", and "part time, part time" to get a total number of multiple job holders, I get 6922 thousands in December, vs. 6474 in March, for an incremental change of 448 thousand (compare to 684 thousand cited by Mr. Kopits).
Second point, remember, originally Mr. Kopits was trying to explain the difference between the establishment series of NFP and the household series civilian employment as arising from the increase in job holders (see this long post on this point, using November release data) — so what we want to see is how the change in the gap between NFP and civilian employment can be explained. The change in the gap is 1917 thousand (rather than the change in civilian employment, which is 916 thousand). To see how the increase in multiple job holders compares against the change in the gap (relative to 2022M3), see Figure 1 below.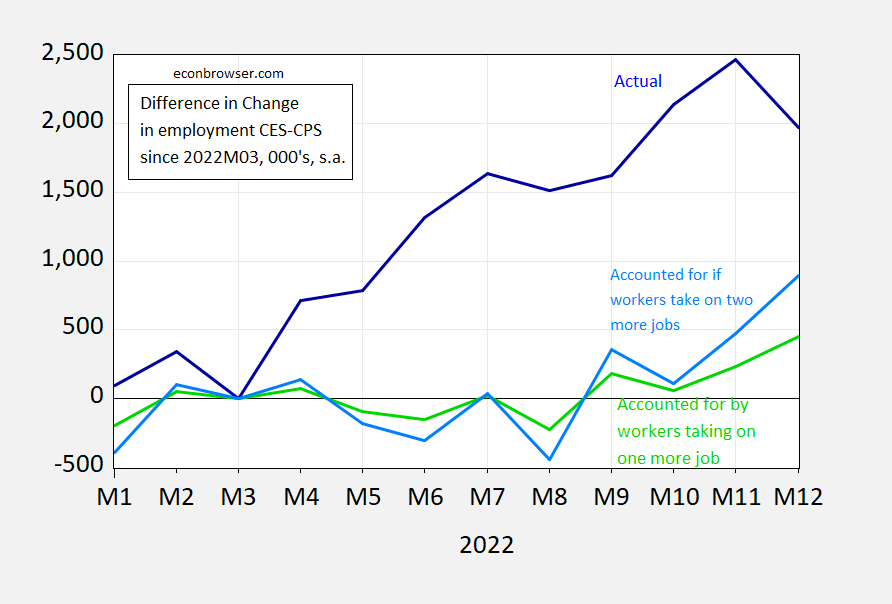 Figure 1: Difference in net job creation from nonfarm payroll series minus civilian employment series, since 2022M03 (dark blue), increase in multiple job holders since 2022M03, assuming workers increase from one to two jobs (green), and from one to three jobs (sky blue), all in 000's, seasonally adjusted. Multiple job holder series are BLS series LNU02026625, LNU02026631, LNU02026628. Source: BLS via FRED, and author's calculations.
In order for the multiple job holders to account for the entire increase in the gap, each additional multi-job holder would have to take on average 4.4 additional jobs instead of just one additional job.
Data in Excel format, here: