That's a quote from Mr. Steven Kopits, on why the CES survey showed such a rosy picture on NFP growth. This statement joins a long pile of such allegations, e.g.,  Senator Barraso, Jack Welch, former Rep. Allan West, Zerohedge, Mick Mulvaney, among others. All I can say is that (1) if there was a conspiracy, they didn't do a very good job, or (2) it's a conspiracy so vast that it encompasses not only the other offices of the BLS, but also to ADP.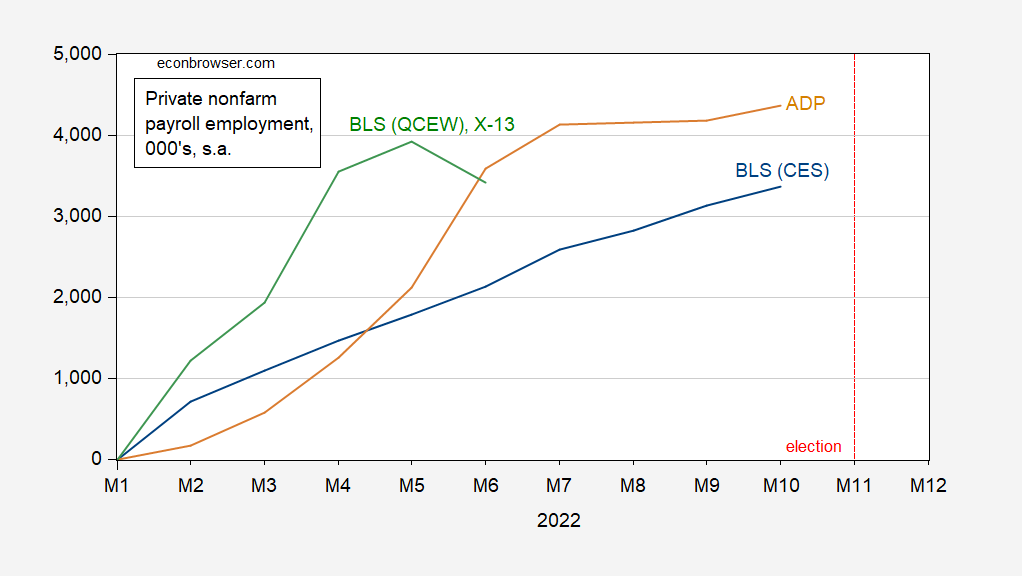 Figure 1: Private nonfarm payroll employment, change from January 2022, from BLS October  release  (blue), from ADP October release (tan), and from private covered employment in Quarterly Census of Employment and Wages, seasonally adjusted by author using X-13 (green). Source: BLS, ADP via FRED, BLS (QCEW), and author's calculations. 
The BLS and ADP series in the October releases would've been known before the election date on November 8th. The QCEW series would've only been known up to 2022M03 at that time.
In both these cases, the cumulative change in employment according to the BLS CES would've been below the QCEW (if anybody was looking at that) and certainly below the ADP.
But, perhaps "they" got to ADP too…