Mark Sobel, former Treasury Deputy Assistant Secretary, Executive Director at the IMF, current US Chair of OMFIF and senior adviser at the CSIS , presented his views on the future of the international monetary system on Tuesday. The video is now available, here.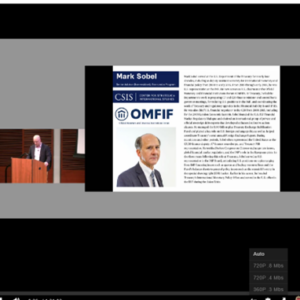 Sobel provided the audience a policymaker's perspective on the realities of dollar dominance – the why's as well as who's and what's. Major issues of past and present – such as currency misalignment, dealing with sovereign debt crises, and the ramifications of using economic sanctions – were discussed. A lively exchange with Mark Copelovitch, myself, and the audience ensued, starting with the topic of dollar dominance. I discussed in my presentation the fact There Is No Alternative to the dollar as key currency (Mark Sobel provided the succinct abbreviation TINA in his presentation). Mark Copelovitch highlighted that no interest in the US for relinquishing the role of the dollar as key international currency.
The entire talk is here.