Jim noted recurrent delays in the long heralded recession in his Thursday post. Here are some additional reflections on where economic activity has been, and where it is heading, relying on additional data. GDPNow (which hit the mark for Q1 growth) indicates continued growth through Q2. S&P Global Market Insights (nee Macroeconomic Advisers) indicates a plateau has been reached. Final sales (i.e., GDP ex. inventories) suggests continued growth.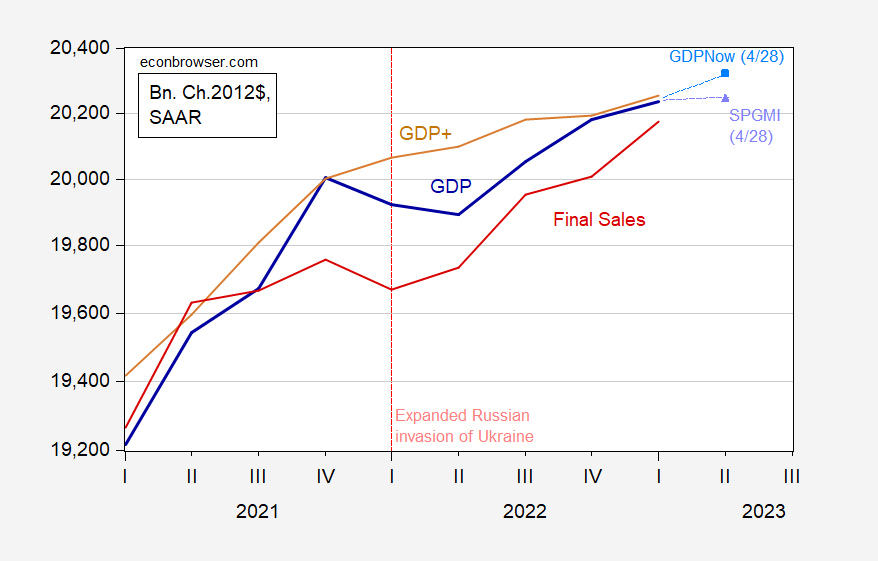 Figure 1: GDP (bold dark blue), GDP+ (tan), Final sales (red), GDPNow nowcast of 4/28 (sky blue square), S&PGMI tracking as of 4/28 (lilac triangle), all in bn. Ch.2012$ SAAR. Source: BEA 2023Q1 advance, Philadelphia Fed, Atlanta Fed, S&PGMI, and author's calculations.
My interpretation of these data, including the fact that GDO and GDP+ seem to better reflect the eventually described trajectory of GDP (given the numerous revisions that GDP receives over time), is that economic activity decelerated (and aggregate demand actually fell) in 2022H1, but no recession occurred, in the wake of the expanded Russian invasion of Ukraine and the ensuing cost-push shock. Economic activity is likely to continue to rise into 2022Q2, although growth will be anemic. As noted in a previous post, many forecasts peg a decline in 2022Q3 or 2022Q4.