Peak price 2023Q4 at $87.7/bbl (WTI), $92.7/bbl (Brent). WTI forecast below: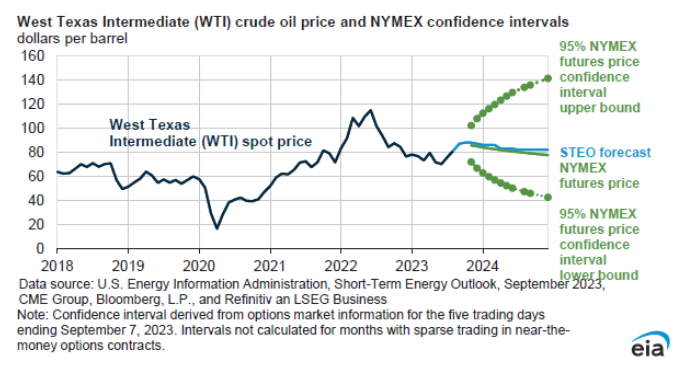 Source: STEO, 12 Sep 2023.
Futures imply slightly lower prices than the STEO.
Update, 9/13, noon Pacific:
Reader Steve Kopits notes that futures are typically in backwardation, i.e., futures prices are below current spot prices. That is true. However, as I have observed on many occasions (apparently with little impact on Mr. Kopits), oil futures are about the best predictors of future spot rates, as noted in Coibion and Chinn (2014). See also this post citing more recent literature.
If Mr. Kopits is willing to share his forecasting record, I'm happy to compare his forecasting record against futures, ARIMA, random walk using the standard metrics (ME, RMSE, MAE).